I am not a scientist.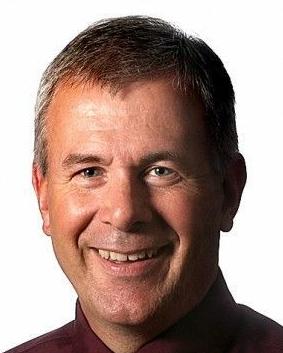 While I do hold a Bachelor of Science degree, for some reason I have a difficult time convincing people that B.S. does not stand for two other words.
But my keen powers of observation, combined with the rigorous implementation of scientific method, have led me to conclude this fall has been sort of a dull year for the conversion of C55H72MgN4O5 and C55H70MgN4O6. The delay in the decay of these molecules has interfered with the appearance of anthocyanins.
What is this gobbledygook of which I speak? Could it be a long-lost alchemist's formula? The secret recipe for Nancy Pelosi's face cream? The molecular explanation of Donald Trump's decision making?
Actually it's far simpler. The warm, wet weather this fall has delayed the turning of the leaves from green to red, giving our woods a duller look.
As of this writing in mid-October, we have yet to receive a hard frost in our valley. That's unusual because we are often nipped by the second week of September. One year we had a hard frost in mid-August.
While September this year was dry, October has picked up where the rest of spring and summer left off, with more than 5 inches of rain. Wet weather means cloudy skies and less a chance of frost.
According to University of Wisconsin-Madison Chemistry Professor Bassam Shakhashiri and his autumn-colors website, the range and intensity of autumn colors is greatly influenced by the weather. Cool dry weather favors the destruction of chlorophyll. Sunny weather promotes the formation of anthocyanins, the red colors in the leaves.
All of this means the ideal recipe for bright fall colors is dry sunny days and cool — not freezing — dry nights. That isn't what Mother Nature has cooked up this autumn.
So while we can't turn up the contrast setting while viewing the trees, it's still a beautiful time of year. The birch and silver maples in our woods have turned golden and the oaks are starting to turn red. It may not be a Louvre-worthy painting this year, but it's still a spectacular display of nature's palette.
Just before dusk the other day I went outside as fog started to roll into our valley. The browns and reds of our Scottish Highland cows made for a picturesque scene that could have been painted by 19th-century Scottish landscape artist Peter Graham.
That romantic notion was quickly dispelled the next morning when my wife, Sherry, yelled, "The Highlanders are out."
Flashes of post-traumatic stress returned as I scrambled for my fencing pliers. Right outside our back door were several of the cows — and the bull. They had decided to break out and fill their bellies with the windfall apples in our yard.
The security breach was pretty apparent after several of the scoundrels drove through a hole in the fence. The other perpetrators were rounded up and ushered through the gates back into their feeding area.
The cows broke through the same spot they did last spring. I had put that area of the fence on my "to-be-repaired," list but apparently the cows have a better memory than I.
It must be a weakness of my B.S. degree.