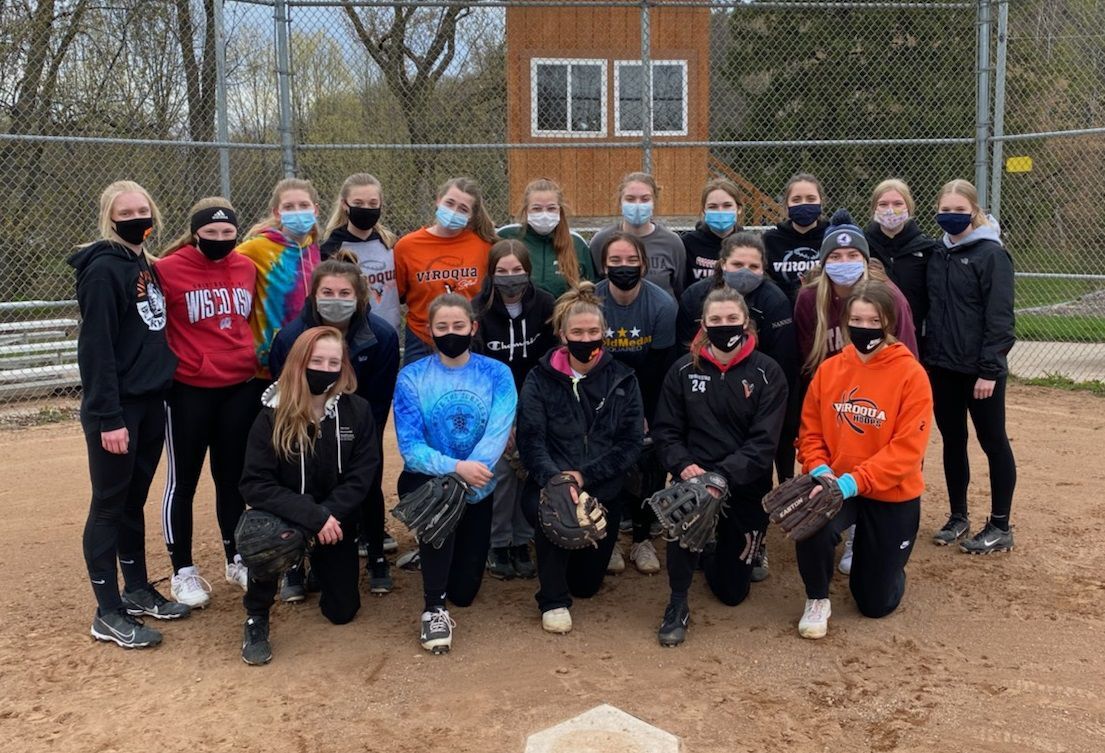 The Viroqua softball team is being led by a new head coach — George Hopkins. Hopkins had been an assistant coach since 2010.
"I think that we should be very competitive this season," Hopkins said. "We have several starters from 2019 returning at key positions, a few girls that are coming back out for softball after taking some time off and some pretty skilled newcomers as well."
Top returning players include Hallie Sherry, senior—3B (Honorable Mention All-Conference), Saige Zitzner, Senior—P/1B, Jessica Tryggestad, Senior—SS, Alicia Stuber, Senior – CF, and Alyssa Arch, junior—C.
"There were no seniors out for softball last year before the shutdown," Hopkins said. "I am thankful that nobody on our team had to miss their last chance to play high school softball."
The ongoing pandemic has affected practices this spring.
"The pandemic has obviously provided some challenges," Hopkins said. "Masks definitely impact the ability to communicate, especially at a distance. As a coach, I need to find ways to promote team togetherness while ensuring they maintain proper social distance."
Even though there are COVID-19-related challenges, Hopkins said the team is excited to play this spring.
"We do not have a large team, but all of the girls out for softball this year can really play," he said. "We should be solid defensively and all the way through the lineup. We also have solid leadership from a great group of seniors."
Hopkins said having a year off was hard for the athletes.
"The year off was hard. A lot of the girls, especially the younger ones, have not played much, if any, competitive softball for almost two years. That lack of game experience is a definite weakness. We need to learn how to transfer what we do on the practice field and in the batting cage to the game. I think that will be our biggest challenge, at least at the start of the season."
The coach has the following motto for the team: "Trust- Do the Right Thing; Commitment- Always do your best; and Caring- Treat others how you wish to be treated."
Hopkins said it's hard to say who the top contenders will be for the conference title because he hasn't seen the teams play in almost two years, and he does not know what their rosters will look like.
"A lot of this year's starters were probably not playing varsity the last time we saw them. That being said, the Coulee Conference is always tough. West Salem was at the top of the conference before the pandemic. Arcadia, G-E-T, Luther and Westby always have strong programs. Black River Falls was really improving before the shutdown, and I would not count us out of it. I guess you could say the race for the conference title is wide open."
Hopkins is assisted by coaches Luke Zitzner (assistant) and Olivia Tryggestad (JV). The team's record in 2019 was 2-17 (0-12).