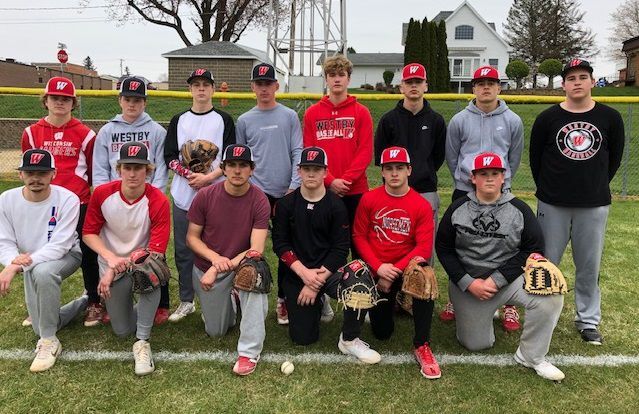 Even though the ongoing coronavirus pandemic has affected how the Westby baseball team does things this season, it hasn't dampened the players' excitement.
"Athletes are grateful to have the opportunity to play," said John Hamilton, who's been coaching for 25 years. "Getting outside has been a huge plus. There seems to be a lot of positive energy from our student-athletes, and they are genuinely excited and hopeful."
"The WIAA granted us 15 contact days to use prior to the start of the season," Hamilton said. "This has been a tremendous benefit for us. Our official season start date was moved back by four weeks, but being able to utilize these contact days has provide an excellent opportunity for us to get some extra work in. Various protocols have been put in place as a result of COVID-19. The standard sanitization and masking indoors, and when not able to socially distance are in place. As for practice structure, we have worked to establish groups so as to minimize contact between groups of athletes. Losing the spring season in 2020 obviously affects our approach going into this season. We have stressed fundamental skills early in the season."
The team, which had a 15-10 record in 2019, lost several players to graduation. "Specific positions are difficult to determine being we did not have an opportunity to play last spring," Hamilton said. "We lost some solid offensive players in our 2020 graduates."
Top returning players include Gavin Bergdahl, Andrew Knutson, Jack Nelson, Trevor Lemke, Garrison Korn, Briggs Hellwig, Hudson Lipski, Cale Griffin and Bo Milutinovich.
"We are hopeful and optimistic going into the season," Hamilton said. "We (have) little to no experience at the varsity level in the spring, due to the fact that our returning players did not have the chance to play last spring. We were fortunate to have many of our players play this summer. This experience will benefit us and will hopefully be a catalyst for our team heading into the 2021 season. Our preparation is focused on fundamental baseball. For our team to have success, we must do the little things well."
Does the longtime coach have a motto and goals for this year's team? "Our motto is one we have always used, 'One Pitch at a Time'. We focus on controlling the things we can control, being our best at that given moment, and playing the game simply one pitch at a time. As for goals, we hope to compete for the Coulee Conference title. This is a certainly a tall task, as our league is very strong and competitive. We hope to keep improving day by day and hopefully compete with the top teams in our league."
Hamilton said team defense is an area they are working very hard at and expect that to be a strength of the team.
What are the team's weaknesses and biggest challenges? "We are unproven at the varsity level and we will need to demonstrate the ability to perform consistently at the varsity level both offensively and defensively," he said.
Viroqua and West Salem are Hamilton's picks as contenders for the conference title.
Dan Dwyer and Scott Kring are the assistant coaches.