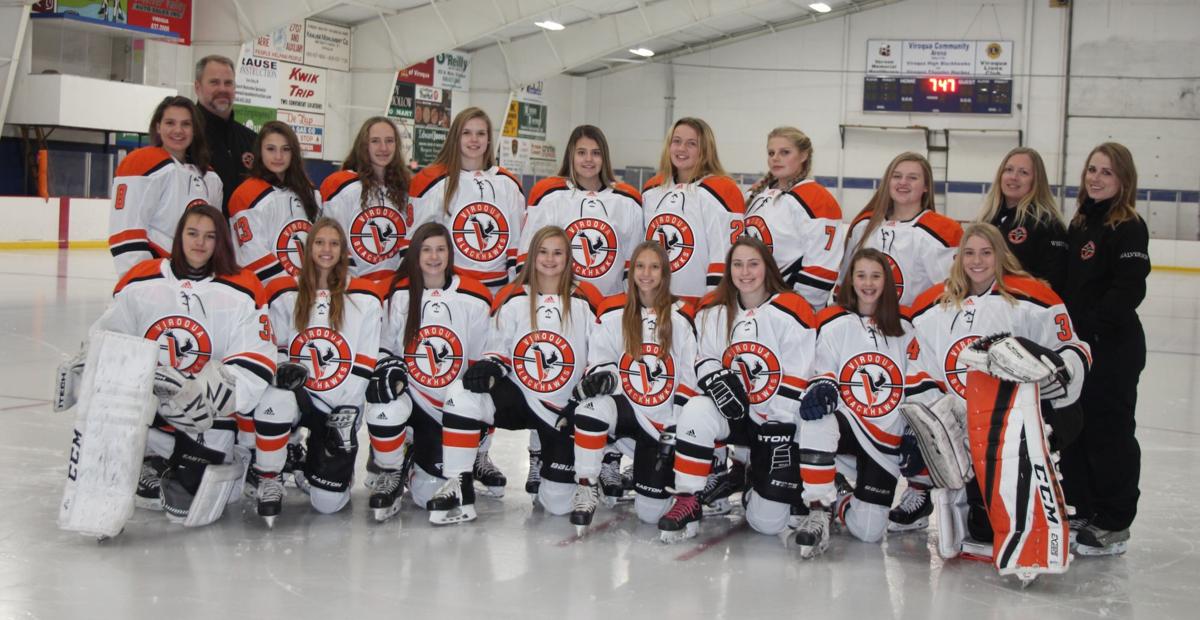 The Viroqua cooperative girls hockey team, which includes players from Westby, Viroqua, Laurel and Youth Initiative, is heading into the new season with more depth.
"We only lost two players to graduation, but both were key players for our team last year," said Paul Severson, who is in his second year of coaching. "The silver lining is that we have a big group of freshmen joining us, which will add a third line of forwards and give us depth at every position. We should be a competitive team this year against pretty much everyone on our schedule."
Severson said the key players who graduated were Maia Barendregt, captain, leading scorer, honorable mention all-state and second team all-conference; and Perla Grenier, captain, utility player and team leader.
Top returning players include Abigail Severson, senior goalie who returns in net. She was selected for second team all-state honors, was a unanimous first team all-conference selection and was a finalist for the "Goalie of the Year" award in the state of Wisconsin. Another returning player is Erin Simonson, junior forward, who is the second leading scorer on the team and earned honorable mention all-conference. The third top returner is Kelsey Shaner, senior forward, who is the third leading scorer from last season.
"When it comes to our team motto, it's "Practice how we Play."; we expect everyone to work hard in practice so we can compete hard when we get to game time," Severson said.
What does Severson see as the team's strengths this season?
"We have a strong core of talented hockey players returning, plus a large group of incoming freshmen. Our biggest weakness last year was the lack of depth. That will not be the case this year. We were competitive in all but three games we played in; having that depth should allow us to win a few of those close games in the upcoming season. We had a strong defensive presence, especially on special teams (fifth in the state for penalty kill), that is expected to continue this season."
Severson said the team has a challenging schedule this season.
"We will be facing six teams that were in the top 10 last season, and a few more that were knocking on the door to the top 10," he said. "We have eight freshmen joining the team this season, so we will be a youthful team that will need to get up to speed quickly."
Severson said he expects the Cap City Cougars, Rock County and the Metro Lynx (Madison) to be the top contenders.
"Cap City Cougars went to state last season from our conference and look to be strong again this year," he said. "Rock County also has a strong team returning and the Metro Lynx (Madison) will be a talented team as well."
"We should be a challenge to all of the teams in our conference," Severson said. "We finished middle of the pack last season but were close in all but one of our conference games. I expect that we will once again be very competitive with our conference foes."
The team's record last year was nine wins, 11 losses.
Severson's assistant coaches are Cassie Halverson, Ashley Whitney and Michael Severson.