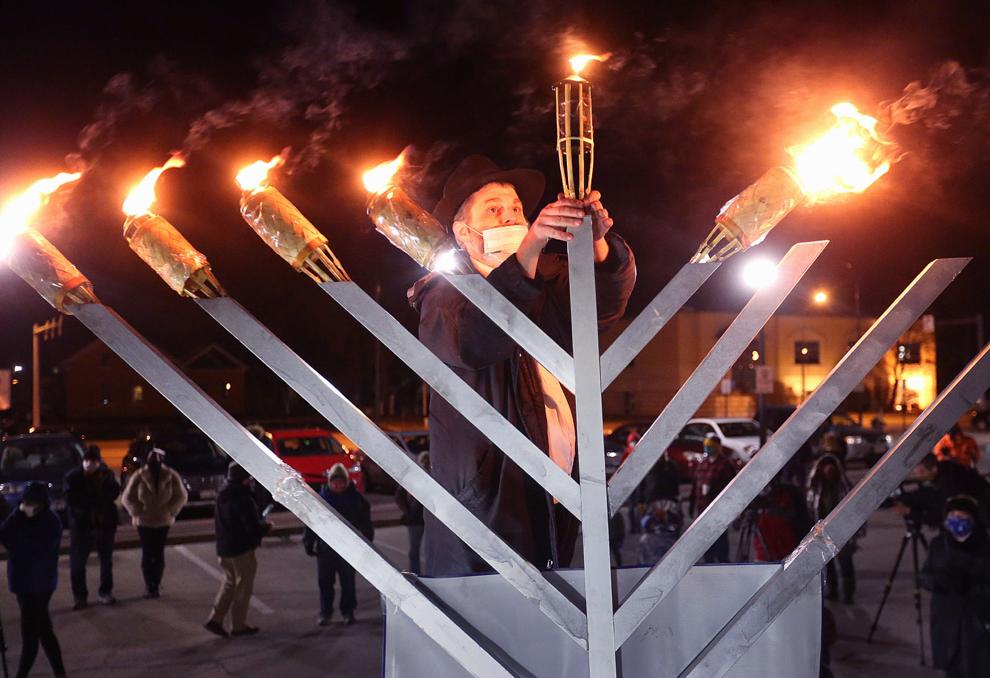 On its fifth night, the city of La Crosse held its first public celebration of Hanukkah, lighting a menorah outside of city hall Monday.
"We thought this year, because we've been through a difficult year, with [the pandemic] and everything, we thought, we need to add light," said Rabbi Aron Schimel, from Postville, Iowa, helping lead the ceremony.
"We thought this year we need to add light, instead of fighting with the [coronavirus] and dealing with the negative, the way to fight it is to add more light."
Hanukkah is an eight-day Jewish holiday celebrated each year, honoring the victory of the Maccabees over the Syrian army.
Also known as Chanukah or the Festival of Lights, the holiday is traditionally celebrated by lighting the menorah — a candelabra, where a candle is added and lit on each of the holiday's eight nights, representing a small amount of oil that lasted the Maccabee's eight whole nights after their victory.
Hanukkah falls on a different week in either November or December each year. This year, it's celebrated Dec. 10-18.
This is the first public celebration and menorah lighting in the city of La Crosse, officials said, and the mayor honored its celebrants with an official proclamation recognizing the event.
"This year we're doing it for the first time in La Crosse, and we're so happy to see all of the community of La Crosse, the Jewish community," Schimmel said.
Traditionally, families light the menorah each night in their home, and place it in a window to spread the light out to the community.
"In order to push away darkness, we light it at night," Schimmel said.
For those who celebrate Hanukkah in the La Crosse area, the event was an exciting new tradition that will hopefully bring the community closer together.
"We're just slowly getting more integrated into the Jewish community here, and it's nice to see, and it seems like progress," said David Mindel, who has lived in La Crosse for the past eight years, living in Madison and D.C. previously.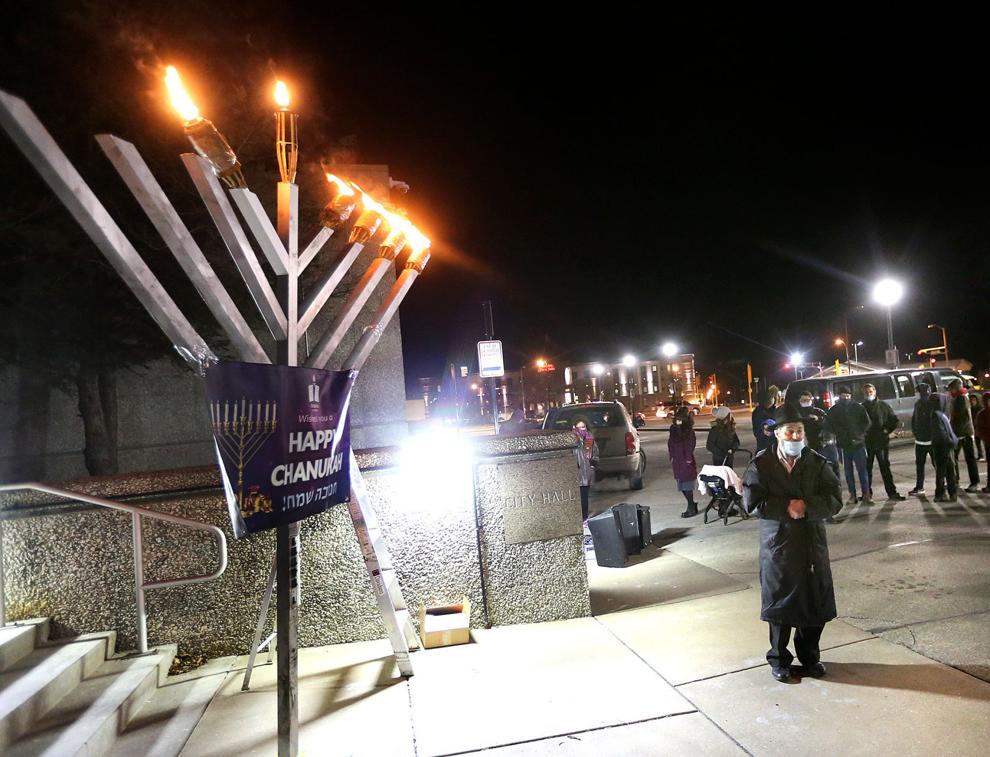 "I hope there's a continuation of this and an embrace of other traditions. The thing in particular about Judaism is that there's a cultural sort-of identity that goes along with it beyond just religious," he said. "Just an embrace of different cultures and different ideas and philosophies, and it's nice to see it and hopefully it continues to grow in that direction."
David was at the menorah lighting Monday night with his wife, Mackenzie Mindel, who is running for La Crosse Common Council, and their 10-month-old daughter, Bluma.
The Mindels have blended holiday celebrations each year, as David was raised Jewish and Mackenzie traditionally has celebrated Christmas, and the two were excited the community was beginning to embrace the many holidays celebrated at the end of the year.
"I love having to celebrate both traditions and it's really fun to be part of it, and I'm excited for Bluma to have both and get to experience the different traditions," Mackenzie said.
"There's so many traditions in La Crosse," she said, "and just to see that there's more than one tradition, and that we can all celebrate together, even if we don't practice," she said, noting that her friends and neighbors also came to the celebration so that their kids could learn more about the holiday.
"We hope that more community members come celebrate with each other so that it can be celebrated by all community members and not just people who are Jewish, and that it can be fun," she said.