So you slid off the icy road and into a deep ravine; you've really done it this time! You are OK but shook up; you and perhaps the officer who arrived on the scene, both agreed you really were in need of towing and recovery assistance. A quick SOS to one of the area places that just does that might have been a call to Sleepy Hollow, 1225 N. Main St., Viroqua.
Quite possibly you might have had longtime Westby resident and Sleepy Hollow employee, Mike Skrede, who showed up with his tow truck, as he was (and still is) on 24/7/365 call with Sleepy Hollow. He would have brought years of experience and expertise to your situation and it is then that you most certainly would have had a "thank God for this guy and his truck showing up so soon" moment.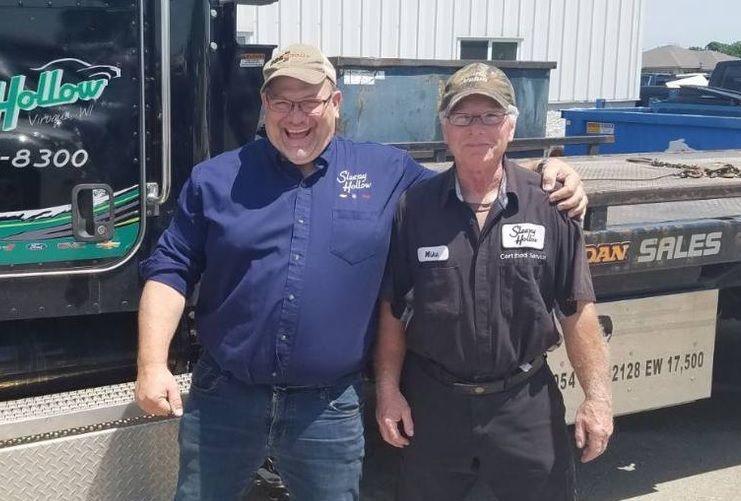 Skrede started being that very help in the mid-l970s, going on tow calls and working for Walt Mahlum, using Walt's own truck. Then Mike was hired by Westby's Birger Eklov Garage and Service Station in Westby, where he stayed for about 30 years, adding to his skill set be it rescuing vehicles in dire and not-so-dire situations, to hauling big and especially long loads for people, as well as working in the Eklov Garage. Following the various ownerships of the Eklov business, Skrede stayed on, doing the towing and recovery for those following owners. Since 2000, Mike has been and continues to be Sleepy Hollow's "go to" guy. In his "spare" time, he has faithfully volunteered as one of Westby-Christiana's Fire Department crew, retiring in 2018 after many years of service with them.
If you have purchased a piece of big, heavy equipment at a Tomah-area farm auction and you need it hauled, Skrede is your man. If you bought an antique windmill on line in and now need it brought home from Minnesota, get hold of Mike. If you just spent $60,000 on that red Mustang of your dreams and want to bring it back to your own garage, Mike can do that for you as well. He has actually done that and more for customers, be it Corvettes or junker cars, being most happy to get your item from point A to point B.
Claiming he can haul almost anything anywhere when not running accident situations, Skrede was asked by the History Alive Project interviewers if he had ever faced a situation where he knew his truck couldn't do the job in front of him. He slowly replied, "Noooooo, not really; what you do then is, well, you just get another truck. We can call on the guys at the LaFarge WI Truck Service to help with the really big challenges, like hauling semi trailers and their cabs (sometimes with full loads themselves) out of those especially messy situations."
Skrede was asked to cite his most harrowing experience to date while on the job; he sheepishly grinned and replied, "Well, it is probably the next call I am going to go on, to be honest. I did get a call in February of just this year, to head out to an accident on County B near Rising Sun; the temperature was a minus 50 degrees F. that time; it was tough to be out in that cold and try to hook things up correctly."
He drives Sleepy Hollow's 2016 Peterbilt cab, hooked to a 21-foot roll back slide bed trailer rig when the situation warrants it; they also have a 2017 rig he can take. When asked what special skills one has to have to be good at his job, Mike said, "quick thinking, team work (especially when fire department and law enforcement personnel are also on accident scenes), as well as just learning on the job as each call is a different situation." He has nothing but immense praise for the local fire and police professionals and those volunteers with whom he has and continues to work with over the years.
For Skrede's wife, Dawn, her husband's on-call status has meant many a delayed, warmed up again meal, coming late to and or missing special events or celebrations, but she says that everyone just deals with it. "Spanky Felton, Sleepy Hollow owner," Dawn added, "has treated us very well over the years; our two grown children, Matt and Jenna, also have learned to 'roll with it' as that is just what their dad does as part of his profession."