Ski jumpers will be flying again in Timber Coulee, rural Westby, in the 97th annual Snowflake Ski Jumping Tournament. Competition will be held on Friday evening, Jan. 31 and Saturday Feb. 1.
At one time, there were many ski jumping hills throughout the state, including one on the UW-Madison campus near Bascom Hill. Several jumping sites and clubs survive, with the best known being in Westby and Eau Claire. Competitions that attract international jumpers are held at those sites and Minneapolis, Fox River Grove, Ill., and Ispheming, Mich., annually.
There will be over 20 jumpers from across the U.S. and foreign jumpers from Finland, Slovenia and other European Countries. All jumps will be on a 118-meter hill, which is the same sized jump used in Olympic competition.
The competition on Friday will begin with opening ceremonies at 6:30 p.m. Jumping at night under lights provides a spectacular party atmosphere. It will feature warming fires, tailgating and a dance after the competition is done. Saturday's opening ceremony will begin at noon and generally is more family oriented. Results of both competitions will be used to determine tournament winners.

In addition to the normal jumping for points seen during the Olympics, there will be a crowd-pleasing standing long jump, where jumpers who are brave enough try to have the longest jump of the day without falling. This is normally when new hill records are set. The jumper's style, an important part of the competition scoring system, does not count for these jumps. The Snowflake Queen and her court pass the hat among spectators to build up a pot of money for the daring jumper who wins. Standing long jumps will take place Saturday after the end of regular competition.
There will be lots of other activities going on during the ski tournament, including a dance with live music by High Mileage and dancing on Friday. On Saturday, there will be live music by The Couleegans and dancing after the competition. Admission to both is free with a tournament button; a $5 cover charge applies to those without a button. Children will have an opportunity to dig in a large snow pile for $100 in quarters on Saturday, when there will also be helicopter rides for a reasonable fee. Horse-drawn sleigh rides on Saturday will be available for a small donation. An food stand will provide refreshments both days, and there will be vendors selling pelts/caps and other items.
Admission buttons are $20 per person purchased at the gate or $15 if purchased earlier at various local outlets in the Coulee Region or online. The button is good for both Friday and Saturday. Veterans, military members and their families will be admitted free. Veterans' Buttons are available only at the gate. There is also a commemorative Gold Button honoring club members who passed in the previous year: Roger Jaeger, Jim McDonald and David Sorenson. These are available at Borgens, Evenstad Tax Service, WCCU or online at the Snowflake website, and cost $50.
The Snowflake Ski Club, working in conjunction with Logistics Health and several other sponsors, is proud to admit all veterans and their spouses at no charge upon display of a DD Form 214, a VA card or membership card for the American Legion or VFW. If you are serving on active duty, are an active member of the National Guard or Reserves, are in ROTC, or are a military retiree, you and your spouse and children will be admitted free. Just present an ID card at the gate.
Parking is free, and if you get there early you can find a spot to park and watch the jumping from your car. But part of the fun is walking around the site and watching the jumpers from the outrun at the bottom of the hill. You can sense their excitement after a successful jump and pat them on the back.
This event is pet-friendly, but dogs must be on a leash.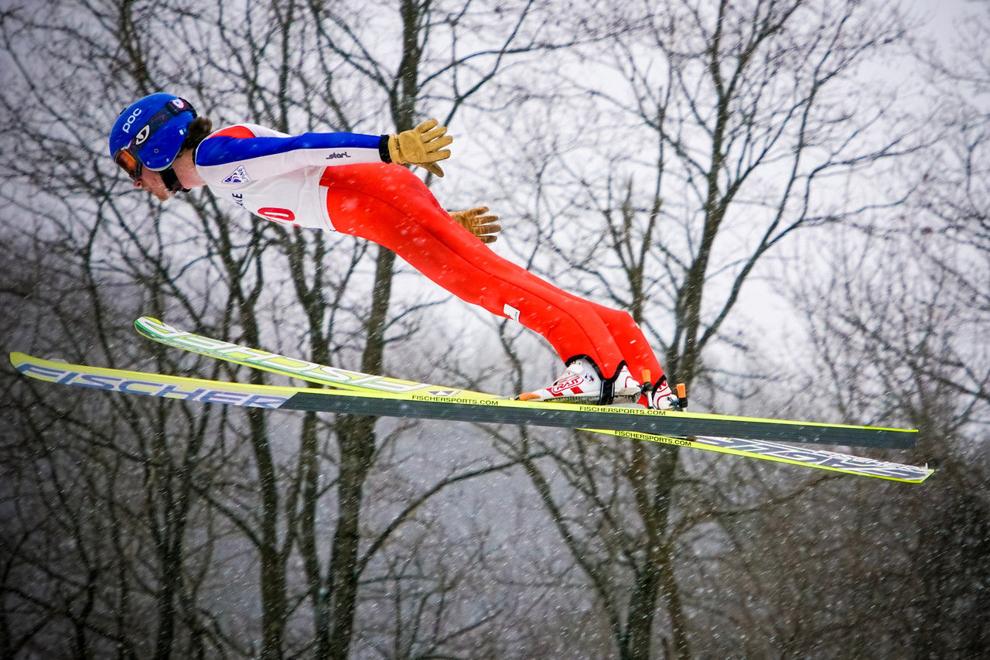 If you want to have a fire near your car, you must bring a portable fire pit and your own wood. Fires on the ground are no longer allowed, as the parking area is used as a golf course during the summer. If you have a fire on the ground, you will be asked to extinguish it. Please pick up and take with you the remains of your bonfire,
Dress warmly – these are outdoor winter events. There will be bonfires and other interesting activities for the entire family.
Be sure to bring your camera and a noisemaker like a cow bell or horn. The crowd traditionally recognizes the really good jumps with noise. Check out the ski club's website for pictures, a map, admission fees, to purchase buttons, and YouTube videos at www.snowflakeskiclub.com.