Conditions were already grave in the village of Coon Valley after torrential rains totaling anywhere from 8-13 inches blocked all access roads in and out of the community preventing outside emergency assistance from getting to people in need of help in the Vernon County community of 700.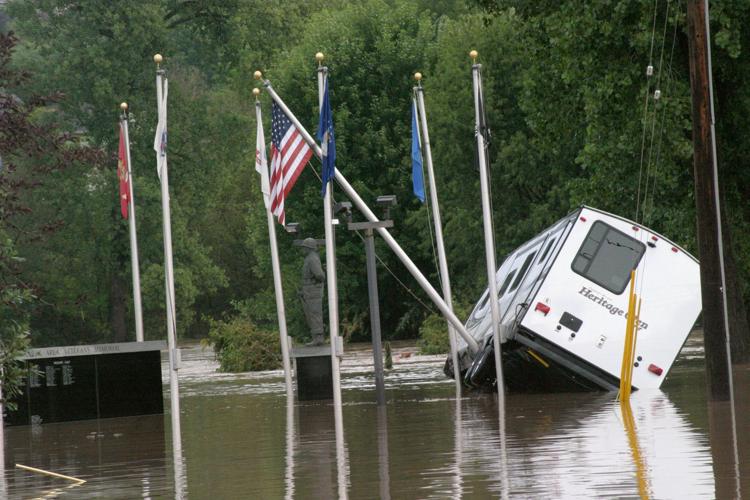 Bill and LouAnn Wolff have lived on the Southside of Central Avenue for 26 years. They stood in disbelief for hours Tuesday morning in front of their home, trying to determine whether it was safe to enter.
The Wolff's were rescued early Tuesday morning from a second story bedroom window. Like many others they were forced to crawl into the bucket of an end loader in the pouring rain and pitch black skies to escape the rising water that was quickly encasing their home.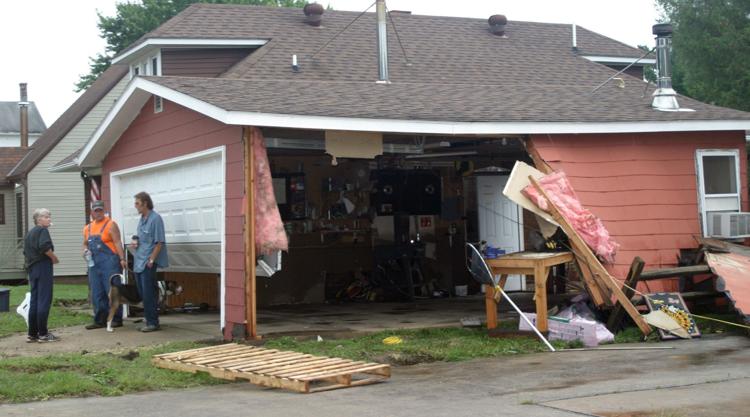 "Our house is trashed and our insurance won't cover anything, but our vehicles. We don't have a clue what to do and we worked too hard to just walk away from our home," LouAnn said.
The couple, along with approximately 50 other village residents, were transported to the Coon Valley Village Hall, before being relocated a second time to the Coon Creek Fire Station and finally put up for the night at the Coon Valley Elementary School after rising waters forced multiple relocations to different buildings in the community.
The Wolff's story was a broken record throughout the village as residents fought back tears and the inner fear that without some form of financial assistance they will end up homeless.
The Bothne House, an elderly assisted living facility near the park was evacuated at 1:30 a.m. Firefighters and volunteers carried the residents one by one to safety, loading them in a van, before transporting them to the village hall and eventually the school. All residents are now being housed at Vernon Memorial Healthcare in Viroqua.
Rain began to fall at 9 p.m. on Monday, Aug. 27, dropping 3-8 inches of rain within 90 minutes. Storms resurfaced at 1 a.m. adding an additional 2- 5 inches early Tuesday morning, Aug. 28 and the skies opened up again on Tuesday afternoon dumping several more inches of rain to the already devastated Coulee Region.
The Vernon County Dispatch Center received 911 calls non-stop once the rain started and the conditions in low lying areas became increasingly worse. Emergency personnel were out for hours monitoring the situation and trying to warn and reach as many people as possible in need of help.
The Coon Valley Village Park was completely submerged by flash flood waters before midnight and within a foot of being over the Coon Valley Hwy. 14/61 bridge.
Shortly after the park was flooded calls for assistance on Anderson and Sveum Ridge Road homeowners began coming in as families found themselves unable to escape the quickly rising and rushing flood waters.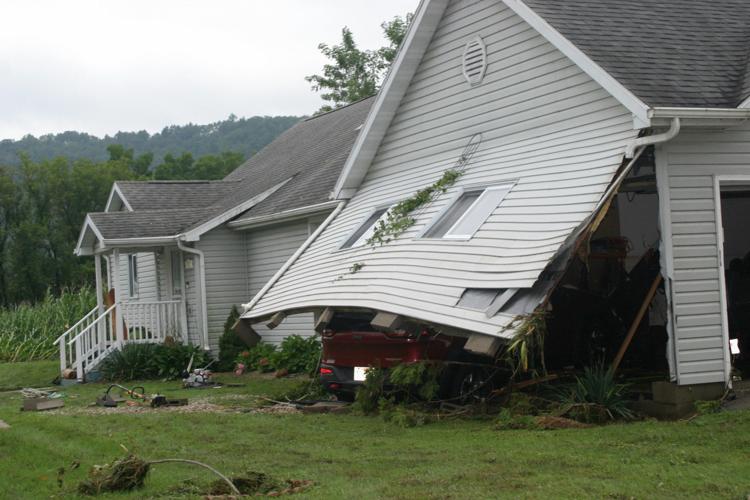 Peter Nestingen and his wife, who reside on Old Mill Road next the Coon Valley Bridge reached out for help after the garage walls were blown out by the force of the water and the home's foundation gave way. The couple is expecting a child any day and were rescued by boat after making it to the highest point of their home.
Volunteer firemen Jason Rundhaugen and Stan Bender sailed down Anderson Street and right over the top of a Jeep Cherokee that was stalled in the middle of the street, but completely submerged under the wall of water. Rundhaugen said he didn't even know the Jeep was their until waters receded late Tuesday morning. The Nestingen's were transported to safety thanks to the heroic efforts of the volunteers.
Coon Creek Fire & Rescue was stretched thin and in need of boats. ropes and manpower to get into flooded areas of the community, but outside access to the community was limited due to mudslides, washouts and closed roads in all directions surrounding the village.
Volunteer firefighters from Westby and Viroqua eventually found a way through and aided with rescue efforts in Coon Valley.
Coon Creek Fire Chief Russ Cornford said his team is surviving on adrenaline and they couldn't have saved as many people as they did without so many helping hands.
By 2 a.m. the Nelson Division, behind the post office was underwater and residents in the Hiawatha Apartments were attempting to evacuate themselves as heavy rain continued to fall.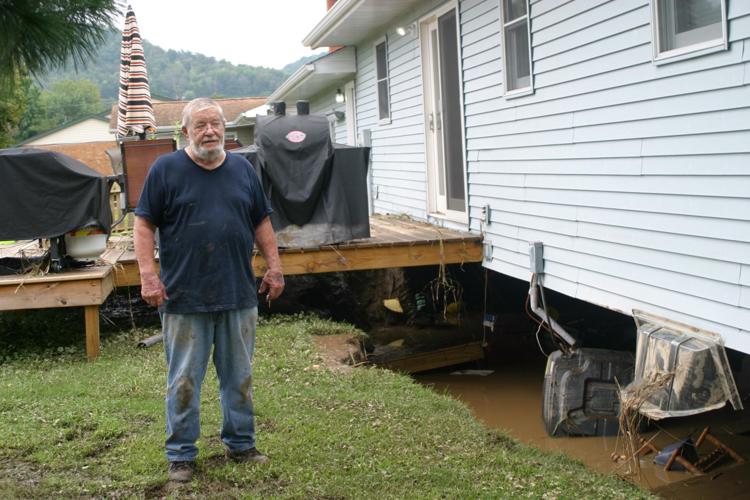 Richard and Judy Mixter moved from Michigan to Coon Valley two years ago to be closer to their family. They found a fixer upper on Hiawatha Street, completely gutted it and just recently finished remodeling both levels. The rebuilding process will begin again after the complete back wall of the foundation collapsed at 1:30 a.m. The bang forced the couple out of bed as water raged with an relentless force across their entire property.
After being up all night and having to face the reality of how unforgiving Mother Nature can be, Richard popped a beer open and said it must be five o'clock somewhere.
"There's never a dull moment in Coon Valley, but this is ridiculous," Richard said.
From Mahlum Street the water flowed into the Nelson Division where every house on two blocks was dealing with ceiling high flood waters in the basements and verifying levels of mud and muck on the first floor.
Steve and Michelle Meyers rental home no longer has basement windows and the first step into the basement is a cesspool.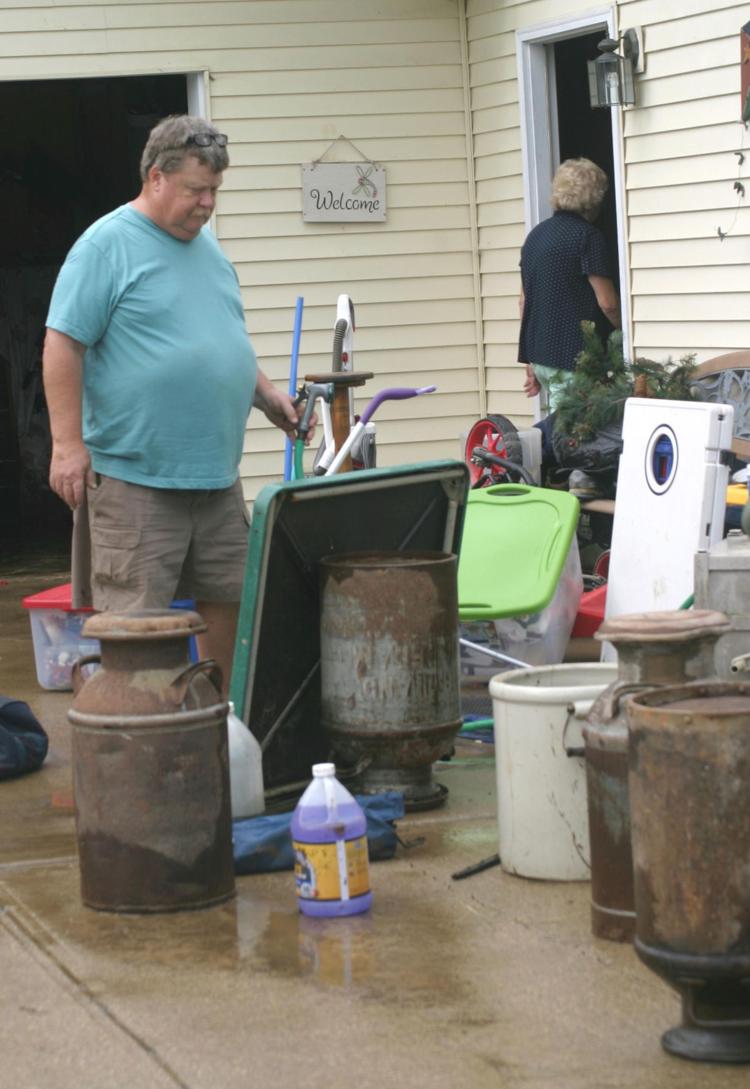 Mike and Marla Fencl (506 Nelson St.) spent hours removing baseball and family memorabilia from the basement Monday night, but didn't have time to remove everything to higher ground from their home of 35 years. Mike said never in a million years did he ever expect to deal with anything like this. The Fencl's were rescued by boat from their home.
Inez Beck is in her 80s and no longer has a front basement wall after it gave way at 502 Nelson St.
Right next door Arvid Holey fought back his emotions as he wondered how anything would ever be normal again. His basement was filled to the top with water, he didn't have flood insurance and his truck was water logged. The Holey's were slowly removing water from their basement fearing the walls would collapse if they pumped the water out too fast.
"We don't know where to turn and right now there's no help in sight and more rain on the way," Arvid said as tears filled his eyes.
Like a broken record the Coon Valley Village Park has dealt with massive flood episodes including back-to-back devastation in 1997 and 1998; 2007 and 2008; and now 2017 and 2018. The fences and bleachers were in shambles, the concession stand and announcers booths were heavily damaged, the playground equipment was mangled, and the park gazebo and shelters were blown off their foundations and were wedged up against the Coon Valley Hwy. 14/61 bridge.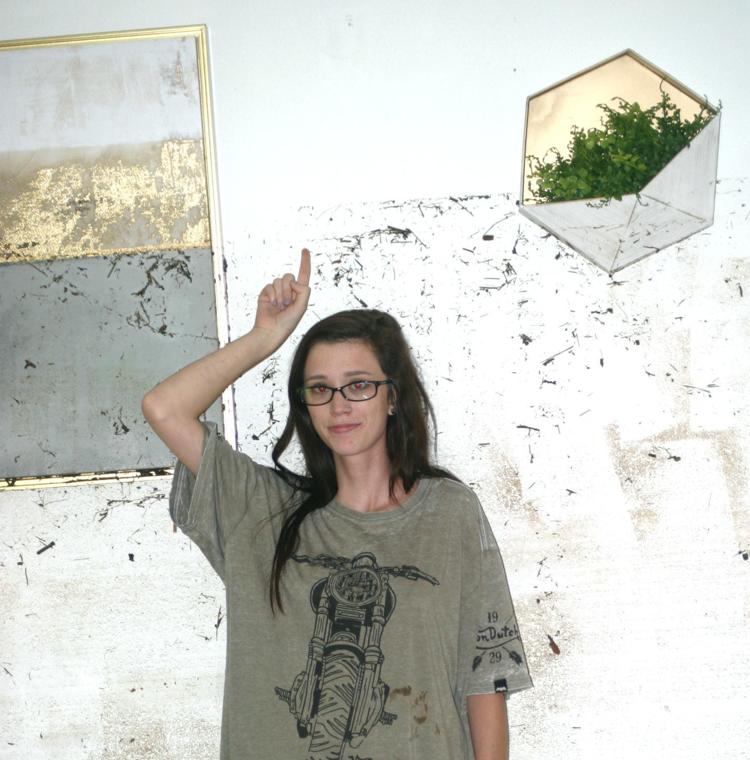 Chelsea Nobrega and her 4-year-old daughter were asleep in a twindo located near the park. Nobrega was awakened by firemen pounding on her door warning them to evacuate. As she stepped out of bed water was to her knees and the electricity was out. She located her daughter and they were taken to safety.
Nobrega and her fiance, Cody Ducklow, who was working in La Crosse when the flood occurred lost everything. The couple were supposed to be planning their wedding, but instead are now searching for a place to live with only the clothes on their backs.
Flood waters didn't just destroy homes this time around, but caused extensive damage to downtown businesses. Roy and Joyce Stephen have water rolling across the first floor of their home and across the inside of their Mega Parts business on Anderson Street. The couple was using a water hose to clean up the mud and muck, which Joyce said is ironic since its water that created this unbelievable mess.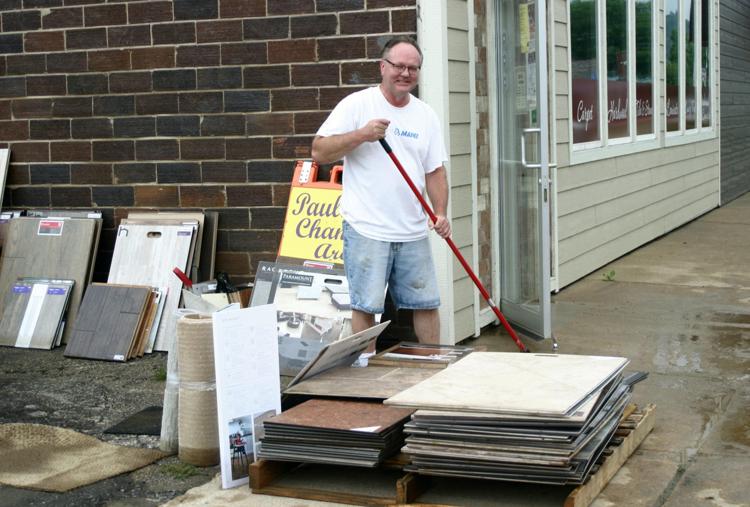 Tim Seland had a posse of good Samaritans helping remove carpeting and flooring samples from his business on Central Avenue. Seland said until now the only water damage in the business was a toilet that overflowed.
"This one will take a whole lot more time and money to fix," Tim said.
Village employees and government officials have also been working tirelessly to help residents in need of assistance. Both the village lift stations were not operating as of late Tuesday and the fear of sewage back-up in basements was a major concern.
The village streets remained littered with rocks and debris, misplaced crawdads were walking down Central Avenue, a pair of beavers were swimming in flooded yards, and a not so friendly red beef bull was roaming around the village streets Tuesday morning in search of home.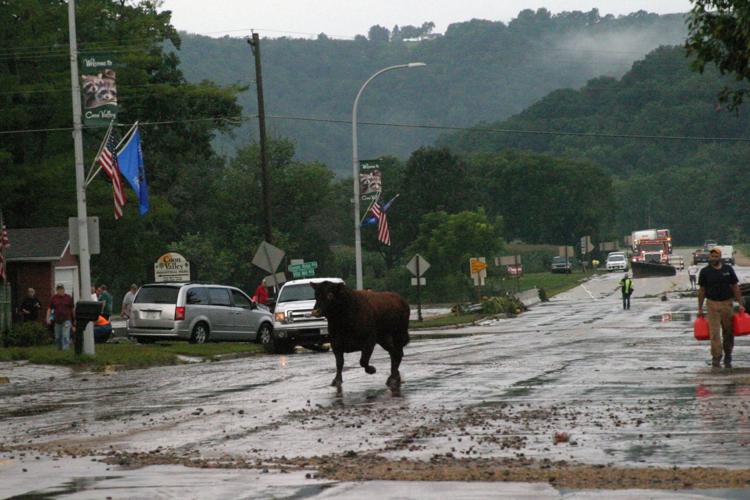 The Hwy. 14/61 bridge remained closed and could be closed for an extended period of time until the DOT completes a safety evaluation of the structure.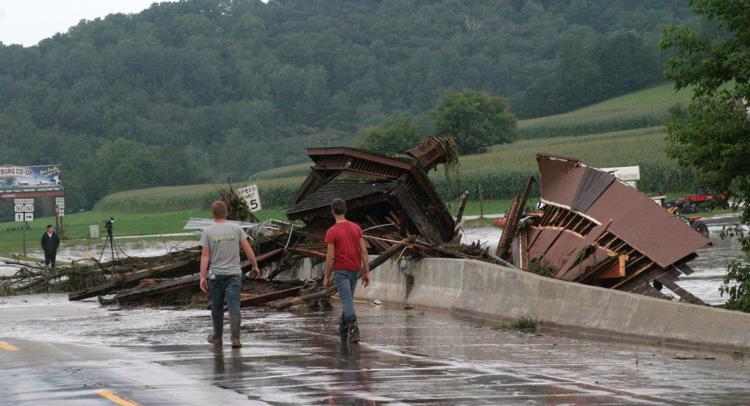 Vernon County Emergency Management and the Vernon County Health Department are working with village of Coon Valley officials to help provide food and shelter for displaced residents. Shelter for anyone displaced in the village of Coon Valley is available. Anyone in need of assistance should contact Linda Nederlo at (608) 637-5292.
Western Vernon County remains under a flash flood warning. A special note of appreciation to everyone who has gone above and beyond to help people throughout the Coulee Region during yet another 100 year flood in Wisconsin.
Updates on the flash flooding in Vernon County will continue as more information is received.
Reach Dorothy Robson at dorothy.robson@lee.net or (608) 606-0811.