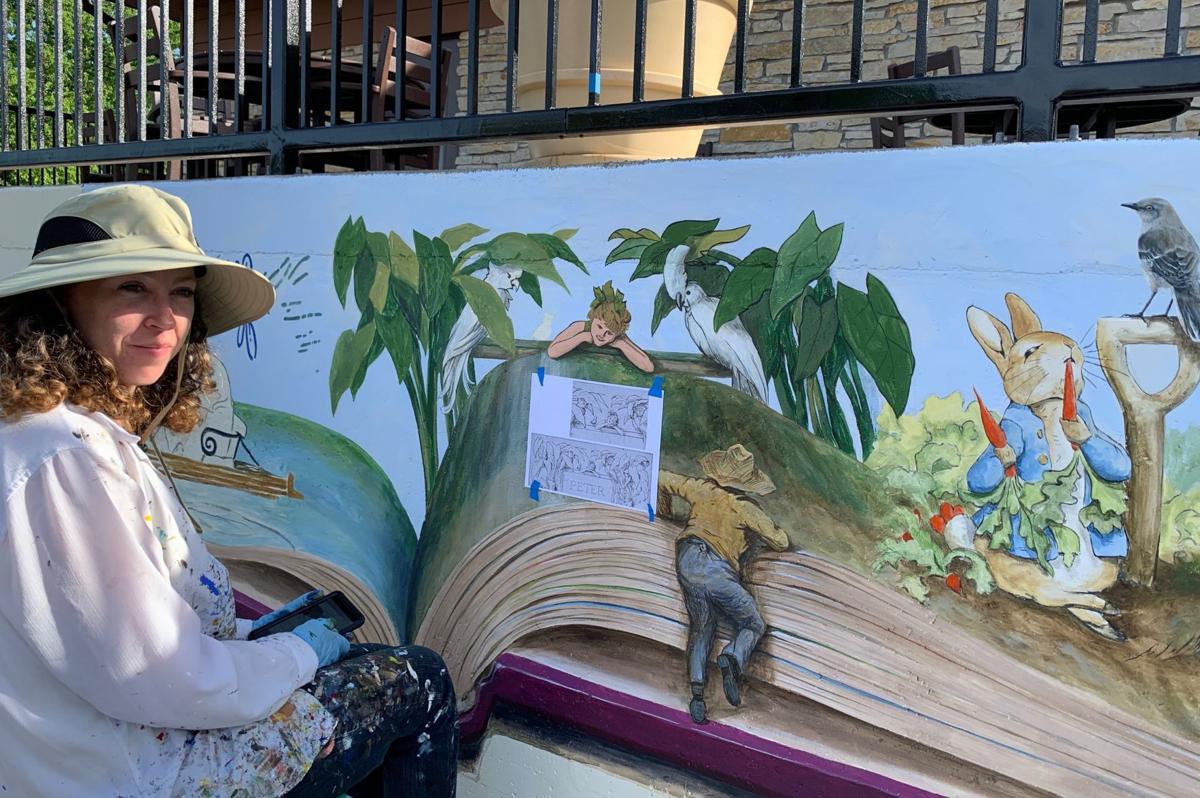 It's soon finished! In a few more days, the mural at Bekkum Memorial Library will officially be done and it is beyond words to explain how beautiful it is!
Sarah Pederson, of Lucid Painting, is the amazing artist who brought the patio concrete wall to life. Using books, characters from a variety of literature, a few nods to Westby's Norwegian heritage and even incorporating the mission statement of the library, Sarah fulfilled and far exceeded the task she was commissioned to do. A formal presentation of the mural will be held on Saturday, June 27 at 11 a.m. during a "ribbon cutting" ceremony to open the new library patio space. Everyone who attends will have a chance to see the mural up close and discover the many elements that will make this artwork a highlight of the community.
Sarah grew up in Sun Prairie until her sophomore year of high school when her family moved to Westby. After graduating from Westby High School in 1994, Sarah went to the University of Wisconsin-Madison to earn a Bachelor of Business Administration with a major in Marketing. Following graduation, Sarah worked in the corporate world at a small hospital; a TV station; and a staffing agency, doing marketing and design for several years. She and her husband, Kurt, a Conservation Specialist for La Crosse County, lived outside Wisconsin for a few years after they married but decided to move back to Coon Valley, closer to family, where Sarah was a stay-at-home mom for a short time.
Eight years ago, Sarah took the leap and founded Lucid Painting. She chose the name because evident, obvious and crystal clear are just a few of the definitions for the word "lucid." Sarah shared not only that she felt it was time, a good idea for her to start the company but she hoped that her paintings would bring clarity to her clients' visions. Sarah said that she loves the design aspect of her job and it is very rewarding to see her clients' responses to her designs, to see how happy they are when she meets, and often exceeds, their expectations.
Sarah has always had a love for creativity and drawing. Her father, a college educated artist, always encouraged her talent. Though Sarah has never formally attended art classes, she has studied books, videos and joined online forums to better learn the art of trompe l'oeil, or "fool the eye" painting. Her works are so realistic that they appear to be three dimensional instead of flat surfaces. Sarah also said that her father has been a wonderful resource, helping her figure out how to execute things when she has questions. When Sarah isn't spending time with clients, designing or painting, she and her husband, son, daughter, son-in-law and granddaughter are a busy family.
Sarah's work can be seen in our immediate area at the Westby Elementary and Middle Schools, the Westby Area Performing Arts Center, the Westby Fire Department, the Coon Valley Library, Coon Valley Fire Department and Coon Valley Elementary School. She has also done work for the La Crosse Loggers, the Pediatric Oncology Department at Gundersen Hospital DNA Vintners and various churches and other schools in the area.
Plan to join members of the Bekkum Library staff and Board of Directors on June 27 at 11 a.m. when you can meet Sarah, hear a little bit about her process and experience the new library patio. Expect to spend some time because there are so many interesting elements in the mural for you to discover. The three walls encompassed by the artwork have more than sixteen easily recognized titles and more than thirty characters or items that directly reference famous literature. And, the patio will be a perfect place for you to relax after the ribbon cutting. Bekkum Memorial Library and what it offers to the community are certainly highlighted by Sarah's extraordinary work. Everyone is invited.
Be the first to know
Get local news delivered to your inbox!