On Saturday, July 27, cars and pies collided as the main attractions during the fourth annual Sweet Rides & Sweet Pies car show and pie with ice cream social held in Westby. Co-sponsors for the event were the Westby Area Historical Society, and Roy and Joyce Stephan from Mega Parts in Coon Valley.
More than 500 people attended between 10 a.m. and 3 p.m. to see 118 vehicles. The cars were lined up from the Thoreson House Museum going south to beyond State Street. The oldest vintage vehicle was the People's Choice winner, a 1930 Model A; the newest was a 2017 Harley-Davidson Free Wheeler. WAHS sponsored tours of the museum and served more than 35 pies of all flavors. Those attending could also enjoy delicious roasted pork sandwiches served at the VFW building. A swap meet rounded out the day's activities.
There were plenty of prizes given out at the Awards Ceremony. Dash cards went to the first 50 registrants and everyone who brought a vehicle received a goodie bag filled with stuff from various sponsors.
A plaque was given to Michael Hammersmith from Hugo, Minnesota for traveling the farthest at 185 miles and another was given to the 608 Piston Pounders Car Club for having the most members in attendance.
The Madeline Anderson Award, named for the co-founder of the event, was presented by co-founder and chairman, Garland McGarvey, to Kevin "Bear" Steenberg who brought his silver 1968 Oldsmobile 442 Hurst Tribute.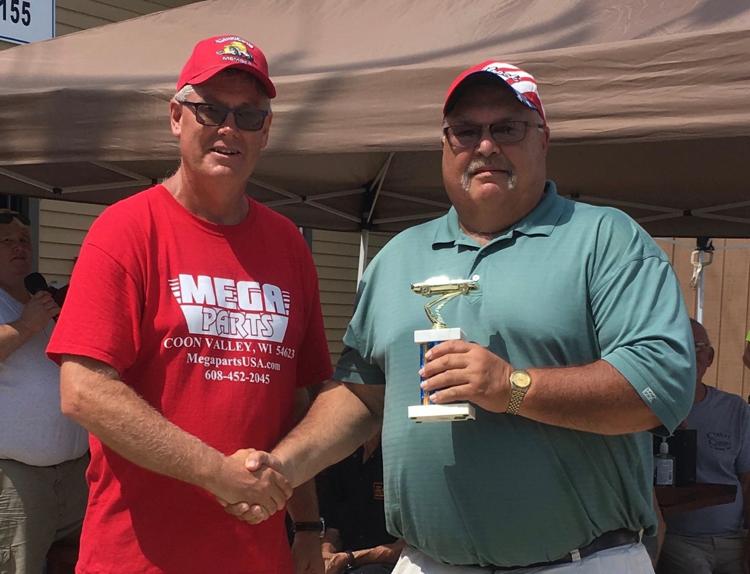 The most coveted award given at the event was the People's Choice Award. Anyone attending could cast a vote for their favorite vehicle.
Register for more free articles.
Stay logged in to skip the surveys.
Jim and Jackie Range's bright green 1930 Model A Ford with a 383 Chevy motor won a pie plate adorned with Karen Hankee's beautiful rosmaling and a trophy. Jim laughed, saying they had quite a time driving home as his wife had to hold the almost 4-foot tall trophy "wedged into the front seat, base at her feet and top over her shoulder." Jim and Jackie heard about the car show from their daughter, Jody Audetat, who lives in Westby.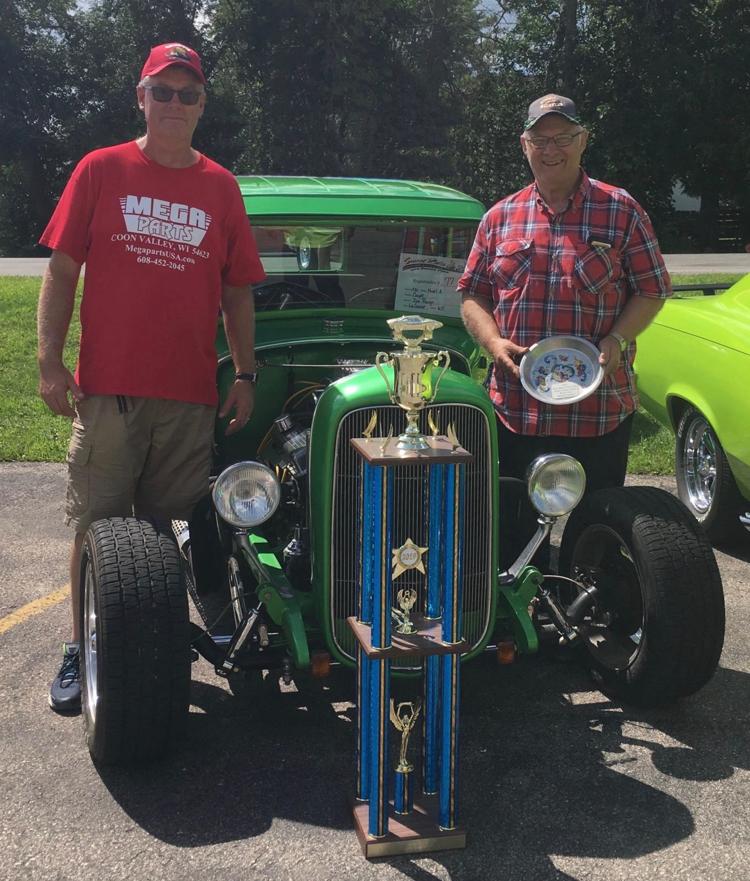 The Model A was purchased about four or five years ago for $125 when it was "in pieces." Jim worked on rebuilding it on weekends when he "had time" and just got the paint job done two months ago.
The upholstery is scheduled for the shop this month and then the restoration will be complete. Jim also has a '34 Ford pickup that he has finished restoring, a '58 Chevy pickup that he is working on, and a '57 Chevy pickup that he would like to sell.
Jim said he never expected to win the big prize when he and Jackie drove to Westby to enjoy time with their family. Jody and granddaughter Alex Rudie live across the street from each other here in Westby so the family was going to "make a day" of the Sweet Rides event. Jim said that the car has really been a family project from the beginning because his two grandsons, Jacob Waller and Jessie Dwyer, have been helping him with the restoration.
The following were sponsors and trophy winners at the 2019 Sweet Rides & Sweet Pies: Auto Value to Mike Hammersmith and Arles Grenie; Back2essentials to Jillisa Anderson, Larry Stirsman and Chris Bennett; Big Old Red Shed to Blain Lee; BlackJack Auto Sales to Todd Holen, Dan Navrestad, Dan Boser and Erik Anderson; Bleachers Pub to Vicki Kalcic; Borgen's Café to Bud Smith; Cashton Farm Supply to Penny Nelson; City of Westby to Tom Shilling, Orin Stakston, Mikie Buchanan and Dallas Ratzlaff; Coon Dale Farms to Rodney Johnson; DC Kustoms to Cory Anderson; Dorothy LaDue to John LaDue and Bobbie LaDue; Edward Jones-Todd Volden to Rodney Johnson; Embroidery & More to Dennis Borchert; JBrooke Garage Doors to TC Allen; Little Jack Horner Thumbs Up to Ken Rupp; Mark Anderson Realty to Ernie Snider; Mega Parts to Cedric Veum; Michaels Truck Equipment to Walter Manthei; New Directions Real Estate to Randy & Carol Anderson; Nordic Lanes to Steve Hodson; Phil Strand Am Fam Ins. to Chris Osthoff; Right Chorice Construction to Ron & Ann Benson, and Gary Gordon; River Bank to Karl Lavold; River Road Recovery & Portables to Gary & Terry Gilbeck; Sleepy Hollow to Jim Anderson; Syttende Mai, Inc. to Alex Alexander; Two Brothers Collision to Daryn Stilwell; Vernon Communications Co-op to Keith Niemyski; WCCU Credit Union to Dean Dahl; Westby Area Historical Society to Sue Kastensen; Westby Co-op Creamery to William Pansegro; Westby House Inn & Restaurant to Craig Thurin; and Westby Truck & Equipment to Dale Troppmann and Tom Baltrus. Gift cards were given from WCCU $50 cash card to John Eaton and Rock Auto $25 gift card to Nancy Johnson.
Mark July 25 on your calendar for the fifth annual 2020 Sweet Rides and Sweet Pies. Plans are already in the works for a really big event.