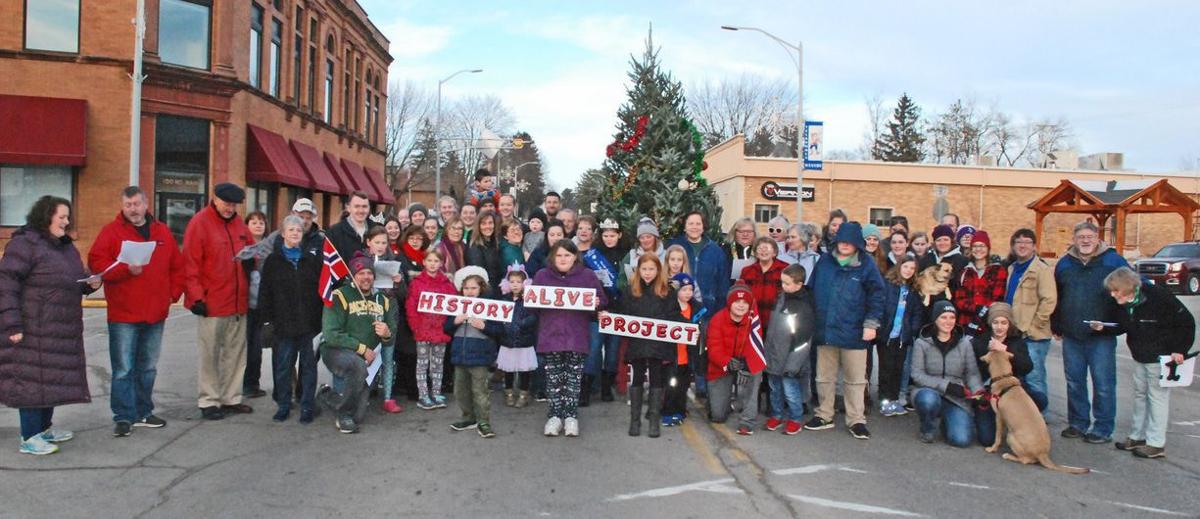 History Alive Project board members could not have been more pleased when over 60 area residents, including Westby Syttende Mai Royalty and their advisors, Westby Snowflake Royalty and their advisors, WHS administrators and some of their families plus a Westby City Council member all joined in to re-enact a unique historical event that happened at the intersection of State and Main streets in the mid-1920s. This year's event was held on Dec. 8 while the group took advantage of the day's mild weather.
A large Christmas tree was placed in the intersection of State and Main streets during that time; a photo was then taken; this 90-plus old image captured the attention of HAP President, Dave Amundson, back in 2017, who thought "Let's do this event each year as a way to teach those who show up about a little slice of Westby history." It is not known how long this 1920s tree stayed in that spot, who took the picture, where the tree came from or how the early citizens got the tree to stand up so well. Amundson first pitched the re-enactment idea to the rest of the HAP Board in July of that year and they wholeheartedly agreed "Let's go for it." And go for it they did, increasing the event's attendees each of the past three years.
This year HAP worked off a prepared, informative handout for the group to tell the story as to how Westby got its name; that information also described the time frame that Westby first became a stop for the railroad, then became a village and then an official city in 1920. Amundson also shared with the audience an excellent excerpt from the American Association for State and Local History. "This AASLH statement truly gets to the heart of our community and its feeling of awareness of its history; this feeling can't be shared by just reading the stories of dead people and dates; rather our connections have to be shared by HAP creating and doing 'out of the box' activities with folks; then our stories and experiences become truly alive," remarked Amundson.
You have free articles remaining.
The American Association for State and Local History excerpt is as follows: "No place really becomes a community until it is wrapped in human memory: family stories, tribal traditions, civic commemorations. No place is a community until it has awareness of its history. Our connections and commitment to one another are strengthened when we share stories and experiences."
Dave Kraabel, current HAP Board member added, "I know that everyone who came today will never drive along our Main Street again from now on, cross over the State Street intersection, without remarking about today's event and how they each got to relive it from the past and learn of its backstory. We started planning and getting this on the city's calendar back in September of this year; we even had very few cookies left so the folks who came must have enjoyed themselves plus did a good job munching."
This year, the tree and donated ornaments were then delivered to special local family with hopes that this family would have an extra nice Christmas this year. The HAP Board members assured those attending that a 2020 re-enactment date is already on their calendar and will be announced next fall.