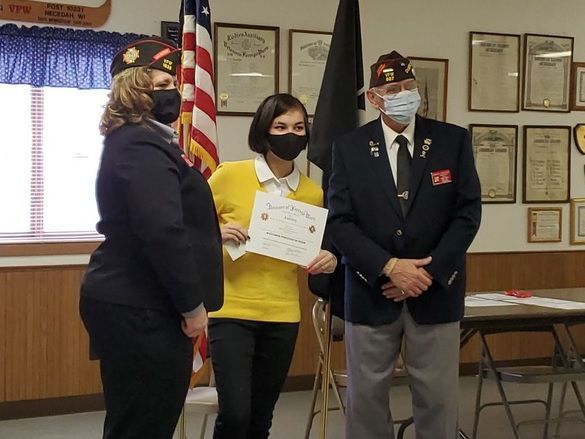 Local winners have been announced in the 2020 VFW Voice of Democracy Contest sponsored by Westby Veterans of Foreign Wars Post 8021. The theme of this year's competition was "Is this the country our Founding Fathers envisioned?" The contest was open to all students in grades 9 through 12 including home-schooled students.
This is a national contest, where the national winner receives a $30,000 college scholarship. There is a total of $153,000 in college scholarships awarded annually to state and national winners. Over 190 Westby High School students entered the contest.
Amber Levendoski, a 12th-grader, is the daughter of Marlin and Kitty Levendoski of Westby. She represented VFW Post 10532 in Coon Creek and Chaseburg. She placed first at the district competition and eighth at state. She won $100 at district. Amber has enlisted in the Wisconsin Air National Guard. After graduation in May, she will attend USAF training this summer and will attend the University of Wisconsin-River Falls next year.
Is this the country our Founding Fathers envisioned?
America, the beautiful and powerful, is far from the country our founding fathers envisioned. Many wonderful, life-improving inventions have been mass-produced since the country's birth. Running water exists in most every house. Airplanes fly overhead daily, carrying civilians. The medical advancements today have raised the average life expectancy 30 years, compared to three centuries ago. Yet, beneath the wealth and success the world has associated with North America lies the modern cousins of an unjust past. Hatred and greed wove bad laws that locked away human rights. Despite the social routine of the time the amendments were written, we have given women equal rights, abolished slavery, and accepted the new tools and skills which immigrants have brought in with them. No longer are people unexpectedly drafted into the military outside of wartime. Now we live in a democracy.
My sisters from centuries ago stood on those streets among hundreds of other women, demonstrating their passion for the freedom to vote. She has refused to eat and refused to give up her arms, which are not of iron or flame, but of her words. She has been scorned, imprisoned, and trampled on by those who repeatedly denied her equal rights. She never wilted in the drought of neglect. She has refused to silence herself.
To my brothers: the young men who have been drafted into battle. They were called from their homes and served. They have accepted the heavy responsibility set onto them, and each one pushed themselves to the extreme to protect those they loved at home, and their brothers on the field.
My uncle was drafted into the Marine Corps during the Vietnam war. He was 19 years old when he was taken overseas. He had no political views on the war, and yet he served walking and sweating in the jungle, North of Da Nang. His only political view was surviving each day; he spent no time thinking about what our Constitution should say; he just wanted to get out of there alive.
Today we have an all-volunteer force which was not envisioned by our forefathers, but has been working well since 1976. Our military today not only includes women but relies on them to fill positions of great responsibility from Private to General. Over the years, women have proved themselves, serving with distinction and valor.
Immigrants centuries ago faced prejudice based on their country of origin. They were met here with poverty, violence, and disdain. However, they realized America's immense opportunity available for those who persevered.
There are no more national laws that restrict the freedom of our people; however, we remain our own enemy, and unfair practices including racism and sexism linger beneath our stars and stripes. They are internal issues that poison the nation itself.
Regardless of the unjust past, the founding fathers did imagine our people would succeed. Now people of all color and all gender are succeeding: immigrants have created successful businesses, female military Generals are taking the reins and leading corps of 50,000 to 100,000 soldiers. Our nation has even declared our first black president, and I predict we will soon elect a female president. The Constitution is not perfect and has been amended many times. I urge you to go forth and treat our fellow Americans and those who are going through the process of becoming Americans with acceptance. Judge them not by their appearance, but by their contribution to our communities, state, and nation.