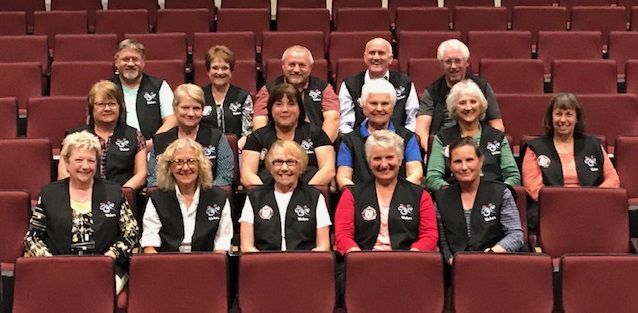 The Fine Arts Foundation of the Westby Area's usher committee is responsible for providing a trained usher team for every performance in the Westby Performing Arts Center (WAPAC).
The dedicated team of volunteer ushers is a vital part of the WAPAC, and the fine arts foundation is grateful for their support.
Last season's line-up included The Voice's Chris Kroeze, Suzy Bogguss, Mollie B and SqueezeBox, the UW Varsity Band, and George Winston. Each usher team worked to ensure that every patron had the best possible experience.
You have free articles remaining.
Ushers are responsible for assisting the House Manager, ensuring a pleasant experience for all WAPAC patrons.
Ushers arrive 45 minutes before the performance, and remain throughout the entire performance. Before each performance, ushers welcome patrons to the WAPAC, scan tickets, distribute programs, and help patrons locate seats. After the performance, ushers tidy the house by collecting programs and other items left behind by patrons.
Each usher is provided an usher vest which is worn over the usher's shirt/top of choice and black slacks.
The 2019-20 season is shaping up to be just as exciting as last season. The first concert will feature The MadHatters on Saturday, Sept. 21, at 7 p.m.
Becoming a WAPAC usher is a great way to serve the community, and Fine Arts Foundation usher committee would welcome anyone who would like to join the team. If you are interested in becoming a WAPAC usher, contact Kris Strand at 608-634-2377.