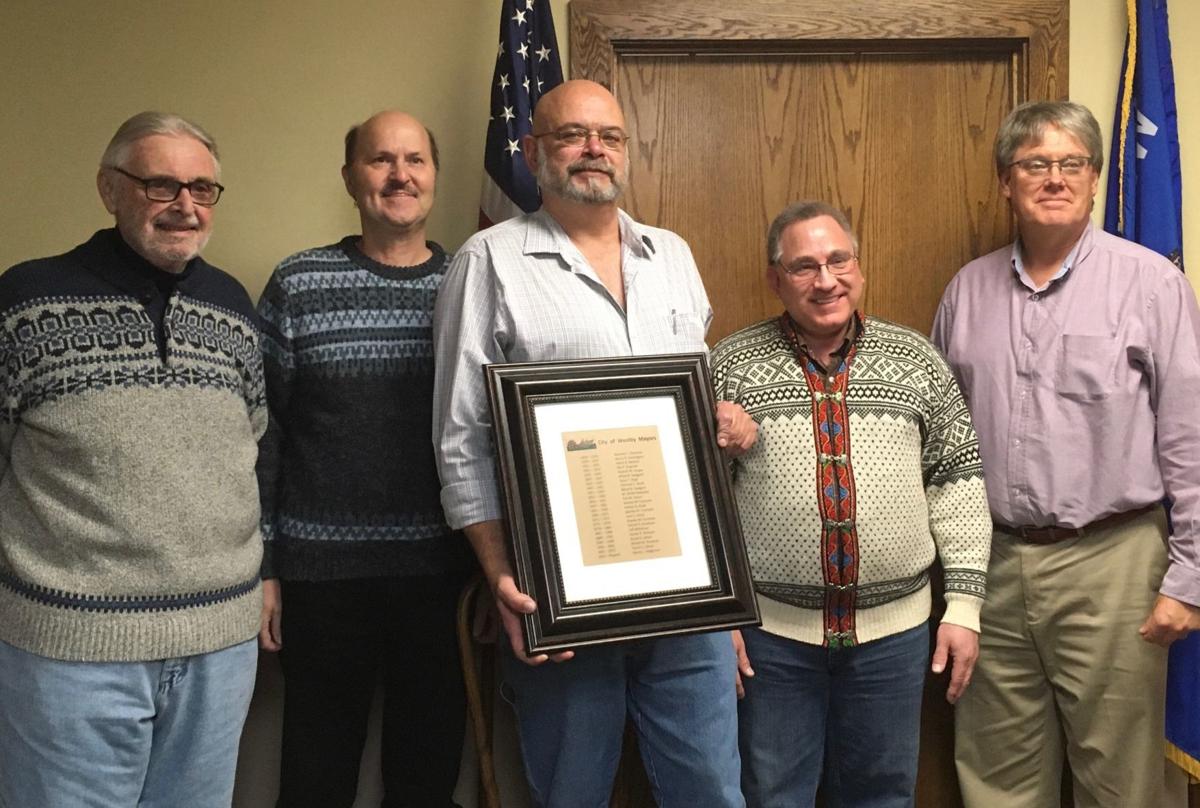 At the Westby Area Historical Society's annual member meeting on Tuesday, Dec. 10, Mayor Danny Helgerson was talking with 2020 WAHS President-Elect Blaine Hedberg as they toured the Thoreson House Museum. During their conversation, the mayor shared that he would like to have a complete list of all the mayors who have served the city of Westby. As soon as Blaine shared this with other board members, they began researching the collection of materials held at the WAHS museum. This project was of particular interest because WAHS already knew that Katherine and Theodore Thoreson, who built what is now the WAHS museum as their home in 1892, were the parents of Westby's first mayor. Bennett C. Thoreson moved into the house with his parents after it was built; he continued to live there after his marriage to Mathilde Jefson in July 1900; he was elected as the City of Westby's very first mayor at a special election in June of 1920, after serving as village president for one year; and Bennett raised his five children in the home, staying there until his death in 1938.
You have free articles remaining.
Mayors in the city of Westby are elected in the spring of odd-numbered years to serve two-year terms. It is interesting to note that researchers uncovered one mayor, M. Verdel Bekkedal, who was never voted into office but was appointed by the City Council. Bekkedal was serving as council president when the 1952 mayor, Alfred Swiggum, died. Bekkedal chose not to pursue the nomination at the 1953 election. Two other mayors died while serving and another moved away after taking a job in Michigan. In each of these cases, the City Council appointed the president of the council to take the position of mayor until the coming election, when a duly elected mayor could be chosen. WAHS research also discovered that the mayors of Westby included six men who served only one term, and three who served non-consecutive terms.
Only one week after the mayor's request, on Tuesday, Dec. 17 at the City Council meeting, WAHS Board members Fred Jefson, Marlo Volden, Garland McGarvey and Blaine Hedberg presented Mayor Helgerson with a framed list of city of Westby mayors who have served since 1920, when the village of Westby received a charter to become Vernon County's second official city. More biographical information about these mayors will be available in 2020 as the city of Westby's centennial birthday is celebrated.
If you want more information about the history of Westby or the surrounding communities, contact the Westby Area Historical Society at westbywihistory@gmail.com.