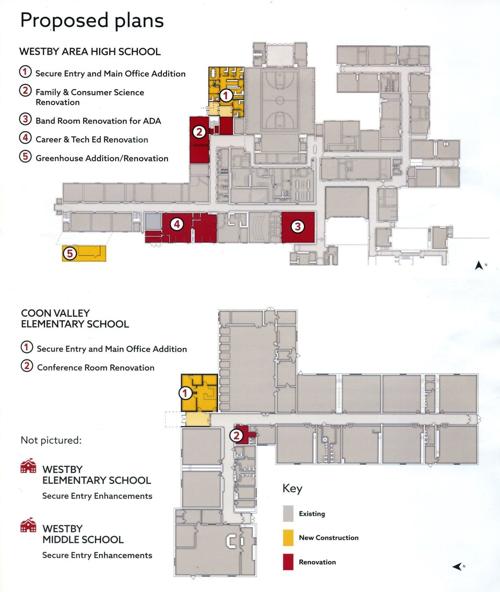 The Westby Area School District hosted the first of two referendum information meetings on Tuesday, Sept. 29.
Two questions will be on the Nov. 3 General Election ballot. Question 1 asks for authorization to exceed the revenue limit by $1,200,000, $1,500,000, and $1,800,000 over a three-year period beginning with the 2021-22 school year to sustain educational programs and to operate the district.
Question 2 asks for authorization to borrow $11,950,000 for safety, security, and site improvements, including secure entrances; ADA accessibility updates; building infrastructure and capital maintenance improvements; renovations for career and technical education, and an addition and renovation of the greenhouse at Westby Area High School.
District Administrator Steve Michaels welcomed the public to the meeting, which was held at the Westby Area Performing Arts Center. He said the district has been planning for the referendum for two years. "Tonight is a recap of where we've been and we will outline the process," he said.
Michaels said the first question, which is an operational referendum, is to sustain the educational programs and to operate the district, and the second question, which is a capital referendum, supports large ticket items for safety, security and site improvements that don't fit in the budget.
"It's not lost on us all the effect of COVID," Michaels said. He said the district and school board asked themselves if they should advance the referendum. "We looked at the long list of projects, sharpened our pencil and came up with the absolutely critical projects."
Michaels went over the planning process and timeline. Development of the plan began in spring 2019 when a needs assessment, staff focus groups and school board workshop were conducted. In summer of 2019, a facilities study report was completed by Bray Architects. During the winter of 2019, feedback was gathered from three community listening sessions. In spring of 2020, School Perceptions sent a community-wide facilities survey and the school board received the results.
Michaels said the survey, which helped guide the district's planning efforts, was mailed to all district residents in March of 2020, and community members could respond either on paper or online. Five hundred fifty-two surveys (188 on paper) were returned. The survey showed 71% of all resident respondents would support an operational referendum to maintain current programs and services, and 70% of all resident respondents would support a capital referendum for the recommended projects.
Clinton Selle with Bray Architects, said the survey went out around the start time of COVID and even in spite of the pandemic, schools are still important to a community. He added that April was the referendum cycle statewide, and there was still strong support for these types of projects statewide.
The following needs were presented by Selle:
Safety and security enhancements: Enhance secure entries at each school building to better control and monitor visitor access;
Infrastructure upgrades: Upgrade inefficient building systems (plumbing, heating and ventilation, electrical) that have exceed their useful life, and replace aging roof sections;
Educational space updates: Update high school Family & Consumer Science and Career & Technical Education spaces and expand and renovate the existing greenhouse to better support curriculum;
Site improvements: Improve site traffic flow, including designated drop-off/pick-up lanes at the high school; increase the number of parking spaces; and address stormwater challenges.
Selle said each of the district's buildings will be touched by capital projects. He then showed the proposed plans.
Brian Brewer of Baird talked about the investment and estimated tax impact. If both referendum questions pass, the projected mill rate for school taxes would remain at or near $10.90 per $1,000 of equalized property value.
Gerald Roethel, school board president, said the board knew three years ago it would come back to the public again with a referendum because the 2018 operational referendum expires after the 2020-21 school year.
"We need that to maintain programs and staff," Roethel said. "Without that we would have to reduce programs and we are not interested in doing that."
Roethel said this is a time of low interest rates for borrowing, which reduces the overall cost to taxpayers.
"At one point, we looked at a $20 million referendum," Roethel said. "We looked at what should be done now, and we are now at $12 million."
He added the early repayment of existing debt allows for investment in the proposed projects with a projected minimal increase over the 2020-21 mill rate.
Roethel said curriculum and programs are sometimes confined by structures and curriculum has changed.
"It is now the time to do this based on the survey," Roethel said.
The proposed project timeline includes the Nov. 3 General Election, design December 2020-June 2021, construction/additions July 2021-June 2022, renovation/infrastructure May 2022-August 2022, and complete by August 2022.
Another referendum information meeting will be held at the Coon Valley Elementary gym, Thursday, Oct. 22, from 7 to 8 p.m.
Be the first to know
Get local news delivered to your inbox!