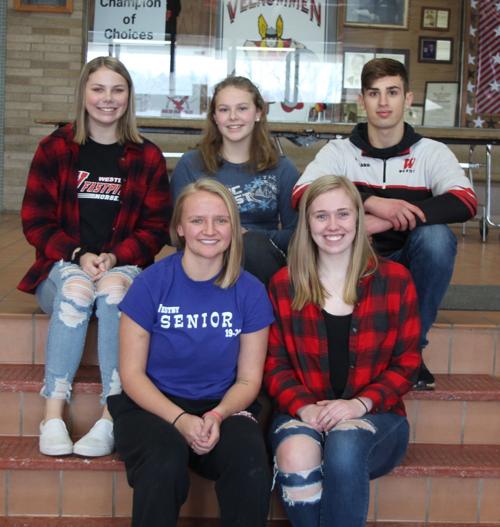 Since the school year started, Westby Area High School students have had an opportunity to help fellow students and the community as members of the WHS Service Club.
Senior Conor Vatland said the club was formed over the summer in the back of a van while he and other teens were returning from a Westby Coon Prairie Lutheran Church mission trip to Wanblee, South Dakota.
Vatland said the three students and English teacher Tammy Gilkes, who was also on the mission trip, discussed having a "mission trip to Westby" and offer service by volunteering in the community.
Raegan Davey, a sophomore, said the club was formed because students wanted to be a part of the community and show they care.
Senior Claire Griffin said one of the club's first projects was to establish a hygiene closet stocked with such items as feminine hygiene products, deodorant, toothbrushes and toothpaste. "Students can take what they need."
Since that first project, the club has been busy.
Griffin said club members prepared and served food at Westby Coon Prairie Lutheran Church to raise money for the Pine Ridge Reservation.
Senior McKenna Manske said club members also raised money for last September's American Cancer Society Sole Burner of Chaseburg event by passing the hat during halftime of a home football game. She added that the club also helped with a blood drive in November.
Another project, Davey said, was making fleece tie blankets for children hospitalized at Gundersen Health System. Members also helped with the Haunted Trail in Chaseburg.
Mattie Wood, a junior, said the club helped wrap Christmas presents and helped with a fundraiser that benefited children in the school district who might not receive presents.
Manske said a more recent project was making valentines to send to soldiers serving overseas.
Service Club members, along with Green Club members, held a bake sale before school and during break Jan. 28-31 to benefit those affected by the Australian brush fires.
"The Service Club does a good job of blending interests of kids," Vatland said. "Kids can do things with the Service Club to be the change they want to see, whether it's wrapping presents (or doing something else)."
"The club opens the door for the opportunity to make a difference," Davey said.
Davey said she wanted to do some type of community service. "Students want to do that (community service), but don't know how to. I took advantage of that."
Manske and Griffin said they both decided to join the club because it was new.
Right now, the Service Club, which holds meetings as needed, hasn't set up any future projects.
"We are available for whatever the community needs," Vatland said.
Griffin said if there is an organization in the community that needs help, the students want to be of service. She said organizations can contact Tammy Gilkes, their adviser at school.
Manske said the club is looking at possibly going on its own mission trip outside of Westby.