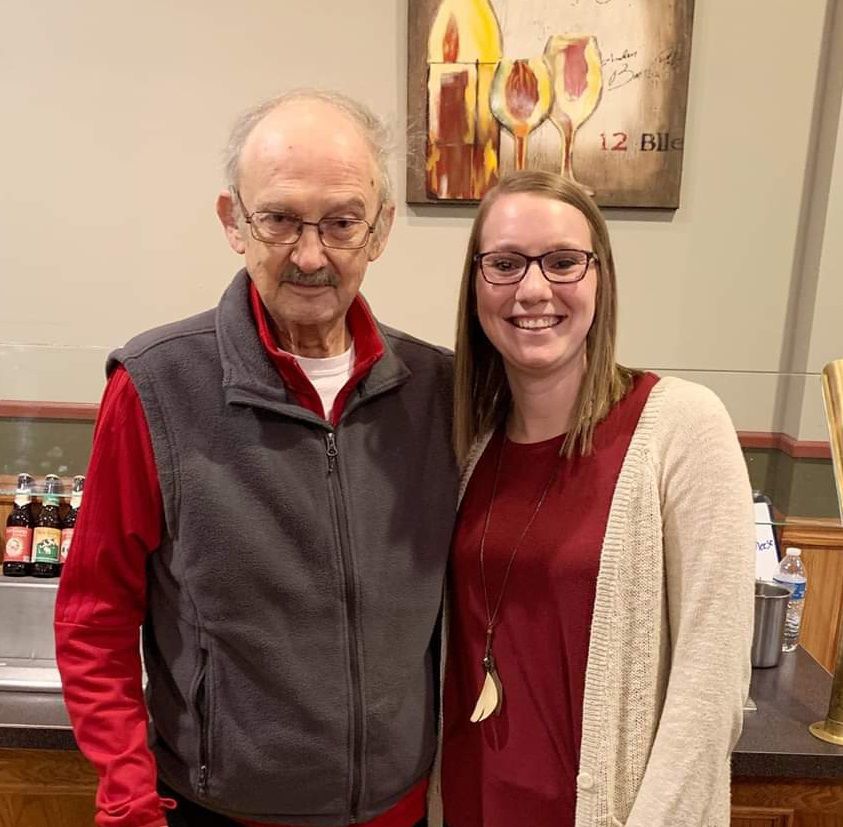 Westby's Building Community group, initiated three years ago by Lori Pedretti, held another community meeting on Thursday, Nov. 14, at Borgens Café. This group was led initially by Distinguished Professor and Director of the Masters of Arts in Servant Leadership at Viterbo University, Tom Thibodeau, with intent to teach basic leadership skills and build relationships in the community. The initiative was intended to help recognize needs within the community, to help students grow as leaders and future stake holders of Westby, to keep area businesses alive and enhance tourism, and to improve individual's sense of community. It was also Pedretti's hope to support current initiatives such as the Bethel Butikk, Summer Lunch Program, Tuesday Night Come for Supper, Teen Closet, Backpack Program, Hamburgers in the Park, and more.
During Thibodeau's involvement, several projects were initiated, including the redevelopment of Syverson Park, a School to Career Pathway to help engage the community with the school, a strengthened partnership between the city and the school, a walking path inside the school open to community members, and lots of inquiry and work led by Michele Engh to address child care needs. In addition, our community was recognized in the Inspired Driftless Magazine with an article titled "Westby, From Lefse to Leadership" and shortly after, Wisconsin Public Television came to Westby to interview Pedretti, Engh, Bruce Peterson and Mayor Dan Helgerson and offered a STEM program for children and families in our community. Additionally, the Westby Rod & Gun Club started an annual "Christmas for Kids" fundraiser which will be held for its third year in a row on Dec. 14. Last year this generous community helped raise $9,570 for children in the area.
Other initiatives over the past three years included efforts to show appreciation to our crossing guards, connecting with individuals in need who are less likely to ask for help, developing an Elementary School Reading Program, Planting Kindness by helping with spring cleanup and other chores that some have difficulty managing, and a young adult game night for new grads to come back to their home town and enjoy time with friends, family and other community members who want to support them. Due to other obligations on Thibodeau's behalf, the group is now moving forward independently and will hold quarterly meetings with a simple agenda to include updates on current initiatives and stories of goodness, learning/educational on topics of interest and discussion on goals/projects/planning for our community.
New ideas presented at the Nov 14 meeting include an annual "Trick or Treat for Bethel Butikk" fundraiser to help support our local food pantry, a Night Market in Westby, winter outdoor events for families presented by Sandy Bishop, PE at WES, and a 100th Birthday Celebration planned for 2020 presented by Dave and Ruth Amundson and sponsored by the History Alice Project to recognize Westby as an official city. Amundson also invited people to come out for their third annual "Tree in the Street" reenactment and be included in a picture with the tree on Dec. 8 at 3:30 p.m. More information to come on both of those events.
We will provide updates on all the above projects at the spring meeting and would love to hear your thoughts, ideas and suggestions. We will also hear from Chaseburg native, Debbi DeGarmo about a Farm to School project and learn about the benefits of the Tuesday Night Come For Supper.
Lastly, special tribute was given to Pastor Gary Daines and his wife, Mary for all of their work and efforts in our community. Their granddaughter Chelsea Daines gave a dedication to her grandparents. Despite several health issues over the years, Daines has continued to serve hundreds of families in Vernon County. The following is Chelsea's tribute to her grandpa.
Most of you know him as Pastor Gary, but I have the honor of calling him my grandpa, my mentor and my best friend. This man has worn more hats or better yet boots over the years!
Farm boots. These were the first pair he wore when he grew up on his family's dairy farm outside of Lafarge. His passion for the dairy industry is still alive today. During the Vernon County Fair you can still find him in the barns in the wee hours of the morning helping anyone that needs it. And he ALWAYS brings the coffee!
You have free articles remaining.
Teaching boots. These boots are probably his favorite pair. He attended Iowa State University to teach and pursue a PhD in Nuclear Chemistry. While living in North Dakota he taught EMT classes and administered EMT licensing exams. Many years later, after he moved to Westby, he put his trusty teaching boots back on and welcomed many students to his kitchen table to help and tutor them with schoolwork. This man has more science books in his basement than the high school library! My favorite activity growing up was playing the math game with grandpa. My cousins and I would come up with the biggest and hardest math problems we could think of and our grandpa would have the answer before we could finish typing the numbers into our calculator!
Military boots. While at Iowa State he got a call and was commissioned to the navy during the Vietnam War. There he proudly served our country while wearing his Navy boots. He was promoted to lieutenant and became the Assistant engineer on the first nuclear powered submarine and became qualified to wear two gold dolphins.
Black Dress Boots. Pastor Gary was always well known for wearing his black cowboy boots while preaching from the pulpit every Sunday. He served as the pastor at Our Saviors Lutheran Church here in westby for 23 years. In his 23 years he took hundreds of kids on mission trips and to youth gatherings, he started a chapter of FCA- Fellowship of Christian Athletes at Westby High School.
Community Service Boots. This man has volunteered his time more than anyone I have ever met. I could stand up here for hours listing all of the places and causes he has volunteered for. He was a volunteer EMT on an ambulance service, past president and district governor for the Lions club, Boy scout scout master for 27 years, two term lieutenant for the kiwanas club, a member of the salvation army, sons of Norway, Westby chamber, FFA alumni, and past Syttende Mai Board President. His volunteer boots also lead him to start a Teen Center in Westby to create a safe and fun place for teens to go after school, and he started the community thanksgiving dinner which is still going strong today. If you ask him he would say that his biggest accomplishment is the Bethel Butikk. He started it out of an empty utility closet in the church basement and it now feeds thousands of families every year.
While juggling all the mentioned pairs of boots he also wears his grandpa boots. He occasionally puts his EMT boots back on to exchange stories with me and be a listening ear after I get home from a tough call. He is always up to put on his outdoorsman boots to take anyone hunting and fishing. You can always find him at Westby sporting events wearing his cheering boots. He loves to go to sporting events to support area youth and be their biggest fan. It doesn't matter if he knows any of the kids or not, he will be there in the front row with a smile on his face cheering as loud as he can!
For the last couple years he has been wearing his toughest boots yet. His cancer fighting boots. He has not let these boots slow him down one bit. He can still be found at the Bethel Butikk every day. He spends every ounce of energy he has to help others. Nothing will stop this man and his love for giving back.
I hope to one day be able to walk even a portion of the miles he has walked in so many different boots. The Westby community would truly not be what it is today without all of the different pairs of boots he has worn.
There is one other very special person that often times stays in the background. My grandma, Mary Daines, has faithfully stood by her husband for over 50 years! She has been on many of the committees and organizations right alongside my grandpa, and she always brings the treats! She is his sounding board and always agrees to go along with his crazy ideas. My grandpa wouldn't have been able to touch so many lives it wasn't for the love and support of my grandma. Besides that…..someone had to buy him all these pairs of boots!
Please join the Building Community group in the spring and provide feedback. If you have questions, contact Lori Pedretti (lgpedretti@yahoo.com), Steve Michaels (steve.michaels@westby-norse.org), Dan Helgerson (westbydan@gmail.com), Christy Tainter (christy.tainter@westby-norse.org), Michele Engh (wintermoet@gmail.com) or Whitney Stoker (wjstoker@gmail.com)