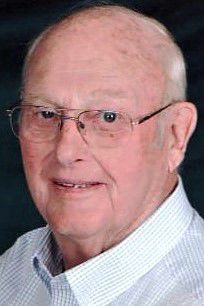 Arthur M. Berg, 90, of La Crosse passed away peacefully with his daughter, Rachel, by his side at Gundersen Health System, Thursday, May 14, 2020. Art was born Jan. 27, 1930, in La Crosse, son of Renaldor and Olga (Olson) Berg. He was baptized March 2, 1930, and confirmed July 9, 1944, by the Rev. H.O. Bach, at Middle Coon Valley Lutheran Church, where he was a lifelong member.
He married the love of his life, Jessie R. Severson, April 7, 1951, at Halfway Creek Lutheran Church, Holmen. Art farmed and lived on the Berg farm, Dodson Hollow Road until 1976. He worked hard and he and Jessie took good care of his mother, Olga and sister, Ruth, who resided with them. They lived in the Coon Valley and Chaseburg area all of their married life until recently. Art had various jobs, at the age of 14, he hauled milk for 50 cents a day for Clarence Jacobson and later for Gus Fredrick in Coon Valley, also for John Gilbertson and Darwin Morgan, for Pet Milk Co., Sparta. He also worked for Trane and Swift Co. In 1963, he started working for the Vernon County Highway dept., retiring in 1993. Then he worked for the town of Hamburg, for 11 years. He was past president of the church council and he was custodian for a number of years, and he was an active member of the choir.
Art was a very social person, who had a huge love for sharing a good story or a joke. He was our everything. He spoke Norwegian and was very proud of his heritage. They say girls want to marry a man just like their Dad, we did. When he danced with his daughters and twirled us around, it was like heaven on earth. He kept us all connected. Coffee and breakfast was a visit on family, ideas and assorted topics. He had a strong faith and loved his church family. If you met Art, you loved Art!
Survivors besides his best friend and wife, are four daughters, Rita (Jim) Kirchoff of Stoddard, Rachel (Bob) Berra of Chaseburg, Rhonda (Alan) Labus of Penrose, Colo., and Karla (Scott) Strangstalien of La Crosse; nine grandchildren, Jennifer (Bret) Haffner, Brenda (Kevin) Adams, Tony (Heather) Berra, Sarah (Will Smith), Angela (Chris) Kirsch, Theresa (Tom) Berger, Telly Labus, Kristen (Jon) Rickert, Joel (Randi) Strangstalien; and 19 great-grandchildren, Reid and Rian Haffner, Nate and Connor Smith, Hagen and Gunnar Labus, Julia Kirsch, Levi, Silas and Elin Adams, Brooklyn and Molly Berra, Gabe, Emily and Hailey Berger, Lilly Rickert, Nicholas (Fellegy), Lyla and Arthur Strangstalien; nieces, nephews and friends.
He was preceded in death by his parents; five sisters, Myrtle Bjorge Manske, Alida Manske, Ruth Berg, Hazel Mathison, Edna Mathison; and two brothers, Orbin Berg (Audrey) and Helmer Berg.
Art loved visiting with Jessie on their porch, while enjoying the view in Chaseburg and morning coffee. Recently they moved to La Crosse, where he enjoyed walks and TV game shows, with his beautiful wife and best friend, Jessie. His wife and family were his joy! Sons-in-law and grand and great-grandchildren were the toppings on his life.
A drive through only visitation for family and friends will be held from 4 to 6 p.m. Friday, May 22, at the Middle Coon Valley Lutheran Church, S1720 State Hwy. 162, Chaseburg, Wis., 54621.
In lieu of flowers, memorials may be given to the Middle Coon Valley Church or to a charity of donor's choice. The Seland Funeral Home in Coon Valley is assisting the family. Condolences may be given at selandsfuneralhome.com.
A private family burial will be held with Pastor Hoversten officiating.
The family wishes to express our gratitude to Dr. MaryPat and to the Gundersen Health doctors and Chaplain Marvin, at the hospital and Pastor Margaret Hoversten.
Obituaries Newsletter
Sign up to get the most recent local obituaries delievered to your inbox.