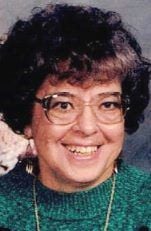 WESTBY — Ellen M. Pederson, 85, of Westby passed away Saturday, June 13, 2020, at Norseland Nursing Home in Westby. Ellen was born Nov. 4, 1934, to Joseph Lescault and Evelyn Peterson. She married Richard Pederson June 7, 1952.
She was a graduate of Westby High School in 1952, and went on to work at Vernon Memorial Hospital for 25 years, as a respiratory therapist, where she became the manager of the respiratory therapy department. After retiring from the hospital, she worked at the Jubilee Floral Department in Viroqua, for 10 years. Ellen volunteered at Norseland Nursing Home, Bethel Nursing Home, and Vernon Memorial Hospital, caring for their flowerbeds. She also enjoyed genealogy and Civil War research. Ellen was a member of Our Saviors Lutheran Church and the Westby Area Historical Society. Above all other things, Ellen was a caregiver for many in her family through the years, a wonderful mother and amazing grandmother.
She was preceded in death by her parents; her husband, Richard; one daughter; aunts, Adah, Darlene, Natalie, and Blanche; and uncles, Artie, Clarence, and Lester.
She leaves behind her children, Katherine, Michael, and Mark (Sonja); her grandchildren, Ryan, Jason, Ami (Bob), Nick (Wendy), and David; five great-grandchildren; and three great-great-grandchildren. Ellen is also survived by two aunts, Janice (Jack) and Verona; brother-in-law, Darrel (Ene); and a special friend, Gracie.
The family would like to extend a special thank you to Norseland Nursing Home, St. Croix Hospice and her Aunt Janice for all the extra love and compassionate care over the last year.
Funeral services will be held at 10 a.m. Saturday, June 20, at Vosseteig Funeral Home, 708 S. Main St., in Westby. Pastor John Dumke will officiate. Visitation will be held from 5 to 7 p.m. Friday, June 19, at Vosseteig Funeral Home. Additional visitation will be held from 9:30 a.m. until the time of the service Saturday, at the funeral home.
Online Condolences may be expressed at www.vossfh.com. Cards and memorials may be sent to Vosseteig Funeral Home, P.O. Box 88, Westby, WI, 54667.
Obituaries Newsletter
Sign up to get the most recent local obituaries delivered to your inbox.