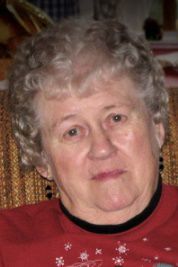 Kathryn Joann Buros, 88, of Westby died Sunday, Nov. 17, 2019, at Sauk Co. Health Care in Reedsburg.
Kathryn was born Sept. 16, 1931, in Viroqua, to William and Tillie (Dahl) Swenso. She graduated from Viroqua High School and worked briefly in her relatives' clothing store, Dahl and Dahl. During this time she met her husband to be, Walter Buros, who at the time was a soda jerk at Dahl's Drug Store.
She had a wonderful marriage with Walter while raising their son, William. They built a wonderful community on Three Chimney Road and spent much of their time with the wonderful people of the neighborhood. Kathryn was an excellent fisherperson. She loved to fish so much it was nearly impossible to get her to quit as she was always convinced she was about to catch another. Kathryn was lucky, from raffles to bingo to even winning a brand new Ford Mustang in 1967 in a regional contest. She was also a collector of dolls, antiques, coins, stamps, and toys. She was always careful to keep collectables in the original boxes and to her surprise she discovered at her estate sale that often the boxes were worth more than their contents.
Kathryn was an artist, first painting pictures in watercolors and oils, but eventually she specialized in rosemaling. Along were her good friend, Verna Theige, she would rosemale wooden plates and letters.
Later in life she moved to Richland Center and then Reedsburg to be closer to her family and in particular her grandkids, whom she cherished as "the lights of her life."
You have free articles remaining.
God bless our memories of Kathryn, she will be truly missed.
She is survived by her only son, William Nordahl (Teri); her grandchildren, William Zachary (Rebecca) Buros and Megan (Michael) Gilardi; her great-grandchildren, Zachary Allister Buros, William Finn Buros and Autumn Alexandra Gilardi; as well as many cousins and other relatives.
She was preceded in death by her husband, Walter in 1998; by her parents, William and Tillie; as well as by a sister, Gunnel Lavold.
Funeral services for Kathryn will be at 5:30 p.m. Thursday evening, Nov. 21, at Our Saviors Lutheran Church in Westby. Pastor John Dumke will officiate. Private interment will be at 9 a.m. Friday morning at Coon Prairie Cemetery. A Visitation for friends will be from 3:30 to 5:30 p.m. Thursday late afternoon for two hours before the service at the church.
Memorials can be made to Our Saviors Lutheran Church in Kathryn's name.
The Vosseteig Funeral Home, 708 S. Main St. in Westby is serving the family. (608) 634-2100.