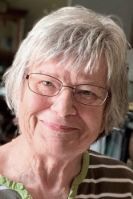 Marilyn A. Wedwick, 78, of Viroqua passed away peacefully in her home Tuesday, July 21, 2020. She was born in Viroqua, May 3, 1942, to the late Alvin and Myrtle (Olson) Gardner. She graduated from Viroqua High School in 1960. Following graduation, she worked as a secretary for the Viroqua Schools and then as a legal secretary at Gulbrandsen-Fortney Law Office, until her retirement. She married Raymond Wedwick Oct. 26, 1963. She loved Bluegrass music and was a member of the Viroqua Bluegrass and Gospel Music Association. Marilyn was a lifelong and very active member of Franklin Lutheran Church and Ruth Circle. She was very well known for her listening skills, good advice, faith, cooking and baking.
Survivors include her husband of 56 years, Raymond Wedwick; two children, Kristi (Craig) Fortun and Corey (Jana) Wedwick; seven grandchildren, Alicia (Mike Beerkircher) Oliver, Keegan Wedwick, Brandon Wedwick, Emily Fortun, Andrew Wedwick, Steven Wedwick, and Dylan Wedwick; her brother, Al Gardner Jr.; sister-in-law and special friend, Susie Wedwick; brother-in-law, Maynard (Maryann) Wedwick; nieces, nephews, other relatives and friends.
Marilyn was preceded in death by her parents; her mother-in-law, Lois Wedwick; her father-in-law, Peter Wedwick; her brother, Kelly Gardner; and her son, Mark Wedwick.
A graveside service was held at 11 a.m. Saturday, July 25, at the Viroqua Cemetery. A visitation was held from 4 until 7 p.m. Friday, July 24, at Vosseteig-Larson Funeral Home in Viroqua. Online condolences may be expressed at www.vossfh.com.
In lieu of flowers, donations may be made to Franklin Lutheran Church or Vernon Memorial Hospice.
Marilyn's family would like to extend a special thank you to Vernon Memorial Hospice for allowing their mom to be at home in her final days. Also, a heartfelt thank you to Dr. Deborah Prior and nurse, Kari, for the care and support they have always provided.
Obituaries Newsletter
Sign up to get the most recent local obituaries delivered to your inbox.