We have two new faces joining the great staff at Bekkum, so please give a warm welcome to Luann, who will be helping with all your questions at the circulation desk, and Jenna, who will be creating fun, educational youth programs. Both are here to make your experience at Bekkum pleasant and enjoyable. We appreciate your patience as they learn the intricacies of working at our public library, as we know they will love working with our great, supportive community.
Now that we are back up to full staff, it's full speed ahead. It's time to Get Crafty at Bekkum again! Join us on Wednesday, Nov. 13, from 6-8 p.m. as we create easy, beautiful autumn arrangements for your table or wall. All the supplies will be provided for the perfect decoration for Thanksgiving celebrations or gift-giving created by your hands, ages teen to adult. To register for this fun, new craft program, and ensure we have enough supplies for you, please call Bekkum M.L. at 608-634-4419 or stop in today. Registration required by Monday, Nov. 11.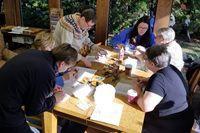 Register for more free articles.
Stay logged in to skip the surveys.
We have some incentives for trying out a program here at Bekkum M.L. Visitors participating in Read to Rover on the second, third or fourth Monday of the month, from 3:30-4:30 can sign up for a door prize drawing. We have several fun Humane Society swag items, along with books and gift cards. Encourage your child to Read to Rover to enter.
Participants in Teen Girls' Club on Monday, Nov. 18, at 6 p.m. can enter for a Barnes & Noble gift card, just for bringing a friend! Never been to a T.G.C. program? You can enter to win too! We'll have snacks and hot cocoa while we discuss "The Key to Extraordinary" by Lloyd, then we'll attempt some funky beaded bracelet making. Stop in at 206 N. Main St. in Westby for more information.