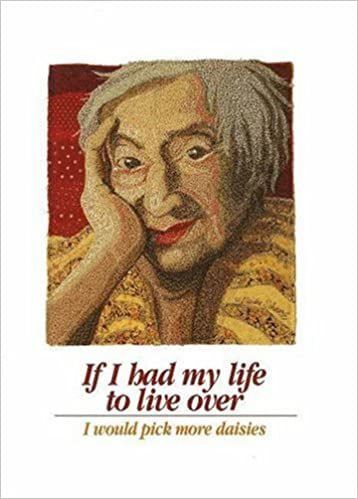 TITLE: "If I Had My Life to Live Over"
This book is a collection of 43 poems and 19 stories taking the reader from childhood to adulthood through old age, reminding us that our options are limited and extended by personal belief systems, our culture, age, and gender. Lessons we can learn include "It is never too late to ask for forgiveness" and "Life is too short for everyone so enjoy each day as though it is your last....." I will share just a few of the short stories with you.
The first one is entitled "Holy Places," and is the story of Stephie and Jeff who are sophomores in high school. When Stephie learned she was pregnant, Jeff joined the military with his parents signing for him since he was too young to enlist on his own. Their parents were very supportive of Stephie and baby David. Jeff returned from military early because of injuries from friendly fire. Did Stephie finish high school? Did Jeff and Stephie continue their relationship when he returned home? What were his injuries? How did he react when he first met his son?
The second story, entitled "Life Support," is the sad heartbreaking experience that Cindy and John face in the hospital. Their baby Michael spent three weeks in the intensive care neonatal unit struggling for life, with Cindy at his side. Cindy and John have to make the hardest decision of their life. Is the baby strong enough for heart surgery? Surgery is the only chance for Michael, so what was their decision?
A third story, entitled "On the Nature of Sin," involves the life of Mama Grace. At the age of 16 she married Buddy and 10 years later she married Foster and also she had an affair with Ray, a married man. Where did she meet these men? Why did the marriages end? Were there other children than John who was son of Ray? What kind of life did John and his mother lead? Who convinced Mama Grace to start using marijuana? Was John a user? Why did John shoot a Cocker Spaniel ? Did Ray's wife know of the affair that brought John into Ray's life?
And now I leave you with 16 other stories to read on your own. The poems included in the book all teach a lesson of life such as: Adoption is a great sacrifice of tough love; Art and life experiences can be overlooked and taken for granted too often; Don't dwell on faults but rather look for the good in life; and last but not least, even in old age spouses help and understand each other with memories becoming treasures.
Catch the latest in Opinion
Get opinion pieces, letters and editorials sent directly to your inbox weekly!