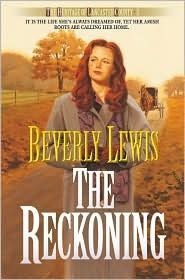 This is a story of searching for one's identity and that is the story of Katie Lapp as she was known in the Amish community but known as Katherine Mayfield in the English world. The big question is why was Katie from an English family raised by the Amish? The answer isn't revealed until the end of the story.
Rebecca and Samuel were her Amish parents and Mary became her best friend. Amish life was good but Katie learned of her biological mother's death and went to the mansion she had inherited. Would she easily adapt to English lifestyles after years of living among the Amish? It was difficult for her to leave the Amish, as she had fallen in love with Daniel Fisher but at that time news was he had died, so with heavy heart she made the trip to learn more about her biological family. As time passed she lived lavishly with servants in the mansion and enjoyed the luxuries around her, including a serious relationship with Justin. Would they marry? She enjoyed volunteering at a hospice center and taught Amish quilting at the mansion to some of the local women. She became very close to patients at the center and when 8-year-old Willy died it was very hard for her to accept.
One day as Katherine and Rosie cleaned the library she found her mother's personal journals. A whole new world unfolded in front of her! What kind of life did her mother have? Who was her father? Why did her mother give her baby to the Amish to raise as their own?
Would she learn of Daniel's fake death? Why did he fake his death? If she returned to Hickory Hollow would she and Dan reconnect? After the maid Rosie wrote a letter to Mary, the girls were able to communicate through letters secretly until Katherine or Katie made her decision on which lifestyle she preferred. Would the Amish welcome her back since she was shunned? Which lifestyle do you think she chose to live?
Mary as her best friend married the bishop and helped raise his five children since their mother had passed away too. Should Mary share news of Katie with Samuel and Rebecca? Could Mary convince the bishop to remove the communication shunning if Katie would return home? She well knew the visiting and eating in person would not be allowed. If the bishop did lift part of the shunning would he be floundering as a leader? How would Samuel and Rebecca react to the news of Katie possibly returning home? What would become of the Mayfield mansion if she moved out from there? What would become of the servants who had worked and served the family for several years? So many questions to be answered so read and enjoy this story.