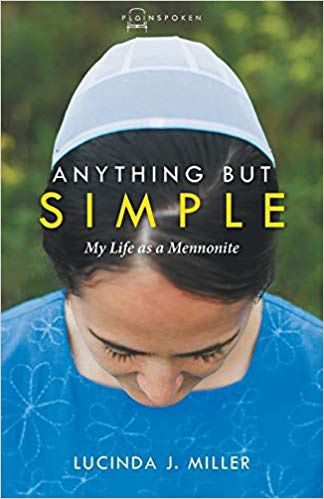 TITLE: "Anything but Simple: My Life as a Mennonite"
Lucinda knew how to think within the context of two cultures. Her first world is of her birth meaning a conservative Mennonite, and her second world is that of the North America culture. She finds the second world confusing and scary at times. Do you think it is funny or maybe a little pathetic for a shy Mennonite girl to dream big and set high goals for herself? After reading her story you will be able to answer this question.
You have free articles remaining.
Lucinda's parents were married in the first Mennonite church in Wisconsin called Sheldon Mennonite Church. Her father was a pastor and was a job he hadn't planned to have so why did it happen? As newlyweds they lived in Indiana, and her father was a factory worker. Her mother stayed home and was homesick, so she was happy when the factory went bankrupt after a year and a half because they returned to northern Wisconsin. Why did they return to Indiana for the second time? How many children were born into this family? Every night they said good-night to each family member like the Walton family on TV did and they shared strong family traditions. Dad was a storyteller and Mom was the story reader. The children were immersed with books. The family attended church three times a week. Lucinda admired her father from a distance and found him scary at times because of his strictness. Mom was never bossy, never yelled and was nice to everyone. As an adult, Lucinda loved and respected her father.
At age 9 Lucinda was baptized and proud to participate in the two communion services which were held in the spring and in the fall. She liked the foot washings after communion services. She disliked large crowds, had no friends, and had little self esteem, but her goal was to publish a book about her Mennonite life. Her best friend was her youngest sister Kathy. She enjoyed taking writing classes and loved teaching school at the age of twenty. She fell in love with Jake but he called off the relationship. Why? How long did they date?
Lucinda cared for a 70-year-old woman named Charlene who taught her much about life. How long was this friendship? Lucinda shared lots of experiences the two shared. Another experience that helped her get over the fear of crowds was when she went to Arizona to accompany an elderly couple back to Wisconsin to live near family. How long was she in Arizona? How did she travel? Mara was not a Christian but was a big help to Lucinda as she worked on her book that did not get published because of rejections and changes needed.
Lucinda's story included differences between Amish and Mennonites, and she answered many questions asked of her such as: Why is the cap worn? At what age? Can you marry who you want? Why is the dress style important that she wears? Read and learn from Lucinda's story.
Catch the latest in Opinion
Get opinion pieces, letters and editorials sent directly to your inbox weekly!