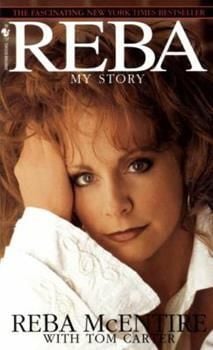 AUTHOR: Reba McEntire and Tom Carter
Reba grew up in a rodeo and ranching family in Chockie, Oklahoma. It was a family operations starting with 40 acres to 17,000 acres over the years. Three reasons she wrote this book: she wanted her son to know her family history; secondly to share her music career and success; thirdly to share the tragedy in her life.
Family has always been an important part of her life and she shares many memories of times she had with her grandparents and great-grandparents. Her family lived in very poor conditions and did weird things like using creosote to get rid of mange caught from stray animals they took in or letting chickens roost on the headboard of her bed. Many interesting stories of her ancestors! Reba was baptized in the Baptist faith at the age of 12. With the help of Willard Moody she rededicated her life to the Lord in 1978. What was her life like at this time?
Her family lived in a two-room shack with no electricity or no water. Her dad was very strict and expected a lot from the children. One example was when she was just 6 her dad made her hold the bull tails as he castrated them. Then she was instructed to put the testicles in a bucket, take it to the house and Mother fried them in flour and hot grease, referring to them as mountain oysters. One time her dad beat her with a buggy whip and another time with a coiled rope used for roping steers. Grandpa was her rescuer. Was Reba the only child treated so harsh? Siblings played lots of pranks on one another.
Her singing career started when she was in first grade singing at school programs and participating in talent shows as a fifth-grader winning honors. In high school she enjoyed basketball and track.
She married Charlie in 1976, but her brother didn't attend the wedding. Why? Her first big hit song was recorded the same year. What was it? Before she had her own bus her band traveled in vans with trailers. As her career was taking off her marriage was in danger, her cousin Dianna committed suicide, and her cousin Gary's execution when baling wire touched a utility pole took a toll on her. She sang in smoky clubs for a long time before she was discovered by a scout and then things changed. How? When did she go to Nashville? What songs made her a star? She performed with Mel Tillis, Conway Twitty, Ronnie Milsap and Mickey Gilly.
For eight years she contracted with Mercury and was on the road a lot. Why did she request to leave Mercury? She remarried after her 11 years with Charlie ended. How did this affect her children? Did they travel with her group? She was chosen Female Vocalist of the Year in 1984 and two years later became a member of the Grand Ole Opry and doing music videos. Performing at Carnegie Hall was one of the highlights of her life.
Hard times followed her and the greatest tragedy was the plane crash that killed eight band members. How did that happen? Was she on the plane? Music was therapy and healing for Reba. She honored her lost friends by building the Reba Ranch House for families whose loved ones were in hospitals in Denison, Texas. She shared in details what this place was like as well as her devotion to Habitat for Humanity.
Her aviation company expanded in 1994 and often the jets were leased to anyone in need. She developed a horse farm named Starstruck Farms with 29 horses for racing. How did these ventures turn out for her? Who managed these ventures? Family unity was priceless to Reba and she reminds readers to enjoy family and friends as that is true happiness.
This is Reba's story of hardships, tragedy, and a successful career.
Catch the latest in Opinion
Get opinion pieces, letters and editorials sent directly to your inbox weekly!