The 2019 American Legion Class A State Championship opened at Veterans Memorial Park in Westby, Friday, July 26.
The opening ceremony Friday night was hosted by Gary Gilbertson. Mayor Danny Helgerson welcomed everyone to Westby. "It's an honor to have you here," Helgerson said.
Westby/Coon Valley Post 155/116 coach John Hamilton expressed appreciation for the community's support.
"To lose the field in Coon Valley was devastating," Hamilton said. "This will be a weekend filled with memories."
Roger Mathison, the state commissioner of Legion baseball and the Westby/Coon Valley assistant coach, thanked the city of Westby staff and employees for their work getting the ball field read for the state tournament. "We can't thank you enough," Mathison said.
Mathison said he wished Ken Trott could have been at the opening ceremonies.
"He was Westby's Mr. Baseball," he said. "He was my baseball coach. I am glad to be on the field where I played (baseball)."
Mathison went on to list the names of people who made sure there was Legion baseball in the community. He said Westby had the second program in the area "behind La Crosse."
"They did a great job to make us feel special," Mathison said. "They made it possible so I could play and for these guys to play."
Mathison said that over the years he has heard positive feedback about the area's Legion baseball programs. "(They say) this area plays the right way with pride and sportsmanship."
The Class A players selected to take part in this year's American Legion State All-Star Game at Miller Park in Milwaukee on Aug. 11 were introduced. One of the players, Westby/Coon Valley's Nolan Rux, read the American Legion Baseball Code of Ethics. The code is read before each baseball game.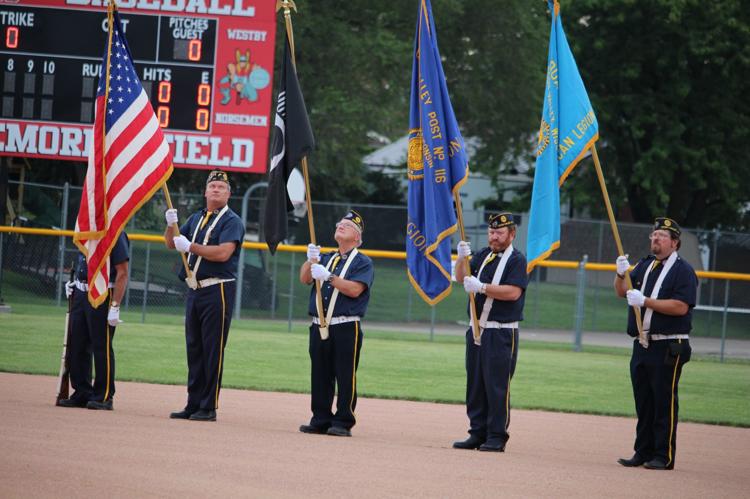 Veterans were recognized before Kris Bergdahl, mother of Carter Bergdahl, sang the national anthem and Helgerson and Jeff Strangstalien, street supervisor with the city of Westby, threw the first pitch — Helgerson to Gunnar Hanson and Strangstalien to his son, Sam.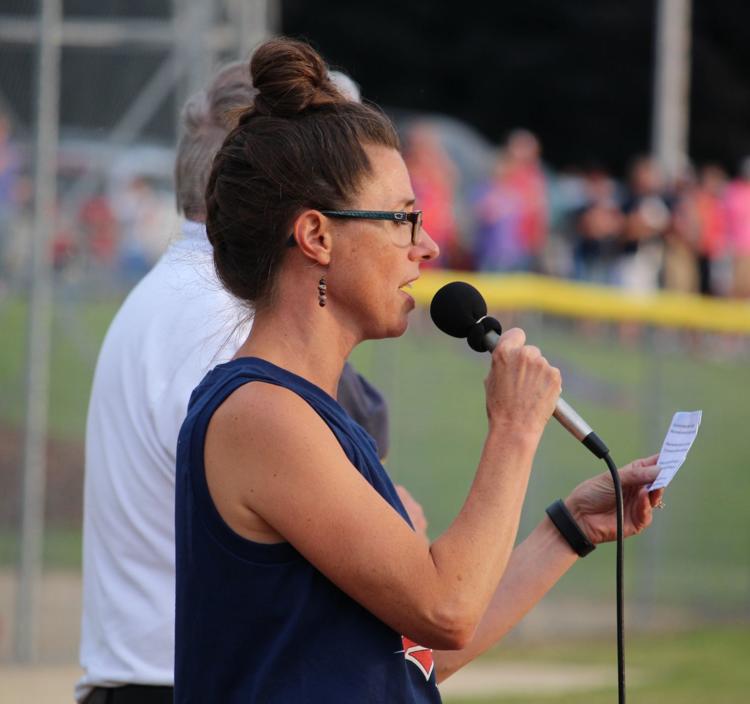 Originally scheduled to be played in Coon Valley, the tournament was moved to Westby following the floods last year.
This was the first time the tournament was held in Westby. It was a collaborative effort between the Westby/Coon Valley baseball team, the city of Westby, and the Coon Valley Area Baseball Association.
Register for more free articles.
Stay logged in to skip the surveys.
As host, the Westby/Coon Valley team participated with seven regional winners from throughout the state. There were 15 games over the five days of the double-elimination tournament.
On Saturday, July 27, all former players and coaches were invited to attend to be recognized as Alumni of Westby/Coon Valley American Legion Baseball, with a special invitation to those players, coaches and board members of the original team in 1960.
Mathison officially retired as a coach for the Westby/Coon Valley Legion baseball team and the Westby Area High School baseball team. He has been coaching for more than 27 years.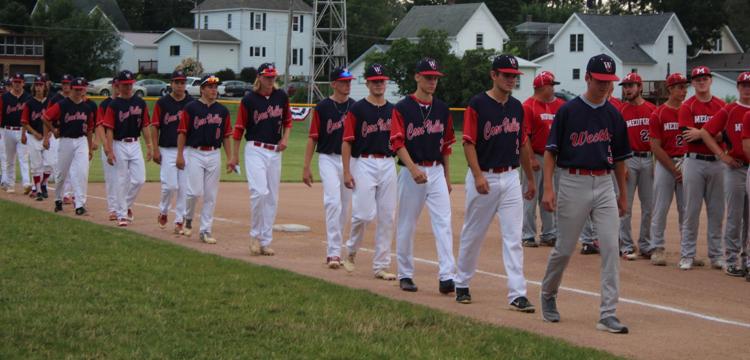 Hamilton, current Westby Area High School coach and Westby/Coon Valley Legion coach, presented Mathison with a plaque as a token of thanks for his many years of dedication to the teams. The plaque was presented Saturday night prior to the Westby-St. Mary's Neenah game.
Friday, Aug. 26: Waupun 4, Arcadia 1; St. Mary's Neenah 3, Osceola 1; Waupaca 3, Prairie du Chien 0; Westby 3, Medford 2
Saturday, Aug. 27: Prairie du Chien 5, Arcadia 0 (Arcadia eliminated); Medford 6, Osceola 2 (Osceloa eliminated); Waupun 4, Waupaca 3; St. Mary's Neenah 11, Westby 3 (final)
Sunday, Aug. 28: Medford 4, Waupaca 3 (Waupaca eliminated); Prairie du Chien 6, Westby 0 (Westby eliminated); Waupun 5, St. Mary's Neenah 4 (final).
Monday, July 29: Waupun 5, St. Mary's Neenah 4 (final); St. Mary's Neenah 5, Medford 2 (Medford eliminated); Waupun 9, Prairie du Chien 3
Tuesday, July 30: Waupun 8, St. Mary's Neenah 3
Waupun won its fifth state title in Class A, which is the most by any team since the three-class system began in 1988. Waupun and St. Mary's both advance to Waupun to play in the Division 2 Nationals on Aug. 9-11.
The 2019 Class A State Baseball All Tournament Team includes Baron Bucholz, Waupun; Reece Homan, Waupun; Keegan Hartgerink, Waupun; Caleb Sauer, Waupun; Drew Zimmer, Neenah St. Mary's; T.J. Skryzpczak, Neenah St. Mary's; Mitch Lukasik, Neenah St. Mary's; Holden Fischer, Neenah St. Mary's; Ryan (Spike) Alexander, Medford; Cade Alexander, Medford; Jon McMurry, Medford; Dylan Coleman, Prairie du Chien; Cory Check, Prairie du Chien; Drake Coleman, Prairie du Chien; Sam Strangstalien, Westby/Coon Valley; Alex Gluch, Westby/Coon Valley; Jack Menzies, Waupaca; Brady Johnson, Waupaca; Nick Carlson, Osceola;and Nate Breska Arcadia.
Most Valuable Player: Keegan Hartgerink, Waupun, 9/18 .500 average, 6 RBI, 3 runs scored, 3 doubles
Top Hitter: Caleb Sauer, Waupun, 9/17 .529 average; 2 RBI, 2 runs scored, 2 doubles
Team Awards: Sportsmanship Award: Medford Legion; State Runner-up Award: Neenah St. Mary's; State Champion: Waupun