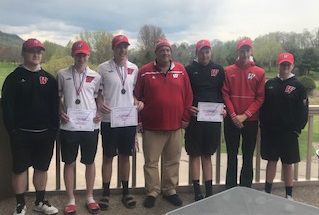 If a five- or 10-year reunion of the Westby High School boys golf team takes place, the chatter will certainly be about the coronavirus and how the pandemic changed lives — not just in the proud sports community of Westby, but the world.
Also in that conversation, there will likely be talk of what might have been.
The team, and their coach, Dave Nelson, have a big-picture perspective of a virus that has put the world on alert. With that said, they also know the golf team — like many high school sports teams throughout Wisconsin — missed out on what would likely have been a memorable spring season. Westby, you see, returned five of the six players — four of those being seniors — on a team that finished fourth in a tightly-packed Coulee Conference a year ago.
Two of those players, Noah Nelson and Jake Krause, are headed to Viterbo University this fall where they will join the V-Hawks' men's golf team. Another, Zach Harris, is weighing his college options and could end up playing college golf.
Not to say they were going to unseat defending Coulee Conference champion Black River Falls, which returned nearly its entire team from a year ago, but the Norsemen were set to make a gallant run at the title under Dave Nelson. Dave Nelson would have been coaching his 20th season of Westby golf, 13 as head varsity coach, seven as the leader of the junior varsity.
"I, and my golf team, were quite confident we were going to have a good season," said Dave Nelson, who just completed his 21st year of teaching freshman and senior English at Westby High School. "Black River won it last year and the conference was tight, but my hope was for this year's team to be in the top three."
With Noah Nelson, a two-time, first-team All-Coulee Conference returnee, along with a two-time, second-team honoree in Krause, the Norsemen were strong at the top. In addition, Harris was a three-year letterwinner who had proven to be a clutch performer at tournament time.
"Two years ago at regionals at Prairie du Chien, Zach came through and shot a 93 to allow the team to go to sectionals," Dave Nelson said. "He has an uncanny ability to play his best when the pressure is on."
The Norsemen also had senior Tyler Christianson, who came out for golf for the first time as a junior, and managed to slice nearly 10 shots off his total in one season's time. Toss in sophomore Kellen Olson, and this could have been a special season.
"This is a really good team we had together," Noah Nelson said. "Were we going to win conference? That was not set in stone, but we had a really good chance to go after Black River. They are returning their entire team, so it would have been really fun to have that sort of competition. It would have been really interesting to see."
With Noah Nelson and Krause each shooting in the low 80s during an 18-hole meet, and Harris in the mid-to-high 80s, Westby had the potential to shake some things up.
Both Krause and Harris earned spots in the WIAA Division 2 sectional meet in 2019.
"The Coulee Conference, for boys golf, has really been a family-type atmosphere," Dave Nelson said. "It has been very competitive, yet fun. But life is about change and the kids have been very good, once the WIAA cancelled their season, about continuing to work on their game. Jake and Noah and Zach are golfing all the time."
While the pandemic wiped out the final prep golf season for Noah Nelson, Krause, Harris and Christianson, it won't erase the memories that Noah Nelson has while growing up playing golf with his friends. Krause, Noah Nelson and Harris spent countless hours at Viroqua Hills and other area courses perfecting their craft.
"It was really heartbreaking (not having a senior season)," 17-year-old Noah Nelson said, "knowing last year I didn't have a very good season. My tournament season was really bad and I didn't qualify for the sectional tournament.
"It was a big opportunity we would have had that we lost. We just wanted to get out there and play with our friends."
Noah Nelson still plays with his father/coach, Dave, and has enjoyed that relationship immensely despite some of the challenges it can bring.
"I definitely had a little bit of added pressure," Noah Nelson said. "I was the coach's son, so I am supposed to be really good. Still, it was fun having him as my coach. He pushed me pretty hard to get better, which I appreciate."
Now, Viterbo will test both Noah Nelson and Krause, who coach Nelson said have similar games.
"He (Noah) and Jake Krause started golfing together in sixth grade," said Dave Nelson, 51. "Jake and Noah are really good friends and I think they helped each other become better golfers.
"Noah is just really tough mentally. He manages his way around the golf course really well. I think Jake is always mentally focused on improving his game. He is so consistent. Jake and Noah are very similar in that neither gets into trouble very often."
If they do find themselves in a tough spot, they can "rescue themselves" pretty easily, Dave Nelson said.
While they can't rescue the 2020 spring golf season, their memories from previous seasons are safe and sound.
Be the first to know
Get local news delivered to your inbox!