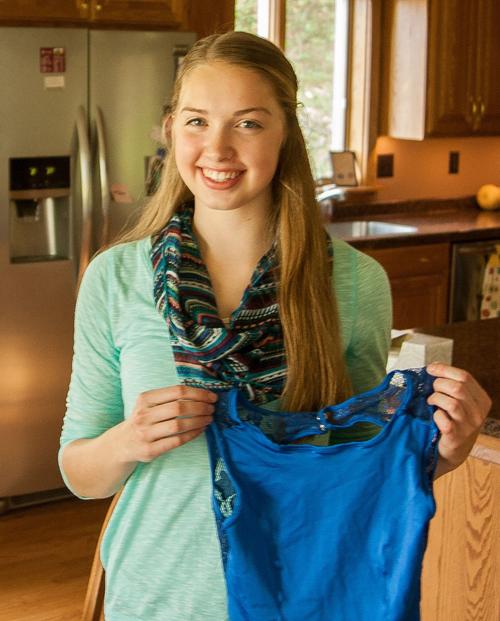 Katie Peterson will do more than dance the role of Cinderella's fairy godmother in Ballet La Crosse's upcoming holiday production. In true fairy godmother fashion, the 16-year-old from rural West Salem is putting her skills as a seamstress to work helping make Cinderella's costume.
"For now, it's just for Cinderella," Katie said.
Katie said she started sewing as a child, teaching herself along the way. When she was in fourth grade, she graduated to a sewing machine and started making more intricate and functional pieces. Before long, she started making her own leotards for dance class.
"It's always hard to find one that fits right or is the right color," Katie said.
She said this made her very popular with her friends, who all wanted one of her handmade leotards, which involves a painstaking process that takes hours of effort.
"She does a beautiful job sewing," said Katie's mother, Shari, adding that Katie takes pride in her work.
Ballet La Crosse is the creation of Misty's Dance Unlimited owner Misty Lown. Katie has been part of all three holiday productions so far, including "Heidi," "Marushka" and now "Cinderella."
In "Heidi," Katie danced as part of the mountain court, and she played the autumn spirit in "Marushka."
"I was really excited when they announced it was going to be 'Cinderella,'" Katie said. Her role as the fairy godmother will be to get Cinderella ready for the ball, behind the scenes making the magic happen.
Katie said ballet is her favorite type of dance and a passion of hers. She's not nervous about performing, and is confident in the others doing well.
"She never gets overwhelmed," Shari said. "Dancing is her passion."
Shari said she was looking forward to the performance. "It's so exciting. You kind of just want to cry because you know how much work goes into it."
Shari described her daughter as an incredibly self-motivated kid who realizes that she has to stay on a path to follow her dreams. "She's always very focused," she said.
Preparation for the musical started last summer with three-weeks of 40-hour-a-week intensive sessions, during which Katie learned the choreography for her part. "The choreography was overwhelming at first," she said.
After the initial "intensive" sessions, the group met each Saturday for four to five hours to practice.
When she first tried out, she wasn't quite sure what role she would get. As one of the older and more experienced dancers involved, it makes sense she would get the role of the fairy godmother.
Katie started dancing 11 years ago when a friend invited her to take a class at Misty's Dance Unlimited in Onalaska. It quickly became her passion. "I find it a fun challenge," said Katie, who is homeschooled except for Spanish classes at Coulee Christian School in West Salem.
Katie said she'd like to pursue professional dance in the future. "Even though its really hard work, it's worth it in the end," she said.