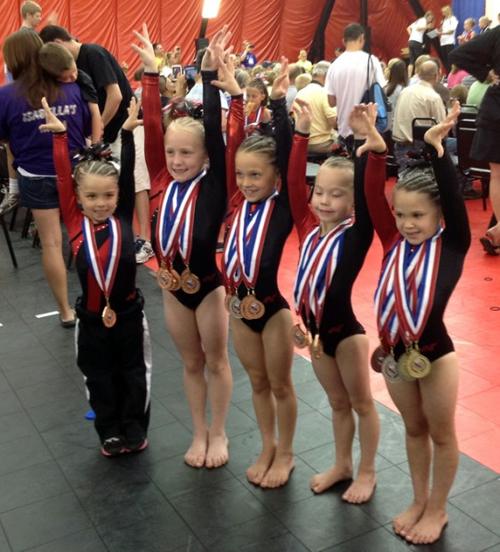 A pole barn on a rural Rockland dairy farm would seem a most unlikely place to nurture gymnastics excellence, but in fact that is exactly what has been happening there since 2005.
That's when A.M.K.M. Gymnastics was started. The four letters are an acronym for the four Arentz sisters — Amanda (whose married name is Langrehr), Megan, Kelsey and Molly. Together they've helped the athletes they train earn dozens of state championships and 10 national AAU championships — with the latest batch coming last weekend at the national championships in the Dells.
A.M.K.M. — which is open year-round — qualified 24 kids for the national championships. They come from all over the Coulee Region and this year there were three national champions added to the roster of A.M.K.M "alumni."
Amanda said there were more than 1,000 gymnasts from all over the country in the Dells. "It was very tough competition against some of the best in the nation," she said.
Despite the odds, three students from A.M.K.M. won national championships. Isabelle Kick of Onalaska finished first in the vault for Level 7 while Maya Budin of Sparta was first in bars, beam and first all-around for Level 6. Morgan Siekert, also of Sparta, was 1st on bars and floor exercise and No. 2 all-around.
In addition to those three, other A.M.K.M gymnasts did well. Among them were Emily Miller, Tia Gray and Allyson Priebe of West Salem. Miller finished No. 7 all-around in Level 4, while Priebe was No. 15 and Gray was No. 21, all in Level 4.
Meanwhile, Natalie Althoff of Bangor was No. 5 all-around in Level 3 and Molly Arentz (the youngest of the Arentz sisters at 16) finished No. 2 in the vault and No. 4 all-around for Level 9.
So how did a working dairy farm become a Coulee Region mecca for budding gymnasts as young as 3 and 4? Besides the Arentz girls' love of gymnastics, much of the credit has to go to their parents.
"We had the opportunity to buy used gymnastics equipment from Ontario High School a year after I graduated," Amanda recalled. "My dad said, 'We'll buy it cause we've got three more girls coming up.'"
At 25, Amanda is the oldest of the four sisters. Megan is 23 and Kelsey is 22.
Amanda admitted that fully furnishing a gym has been a considerable expense, but that the cost has been spread out by buying items over time. Although the building doesn't look like a gymnasium from the outside, inside it has more than ample facilities.
We have all the regular equipment and then some," Amanda said. "We have multiple sets of everything — high beams, low beams, tumble track, tumble strip and vault."
After the equipment purchase from Ontario, neighbors and others begin asking whether they could work out there too. "It kind of grew by word of mouth," Amanda said. This year there are 35 girls who train at the gym, with practices of one sort or another offered every weekday. Students are required to practice at least twice a week and there are competitions year rounds.
Amanda credits much of the gym's success to the fact that, besides being on a working dairy farm, it remains a family run operation with the only coaches being the four sisters.
"I think that's helped us to stay in control of every aspect of the gym," Amanda said. The gym's motto is "Practice does not make perfect, perfect practice makes perfect," and the sisters do their best to instill that kind of focus in their athletes: "We have very high expectations," Amanda said. "We are a competitive gym and if we are going to do it, we want to go out and win."
In gymnastics, she added, confidence is essential and and it can also be beneficial in combatting the lack of self esteem that often can afflict young women.
"We're really proud of how our girls follow through not just in practice, but in their daily lives," Amanda said.