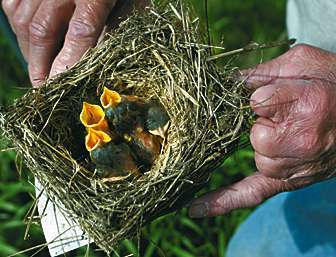 If you think you're seeing more bluebirds in La Crosse County, you're right. And the Brice Prairie Conservation Association might be the reason why.
The group has almost made a science of finding ways to cultivate more of these colorful songbirds in the region.
Though never classified as endangered, the bluebird did show a marked decline in the United States in the late 1900s, said Leif Marking, project manager for the association.
The birds are cavity nesters, but can't carve their own holes in wood, so have to rely on others to provide nest sites. As a boy, Marking remembers bluebirds using holes woodpeckers had drilled in wood fence posts on his family farms.
But steel fencing started to replace wood on farms, and the farms and open fields the bluebirds favored began to be replaced by homes. English sparrows and starlings, both introduced species, also regularly took over prime nest sites, sometimes killing the female bluebird on the nest in the process.
By the 1970s, bluebirds had become a rare sight along the ridges, Marking said. Recognizing the species was in trouble, the North American Bluebird Society was formed in 1978, and led to a number of state programs to build bluebird houses and foster more nesting and young.
Bluebird trails have become one of the main focuses of the Brice Prairie Conservation Association, along with a more limited number of houses for wood ducks and hooded mergansers. The group builds houses members can put up, or sell at a reasonable price to private landowners who want to help out the bluebirds.
Their efforts are yielding strong results. In 2000, the group counted 324 young bluebirds in their boxes. Last year, they set a goal of 1,500 - a number that even Marking asked, "Is that exciting and reasonable?" - only to end the year with 2,001 baby bluebirds.
The birds seem to take to the houses as quickly as the group puts them up, Marking said. "You can see results so quickly," he said. "It shows they (the bluebirds) are pleased, they're happy, they're comfortable."
The group in 2003 had more than 500 boxes throughout La Crosse County and other areas. Marking alone had 169 boxes, and even more this year, which he checks each week "religiously, on Sunday" after church.
"The minister has a time to pray, and I always pray for bluebirds," Marking said.
This year, the 25 boxes he has on Marking Ridge, named for his family, have 21 bluebird nests and a couple pairs of tree swallows, which also favors cavity nests. Only two boxes are unused.
"So that makes me feel real good and real successful," Marking said.
Other trails have been set up on Jostad Coulee, Larson Coulee, Gills Coulee and in Barre Mills. He even has a few houses near Coon Valley.
Each box is numbered, and he keeps notes on how many eggs are laid and how many young bluebirds manage to survive until they are "fledged," or have full feathers and can leave the box.
Each time he checks a box, Marking carefully lifts the nest out and cleans the bottom, which can harbor a type of blowfly maggot that feeds on nestling blood.
Association members are using a NABS design with a side door for inspecting and cleaning. Marking favors cedar, since it is naturally resistent to rot, for the boxes he builds, and leaves small drainage holes at the corners so rain doesn't collect in the bottom. Even after last week's storms, the nests in his boxes looked tinder-dry.
He sets the boxes up so they face east, to provide maximum sun and warmth for the brooding mom and featherless babies, yet avoid exposure to any storms that might sweep in from the west.
Poles to the houses are placed inside a length of PVC pipe, considered too slippery for a predator to climb.
Bluebirds tend to be tough and adaptive when it comes to cold and nesting, but relatively vulnerable to harassment by other birds. Marking said he has seen English sparrows kill brooding female bluebirds by pecking on their heads at the nest.
This year, the first bluebird pair that tried to set up house in his backyard box were foiled by wrens, a smaller bird that nonetheless punched holes in the nest's eggs until the bluebirds finally abandoned the site.
Yet another bluebird pair showed up this week and seems ready to give it a try, Marking said. That's one thing he admires about bluebirds - even when disaster strikes, the bluebirds always seem willing to lay another batch of eggs and give it another go.