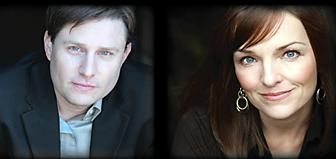 For Karen and Steve Multer, 2007 was a very big year in their songwriting career. Not only was one of their big-band jazz tunes included on a hit TV show, they also began work on recording a collection of songs that could make 2008 an even bigger year.
Karen, who was known as Karen Luehne when she was growing up in Onalaska, and Steve got a big break this fall when one of their songs was included in a scene of "CSI: Crime Scene Investigation." A scene in an episode called "The Case of the Cross-Dressing Carp" features their song as a Las Vegas casino implodes and a man — in flashback — is killed in slow motion.
"I have to admit I was really, really excited and thrilled," Karen said. "That just felt like a real victory, an affirmation of everything we've been working for."
Now based in Chicago, the Multers have been writing jazzy songs for their vocal quartet, TONIC Vintage Vocals, for about four years. Like any songwriters, of course, they'd like to have their songs reach more ears.
A lot of songwriters record stripped-down demo versions of their songs, hoping well-known singers will record their own versions of those songs. While the Multers certainly hope for hit songs, they have taken a different approach to marketing their songs.
Instead of recording demo versions for other artists, they've recorded fully produced versions of their songs. They've taken those songs and placed them with A&R (artist and repertoire) music libraries that offer music not only to singers but to movie and TV production companies.
As Steve explained, big-budget productions can afford to use songs by high-profile artists in their movies, but a lot of projects need more affordable songs. That's where the Multers come in.
As it happened, the producers of "CSI" were looking for a song that had a "Rat Pack" kind of swing to it. The song they picked, "Crash, Boom, Bang," was one Karen and Steve had written as a song for the opening credits of an independent movie called "Osso Bucco," starring Iliana Douglas and Mike Starr.
The 2007 movie — which Steve described as a Mafia black comedy with a good theme, kind of like "Big Night" meets "Goodfellas" — was produced by some associates of the Multers. The film's producers had picked up a TONIC Vintage Vocals song, "Fancy Feast," for the closing credits. After reading the script, Karen and Steve decided to write a song they thought would work for the opening credits.
You have free articles remaining.
They set out to write a song with the "swing" of Dean Martin's hit, "Ain't That a Kick in the Head," which Martin sang in the original version of "Oceans 11." The usual way it works, they said, is Steve comes up with some lyrics and Karen sets them to music.
To record the song, which they originally titled "Look Out for Love," they hired a singer known for his Dean Martin tributes. The movie producers loved the result and used the whole song for the opening credits of "Osso Bucco." The fact that "CSI" picked up their song was a nice bonus that came out of the blue.
"I won't discuss money but it was good," Karen said. "More importantly, it was a real kick."
As serious as they are about their art, music actually makes up a small portion of their income. The Multers are among the 50 or so people in the country who make their living full-time in "corporate theater," traveling to trade shows to serve as spokespeople for companies.
On top of that work, they've also got the task of rearing two children, 4-year-old Julia and 2-year-old Avery.
Getting that song placement on "CSI" puts them "on the radar," Steve said, and should help with their next project — recording a batch of country songs they wrote. They went into the studio in mid-December with a seven-piece band and vocalists to record an album's worth of songs Steve and Karen wrote.
For Karen, writing country music was kind of a return to her roots. "My sensibility always lay in writing strong melodies with strong stories, which is of course what country music is based on," she said. "The jazz actually came later for me. So personally, I feel like I'm coming back again to what is more familiar with me."
It's a big departure from the big-band sound they've been working in, and not just in the artistic style. With their jazz songs, the Multers were "big fish in a small pond," Steve said, because there weren't a lot of other people writing that style of music.
With country music, there's a huge market but there's also a lot of competition. Spending the thousands of dollars it costs to hire musicians, rent studio time and produce radio-ready demos is a risky venture, but the potential for a payoff is there, even if they just get snippets of their songs placed on TV shows or movies.
"It's something we talked about for a long time. Can a couple northern Yankees get into the country market? I don't know," Karen said. "It is an enormous market. … If you want to be smart, business wise, you cannot just create music in a vacuum."