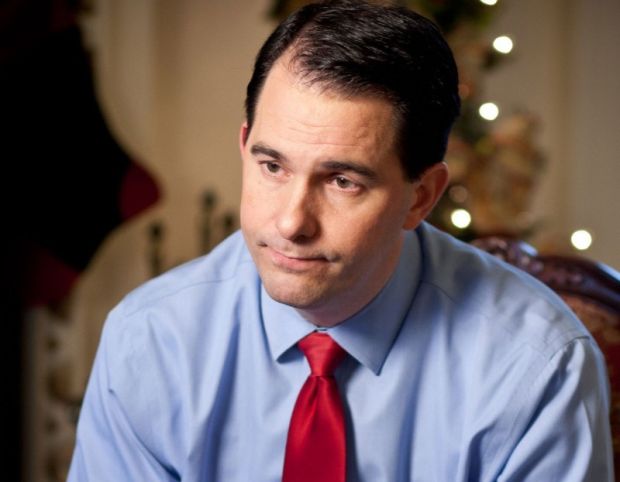 MADISON — Gov. Scott Walker has refused to consider any of at least 1,400 pardon applications since he's taken office, an Associated Press review has found.
The Republican governor hasn't issued a single pardon since he took the oath of office on Jan. 3, 2011. He issued an executive order creating a pardon advisory board but never appointed anyone to the body before quietly suspending pardons indefinitely.
Walker's stance isn't necessarily out of step with other governors, some of whom have seen pardon decisions come back to haunt them. But it has left some applicants confused and angry, and saying the lack of action can hamper job searches, prevent them from regaining their rights or simply deny them a chance to clear their name.
Jason Johnson filed his pardon application in 2010 and has been waiting ever since. The 38-year-old Boscobel man was sentenced to five years in prison in 1997 for shooting, in a fit of jealousy, a man his then-girlfriend brought to his house. Now he works as a truck driver, and his conviction prevents him from hauling loads into Canada, costing him money, he said. He'd also like to get his firearm rights back so he can teach his children how to hunt with a gun.
"(Walker's position) completely erases any hope to be able to further my earnings and family practices," Johnson said. "It's not fair. I did wrong. I paid for it. Guys like me ought to have a chance."
Governors in 24 states, including Wisconsin, have the exclusive power to grant pardons, according to the National Association of Criminal Defense Lawyers Restoration of Rights Project. But pardons are risky political business. Governors who issue just a few can be seen as unsympathetic; those who grant too many look like they're soft on crime or helping people with connections. And there's always the chance an applicant who wins a pardon could re-offend, generating negative publicity for the governor.
"(Granting pardons) doesn't seem to come down to party lines," said Mark Osler, a professor at the University of St. Thomas School of Law in Minneapolis, who specializes in sentencing. "It has more to do with local culture and politics of the moment. It also has to do with how bold or timid that executive is."
Former Illinois Gov. Rod Blagojevich, a Democrat, left office in early 2009 without acting on more than 2,500 clemency cases. His successor, Democrat Pat Quinn, has since acted on 2,237 petitions, granting 842.
Republican Haley Barbour created a firestorm when he granted reprieves ranging from full pardons to suspended sentences for more than 200 inmates in one of his final acts as Mississippi's governor early last year. His successor, Republican Phil Bryant, has pledged not to issue any pardons.
Former Arkansas Gov. Mike Huckabee, a Republican who ran for president in 2008, pardoned or commuted the sentences of 1,033 people during his 10½ years in office. One of them was Maurice Clemmons, who was serving a 108-year prison sentence for a teenage crime spree. Huckabee's decision made Clemmons eligible for parole. Clemmons went on to kill four police officers in Washington state in 2009.
The Wisconsin Constitution grants the governor the power to grant pardons for any crime short of treason. A pardon doesn't erase or seal a conviction, but it does restore lost rights such as the right to own a gun and the right to run for office. A pardon doesn't keep a person's criminal record from showing up on background checks but applicants often insist clemency makes them more attractive to employers.
Governors have traditionally appointed advisory boards to weigh applications and make recommendations about who deserves clemency.
Former Republican Gov. Tommy Thompson and his successor, Republican Scott McCallum, issued a combined 86 pardons from 1994 through 2002. Democratic Gov. Jim Doyle issued three times as many, granting nearly 300 during his eight years in office. About a third of his pardons came during the last 3½ months of his tenure.
Walker issued an executive order in March 2011, a little more than two months after he took office, creating his administration's pardons board. But he never appointed anyone to it. Eight months later he suspended pardons indefinitely without a public announcement.
Walker is preparing for his 2014 re-election bid and mulling a possible presidential run in 2016. He denied political fallout from granting pardons was a factor in his thinking, saying he simply doesn't believe he should inject himself into the criminal justice system.
"I just look at (granting pardons) and say that's not really why I ran for office. It's not what I campaigned on. It's not what I talked about," the governor said. "To me, the only people who are seeking pardons are people who have been guilty of a crime and I have a hard time undermining the actions of a jury and of a court."
Walker's stance has left in limbo hundreds of applicants who say they need a pardon to find work or hunt with a gun or simply to clear their record of transgressions committed years ago. Data the AP obtained from the governor's pardon log through an open records request showed 1,403 active clemency requests sitting in the office.
At least 331 were left over from the Doyle administration. At least 681 had been filed since Walker took office. The earliest date on an application was Aug. 25, 2005; the most recent was Nov. 1, 2012. Nearly 400 applications were undated. The office stopped counting applications received after Walker suspended pardons on Nov. 28, 2011, Walker spokesman Cullen Werwie said.
A review of about a dozen application files revealed a range of crimes, including drunken driving, marijuana and cocaine possession, child abuse, forgery, robbery and burglary.
State Sen. Lena Taylor, D-Milwaukee, has introduced a bill that would require the governor to appoint a pardon advisory board. The board would have to make a recommendation on every pardon application. The governor could still choose to do nothing, but at least someone would be reviewing the requests, Taylor said.
"The governor basically has the power to ignore a citizen's petition," Taylor said. "You should at least afford the people a chance to be heard."
Taylor's bill has little chance. Walker's fellow Republicans control both the Senate and Assembly.
Dennis Macemon, 54, of Racine applied for a pardon in 2011. He was sentenced to two years of probation in 1997 for choking his 11-year-old nephew until he was unconscious and knocking the boy down, causing a gash on his head. In 1999 he got five days in jail for making threatening remarks about a prosecutor.
He argued his conviction has made it difficult for him to find work. He joined a North Dakota contracting crew but was laid off after a personnel officer discovered his conviction during a background check for an assignment at a U.S. Air Force base in Minot. His foreman said he could get his job back this spring if he got a pardon, Macemon wrote in a letter to Walker's office, adding he has since had to sell his truck and camper and collect money for donating blood to make ends meet.
A message the AP left at the contractor's headquarters wasn't immediately returned. Macemon said during an interview he's frustrated with the governor's stance. He acknowledged he made a mistake but he's paid for it.
"Is that the plan? For all of us to fail? To have people leeching off the state? For me to lose my house? (Walker's) slogan is we've got to move Wisconsin forward. Well, you know what, Mr. Walker? I need to move forward," Macemon said. "I'm not asking for a handout. All I need is a signature from him. Do something. Don't just sit there."