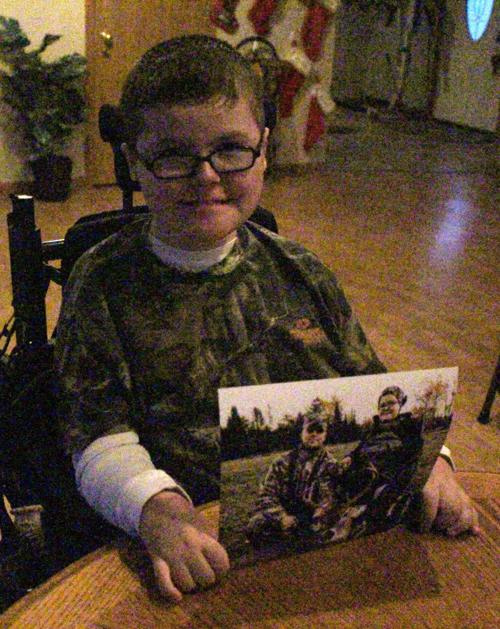 Hunter Smith has always wanted to live up to his name.
"The first time I've wanted to go (hunting) was two or three years ago," 12-year-old Hunter said.
Born with Type II Spinal Muscular Atrophy, hunting seemed out of reach. Holding a traditional gun is out of the question because it could possibly break Hunter's bones.
Luckily for him, his father, Dan, was directed by Ray Howell of Kicking Bear Foundation to Foundation for Hope: Outdoor Adventures.
Foundation for Hope was founded in 1999 by former Detroit Lions offensive guard Tony Semple and his partner, Craig Mortz. The foundation allows youth with life-threatening or life-altering medical conditions to go hunting. Their Michigan location, Vahalla Ranch in Grayling, Mich., let's those aged 10 to 25 hunt for deer.
The Smiths drove the 9.5 hours to Michigan from their home in Holmen and spent a total of four days at the ranch.
"We got in Thursday morning, and he went hunting Thursday night for a couple of hours," Dan said. "We went Friday, early morning and night. We got the deer on Friday."
Those who attend the foundation's camp get to hunt until they bag their deer. If they kill their deer on one of the first days, the ranch has archery and other activities for the campers. The guns used are specially made for those who would not be able to use a traditional gun.
"Even someone who couldn't talk but could control their hands could do it," Hunter said.
The gun is 243-caliber and is operated on a stand by a joy stick. It is connected to an iPad that shows what would be the scope on a traditional gun. Hunter would look at the iPad and when he lined up the crosshairs, the guide would have a safety button, and he would tell Hunter to shoot.
"It was really loud. It was really fun, but guns are really loud; we had headphones," Hunter said. "(The bullet) went straight through the lungs and he flopped like a fish."
The deer Hunter struck was an eight-pointer. The foundation processes the animal for meat and mounts the head for the participant to take home. Hunter's is being shipped currently.
Hunter, who is a seventh grader at Holmen Middle School, said that his friends were pretty jealous that he got to go out hunting.
"It was a once-in-a-lifetime opportunity that was a very awesome experience," Dan said. "We are very appreciative with what the foundation did. They taught him how to hunt with those special guns, and they have three of them. We can't thank them enough."
The ranch currently takes in 12 kids a year, but the foundation is hoping to raise that number to 100.
"It's more than anything a lack of awareness. The foundation is completely solvent," Dan said. "We were treated like family, from the time we arrived to the time we left."
Hunter was given a free iPad, headphones, hats, shirts, hand and feet warmers and a duffel bag to carry all the equipment.
Next, Hunter wants to go bear hunting.