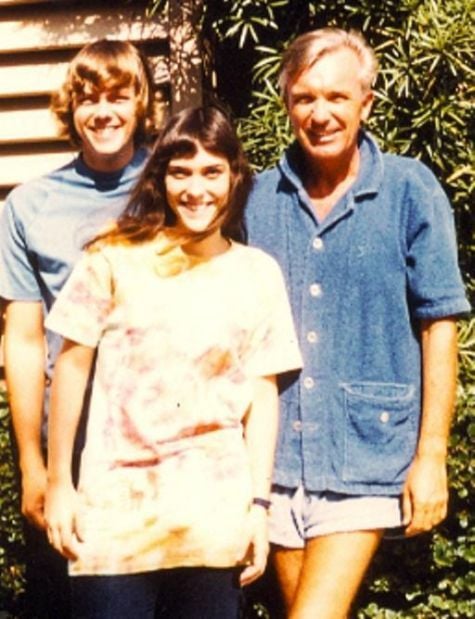 Even all these years later, it's still hard for Frank Pooler to believe he had a hand in writing a classic Christmas song, "Merry Christmas, Darling" by the Carpenters. And he owes it all to raging hormones.
Pooler has deep roots in Onalaska. His father's uncle, Frank Pooler, was the city's first mayor, and he cut his musical teeth at Onalaska High School before going on to a long career in choral music and education.
Although he didn't write the song in Onalaska, the song, too, had its roots there. In the summer of 1944, the year Pooler graduated from OHS, he had spent all his spare time with the younger sister of the OHS band and choir director.
He had it pretty bad for her and around Christmas that year, Pooler was spending some time with his parents in northern Wisconsin, near Hayward, and he kept thinking about this special girl. He hadn't written a lot of songs up until then, but he was moved to write a Christmas song for her.
"I was 18 and the hormones were raging," he said.
Pooler planned to give the song to her as a Christmas present, but before he could lay it on her, their romance hit the rocks.
Pooler went ahead and had the song published by a little-known publishing house, and he still has a scratchy 78-rpm recording by a now-forgotten singer of his original version of "Merry Christmas, Darling."
He didn't think much about the song until more than 20 years later, when he was choral director at California State University-Long Beach. It was 1966 and a couple of students of his, Richard and Karen Carpenter, were playing gigs around town. They were sick of the standard holiday fare, so Richard asked Pooler, their favorite professor, if he had any ideas.
Pooler remembered that song he had written many years before and mentioned it, but added he didn't think much of the melody anymore. Richard said he'd take a crack at writing a new tune, and about 15 minutes later he was done, creating a song written by two 18-year-olds a generation apart.
Pooler had forgotten about Richard's rewrite of his song until about four years later. Richard and Karen had recorded some big hits by 1970, including "We've Only Just Begun" and "Close to You," and one day, Richard called Pooler.
"He said, 'Hey, come up to the A&M studio,'" Pooler recalled. "He sat me down and pulled a switch and these great sounds came out of the speaker."
He didn't recognize the song as his "Merry Christmas, Darling," for the first 10 seconds or so, but then it hit him. "I was totally floored," Pooler said.
The Carpenters' version of "Merry Christmas, Darling" was released in fall 1970 as a single and earned gold record status. Another version of the song was included on their 1978 "Christmas Portrait" release, and it has since been recorded by many other artists, including Vanessa Williams and, most recently, Amy Grant.
"Merry Christmas, Darling" almost was recorded in the early 1970s by Elvis Presley, Pooler said. Presley couldn't read music, so in the recording studio he would have the musicians form a circle around him and play him the song, while he walked around the circle trying to get the hang of the song.
"He could not quite pick up on the bridge to 'Merry Christmas, Darling,' so he threw in the towel after three times around the circle," Pooler said, retelling the story Presley told Richard Carpenter.
Pooler remained close to the Carpenters as they became the biggest selling music group of the 1970s and served as their orchestra director for a time. Karen Carpenter died of a heart attack in 1983 after battling anorexia for many years, but Pooler remains good friends to this day with Richard.
A few weeks ago, in fact, Pooler got a call from Richard to come up for a visit. It turned out Richard had written a new choral arrangement of "Merry Christmas, Darling" for his daughter's high school choir and his 18-year-old daughter was singing the solo.
Pooler got a big kick out of that — Richard's daughter singing a song at 18 that her father had written a tune for at 18 and that Pooler had written the words for at 18.
Although he has retired from teaching and is nearing the age of 80, Pooler still writes and edits music, including some work for music publishing giant Hal Leonard. He's working on a piece now called "In the Footsteps of Bach" that involves resurrecting musical works by the composers who succeeded Bach at St. Thomas Church in Leipzig, Germany.
Pooler doesn't get to see much snow where he lives now, in Los Alamitos, Calif., but when he hears a choir singing "Merry Christmas, Darling" at the shopping mall or hears a version on the radio, it takes him back to Christmases in Onalaska.
"I've got to confess that I have a feeling of warmth when I hear that," he said.
One nice thing about writing a classic Christmas song: It comes back into fashion every year, he said. "It has a life of its own," he said.
He has even gotten letters from couples separated by war, telling him that the lyrics really struck home for them.
A few years back, he decided to look up his old flame, the one he wrote "Merry Christmas, Darling" for, and he found her. She was living in Palm Springs, Calif., with her husband, a famous musician.
He arranged a visit with her and eventually "Merry Christmas, Darling" came up. "Did you ever know I wrote that song for you," Pooler asked his old flame.
"No," she said. "Now I have a treasure."
Be the first to know
Get local news delivered to your inbox!