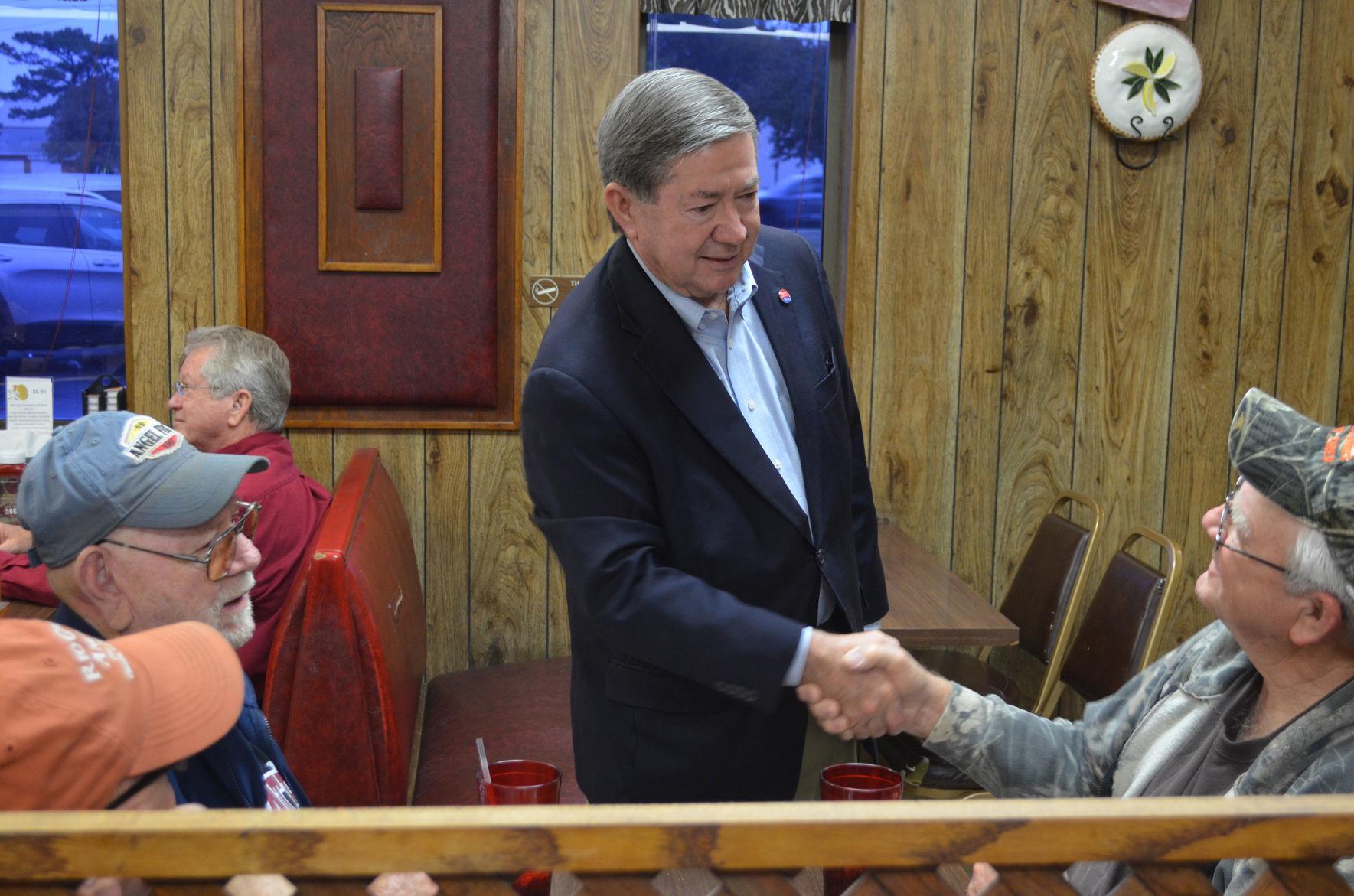 Right after the bell rings to end the school day, Shari Gateley hurriedly tidies up her classroom and dashes into the teachers' lounge. She emerges in sneakers and a campaign T-shirt, ready to knock on doors for Drew Edmondson, the Democratic candidate for governor in traditionally Republican Oklahoma.
Gateley was one of thousands of teachers who walked out this year to protest spending cuts and low salaries, an experience she remembers as inspiring but ultimately unsatisfying. Although the Republicans who run the state agreed to grant raises, education funding remained low as class sizes rose.
"There were legislators that said to us, 'Teachers don't vote, so I don't really care,'" she said.
She's been out to prove them wrong ever since, volunteering for a political campaign for the first time in her life. And Gateley is part of a wave of teacher-led activism that Democrats hope will reshape politics in including Oklahoma, Kansas, Wisconsin and Arizona, where Republicans' tax cuts have led to four-day school weeks, outdated textbooks and teacher resignations.
"I felt like I didn't have time for campaign stuff. But I decided I couldn't use that as an excuse anymore," she said. "Because I also don't have time for oversized classrooms or to not be paid what I deserve."
Success in several races for governor where education looms large would give Democrats a political foothold in states that President Donald Trump carried just two years ago, and an important check on Republicans as the states redraw political districts after the 2020 census.
It would also be proof "that states can only cut education so far because they face a kind of revolt, even in deeply, deeply red states," said Charles Franklin, director of the Marquette Law School Poll.
"The schoolchildren have been subjected as guinea pigs to a Republican ideological experiment," said Washington state Gov. Jay Inslee, chairman of the Democratic Governors Association. "Many of us believe that experiments belong in the chemistry classroom."
Jon Thompson, communications director for the Republican Governors Association, said his party could defend its turf by promising to use tax dollars efficiently rather than simply pumping more money into education.
"Republican gubernatorial candidates understand that students should come first, not teachers unions or bureaucrats," he said.
In Wisconsin, Republican Gov. Scott Walker became a national figure by targeting unions and cutting taxes. Angry labor groups tried to recall him in 2012 and failed. But now, as Walker seeks a third term, the political tide has shifted, according to Marquette polling.
Five years ago, research showed that Wisconsin was narrowly divided over whether to keep property taxes low or pay more to increase school funding. This month the nonpartisan Marquette poll showed a clear preference for spending more on education, 57 percent to 37 percent.
The changing dynamic is already having an impact at the local level. Voters around the state passed 85 percent of ballot questions seeking more borrowing or tax revenue for schools, a total of $648.1 million, according to the Wisconsin Policy Forum. An additional $1.4 billion will be on the ballot in various districts next month.
It's presented a challenge for Walker. "What was a strength for him — because people were concerned about their property taxes — has become a weakness for him," Franklin said.
Walker has rebranded himself as the "education governor" who has made "a record investment in schools," even though, when adjusted for inflation, schools get less state money than before he took office.
Walker is opposed by Tony Evers, a Democrat who is Wisconsin's state schools superintendent. Evers has promised to put more money into early childhood education and public schools, funded by eliminating corporate tax breaks or raising levies on the wealthy.
Polls show a close race. A Marquette survey this month showed Walker leading by a single, statistically insignificant percentage point. A NBC News/Marist poll recently showed Evers in the lead.
Democrats nominated another education figure for governor in Arizona. David Garcia, a university professor who specializes in school policy, is running to oust Republican Gov. Doug Ducey, who is seeking a second term.
"A change in education is Arizona's No. 1 issue," Garcia said in a televised debate. "It is my strength, it is Ducey's weakness, and it's going to be the difference."
Arizona had its own teacher walkout in May, when educators spent five days demonstrating for increased funding. The protest ended when Republicans granted them a 19 percent raise over three years, but Garcia has suggested that more taxes may be needed to continue giving more money for schools.
Kansas had one of the most aggressive tax-cutting plans in the country earlier in the decade, when Gov. Sam Brownback promised to turn the state into a Republican model for how keeping more money in people's pockets would lead to economic growth. But even as other states thrived post-Recession, Kansas saw its budget problems worsen.
The state Supreme Court has said school funding is unconstitutionally low, and a study commissioned by Republican lawmakers said an additional $2 billion might be needed.
Kris Kobach, the Kansas secretary of state and a favorite of Trump's, narrowly won the Republican nomination for governor after a last-minute endorsement from the president. Kobach is better known for failed investigations of voter fraud, and every living former governor of Kansas — except for Brownback, who is now an ambassador-at-large for Trump — has endorsed Kobach's Democratic opponent, state Sen. Laura Kelly.
Kobach leads by 1 point in recent polls, meaning that the race is a virtual dead heat.
Like Kansas, Oklahoma has been a Republican stronghold. Trump beat Hillary Clinton here by 36 percentage points. Yet the outgoing Republican governor, Mary Fallin, has become one of the country's most unpopular, and the party's chosen replacement, mortgage business owner Kevin Stitt, is a political newcomer who has failed to lock up the race.
The most recent nonpartisan survey by SoonerPoll, released on Sept. 13, showed Stitt leading by roughly 2 points, and the Cook Political Report more recently rated the race as a tossup.
Dissatisfaction with the state's schools is considered a big drag for Republicans. Some schools have shifted to a four-day week. In one history textbook, the most recent president listed is Bill Clinton, meaning students couldn't read about any commanders in chief in office since they were born. Some high school classrooms have more than 40 students.
"Not even enough desks can fit in a classroom," said Alicia Priest, president of the Oklahoma Education Association, a teachers union that has endorsed Edmondson. "They sat on windowsills or the floor."
George Nigh, a Democrat who was governor from 1979 to 1987, remembered how the only thing people wanted to talk about during his two terms was fixing the roads. "Now the No. 1 issue is our kids," he said.
Edmondson, a former state attorney general, is a longtime prosecutor and a Navy veteran who served in Vietnam. But in one of his campaign advertisements, he says "the most important job" he's ever held was as a teacher in his hometown of Muskogee, a job he held for a year decades ago.
He was a frequent presence at the nine-day teacher walkout in April, and aides handed out pizza and apples. When he filed his candidacy, he first marched around the state Capitol flanked by educators.
The teachers union believes its membership is roughly split between the two parties, and Edmondson hopes the education issue will lure Republican voters across party lines. His campaign hands out "Republican for Drew" and "Teacher for Drew" stickers at his events.
"It's the absolute key," Edmondson said.
The walkout ended after the state Legislature agreed to boost teacher salaries by an average of $6,000 a year, funded by tax increases. The political ripple effects were quickly felt as several Republicans who voted against the legislation lost in their primaries.
That intraparty culling of the education spending foes could blunt some of the fallout if voters believe the state is getting back on track without electing a Democrat, said Chad Alexander, a former state Republican Party chairman.
"There's no blue wave in Oklahoma," he said. Besides, Alexander added, "There were a lot of people saying, 'I didn't just get a $6,000 raise. They got a $6,000 raise.'"
But education advocates point to lingering problems. The salary increases haven't meant more money for school supplies or infrastructure. Out-of-state districts still recruit in Oklahoma, offering higher salaries. A shortage of teachers means 6 percent of Oklahoma's classroom instructors are working with emergency certifications.
All of that gives the Democrat an unlikely shot.
"This campaign is coming down to the wire," Edmondson said. "It's going to be close."
Be the first to know
Get local news delivered to your inbox!