To have and have not: Poverty Simulation pushes students to see life through eyes of less fortunate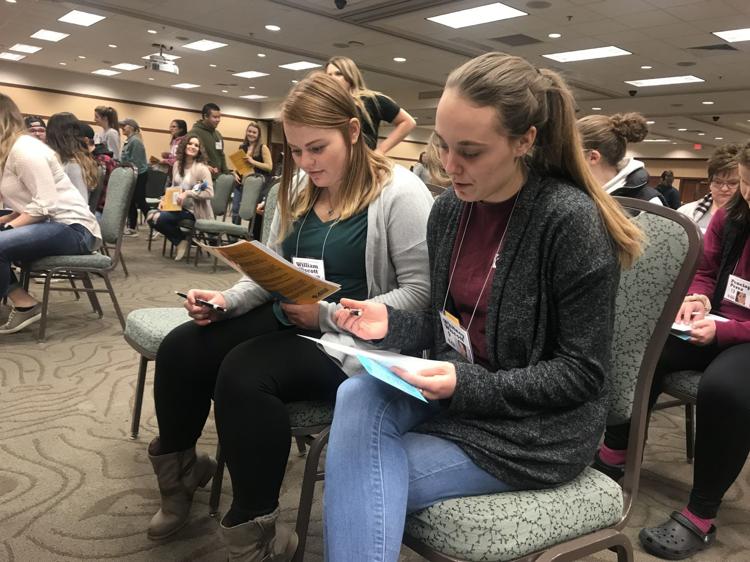 Meet the Wiscott family.
Grandparents Warren and Winona are struggling to make ends meet, scraping by on his disability and her meager paychecks.
They have two mortgages, one dependable car and zero time to themselves — mostly thanks to their two grandchildren, 9-year-old Whitney and 7-year-old William, of whom they have custody.
"I have ADHD," William says. "And I am a handful."
If you're wondering why William is so matter-of-fact, so self-aware, it's because he is not who he says he is — at least not technically.
The role of William was played Monday by Brittany Thomas, a first-year student in Western Technical College's occupational therapy program, as part of an exercise simulating poverty, hunger and a host of other socioeconomic challenges.
"You just don't realize the burdens that some people face and how that can affect their health," said Kari Reyburn, Western's community engagement coordinator. The Poverty Simulation, as the exercise is called, was organized by the Great Rivers United Way.
"Housing and food, safety and security … it's pretty eye-opening to see their struggles," Reyburn said.
Students were divided into families and given sealed envelopes that contained their fates.
At the Wiscott house — which was really just four chairs arranged in a circle, one with a piece of paper that read "HOME SWEET HOME" taped to the back — Sage Swanson rubbed her hands together in anticipation.
"Please tell me we're rich," she said.
They were not. Like everyone else in the Lunda Center ballroom, the Wiscotts had their work cut out for them.
In the simulation, each 15-minute block represented one week in the life of an underprivileged family.
School and work demanded seven minutes apiece. Trips to the store, bank or hospital — represented by different tables — ate up several more. If they were even open, that is.
The weekend, that shimmering oasis, was little more than a mirage. Families spent it sorting out their budgets or waiting in line at the pawn shop.
"I've never had the poverty experience or anything like this," said Megan Meiners, who played the 52-year-old Warren, a diabetic with mobility problems that prevented him from working.
That left Swanson, who played the 50-year-old Winona, to support the Wiscotts through her job as a cashier. Never mind that she speaks limited English and never went to college.
"Providing for your family," she said, holding up a paycheck for $337, "is hard."
Madelyn Miller (Whitney) and Brittany Thomas (William) found more success at school.
Miller's good grades earned her a $50 gift card for groceries, while Thomas got the green light for a field trip after a friend loaned her the requisite $5.
"Things are looking up," Thomas said.
While it used fake money to simulate finances and squirt guns to simulate crime, the exercise pushed students to see life through a different window, to understand that, for some people, nothing comes easily. That you should not count your chickens, even as they are hatching.
After using their precious bus passes to go to the grocery store, the Wiscotts waited in line.
The group in front complained that their child had brought a weapon to school.
The group behind complained that they had no furniture.
But the Wiscotts were riding high.
The family had enough — not plenty, but enough — to get through the next week.
The kids were earning good grades and staying out of trouble at school.
And for the first time in the simulation, what amounted to two weeks, they were about to bring home some groceries.
"We'll be eating good tonight!" Swanson said.
A few second later, someone blew a whistle.
The owner of the grocery store, saying nothing, flipped over the sign that served as his storefront.
They were closed for business.
"You just don't realize the burdens that some people face and how that can affect their health. Housing and food, safety and security. … It's pretty eye-opening to see their struggles." Kari Reyburn, Western's community engagement coordinator