Gov. Tony Evers surveys flood damage in Trempealeau County during visit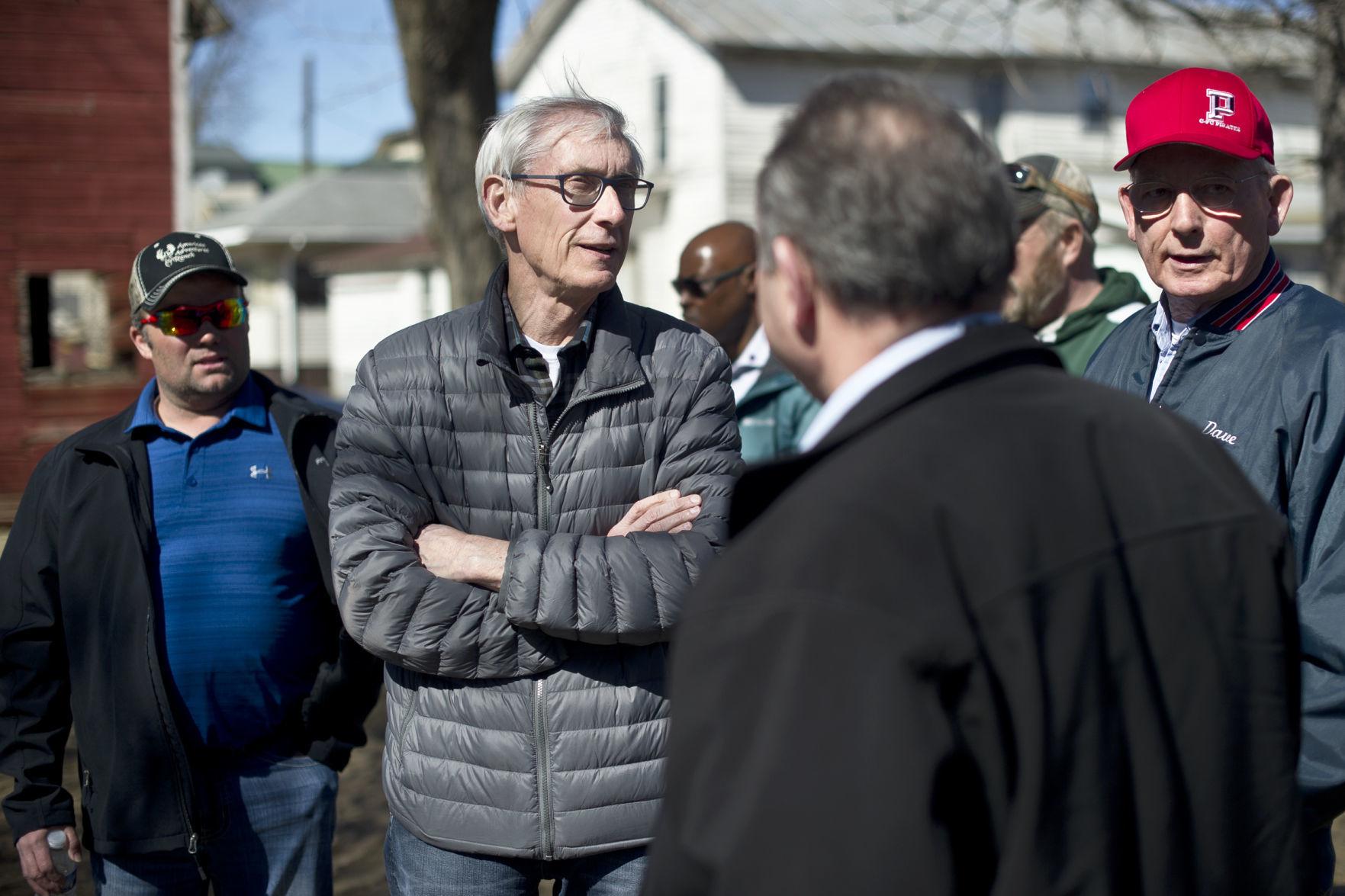 DODGE — Meeting with victims of flooding in the Trempealeau County communities of Arcadia, Dodge and Centerville Monday afternoon, Wisconsin Gov. Tony Evers promised to work with the state Legislature to seek solutions.
"My goal is to make sure that the people of Dodge have the opportunity to live a life like most other people in Wisconsin, without constant flooding," he told a small crowd of citizens and community leaders gathered at the Dodge Town Hall.
Late Friday, March 15, the Trempealeau River, which flows through the heart of Dodge, reached record flood stage, spilling over its banks and forcing nearly a dozen residents to abandon their homes for higher ground.
The National Weather Service in La Crosse reports the river reached 13.44 feet at the height of the flood, but eye witness reports put the level closer to 14 feet.
The water closed several U.S. and county highways and flooded dozens of homes throughout Trempealeau county.
"We had a lot of damage in town," Dodge Fire Chief T.J. Fonfara said. "I've been with the department for 24-25 years; I've never seen the water come up as fast as it did this spring."
Fonfara said ice jams and heavy snow late in the season likely contributed to the record flood.
During his visit to Dodge, Evers surveyed the damage to lifelong resident Keith Jereczek's property. Jereczek and his daughter, Paige, who live just a few hundred yards from the river, were among the first to realize their home was in peril.
"We had at least 14 inches of water in our first floor and almost 4 feet in our garage," he told the governor. "We've got tons of damage to appliances, to flooring, to walls."
Asked about Dodge's history of flooding, Jereczek told Evers there had been an uptick in the frequency and severity of the floods since 2010.
For local property owner Mike Bushman, it's time for Dodge to look at long-term solutions. Bushman, who moved to Dodge in 1972, called on the governor to get "big government" out of the way and help the community build a berm.
"They tell me something permanent can't be done; I don't buy that," he said. "Something needs to be done beyond sandbagging."
Wisconsin Rep. Treig Pronschinske, R-Mondovi, said the biggest barrier for towns like Dodge is the high cost of the studies required by the Army Corps of Engineers.
"I think the biggest hoop here is how we are going to deal with the Army Corps," he said. "How can local government afford this? Tax money is not just rolling in."
Bushman said it was ridiculous that the town should have to spend millions on a study to construct a berm that he felt certain would only cost a fraction of that.
But while Pronschinske and Bushman criticized the high cost of the studies necessary to pursue long-term solutions, Wisconsin Emergency Management administrator Brian Satula said, while expensive, these studies are essential to securing federal funding from FEMA and other government agencies.
"Yes the cost is a factor that goes into getting a corps study," he said, "but if you are ever to do a long-term fix of it, it really has to start with that."
Evers highlighted the importance of flood mitigation and prevention while speaking in Centerville, another community hit by flooding this March.
He highlighted the work being done by the Army Corps of Engineers in Arcadia to study whether a levee could help mitigate flooding.
"The problem with mitigation is it takes time to plan and actually put into place," he said, adding that in Arcadia it could take years before work begins on a levee.
"We have to be careful we don't wear people's patience thin on this issue," Ever said.
While long-term solutions are being evaluated, Evers also urged residents to take pictures and report property damage.
He said if the damage reaches a high enough threshold, the county could be eligible for disaster recovery funds from FEMA.
Residents affected by flooding can report damage by calling Great Rivers 211.
---