Servant leadership initiative encourages La Crosse area students to work for the common good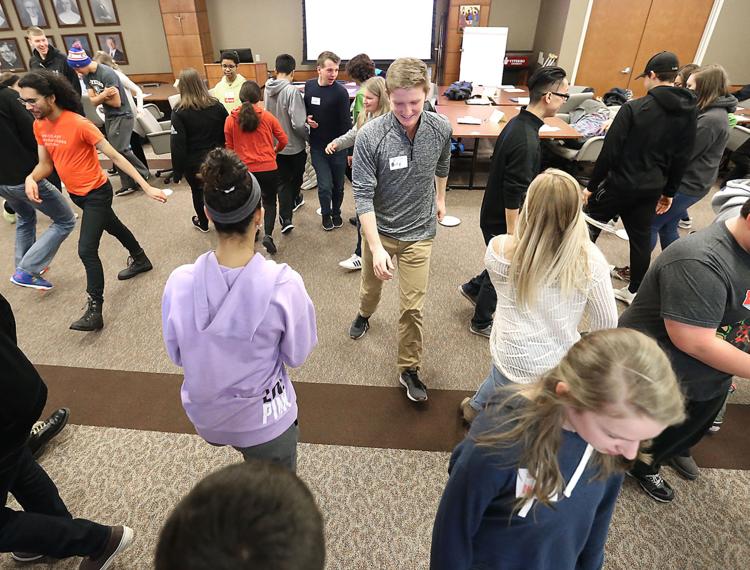 More than 60 students, eighth-graders through college seniors, discovered Tuesday that becoming servant leaders is a bit like a cakewalk when they began the day with a body-jostling icebreaker similar to the musical party game.
By the end of the day, though, the students had established common ground within groups and set goals for projects for a program titled B.E. 4 TheCommonGood.
The program, whose B.E. stands for "building ecosystems," teams Viterbo University students with eighth-graders from the La Crosse Design Institute charter school and juniors and seniors from 7 Rivers High School in La Crosse. The Viterbo students will mentor the younger pupils as part of the Viterbo Systems Thinking and Leadership class they are taking this semester, in conjunction with the Character Lives/Character Strong initiative in 20 area high schools.
The icebreaker exercise, labeled "Common Good" but boasting the sinister subtitle of "Stealing Plates," required the students to form a large circle. Each student stood on a paper plate, and the game began with one player in the middle.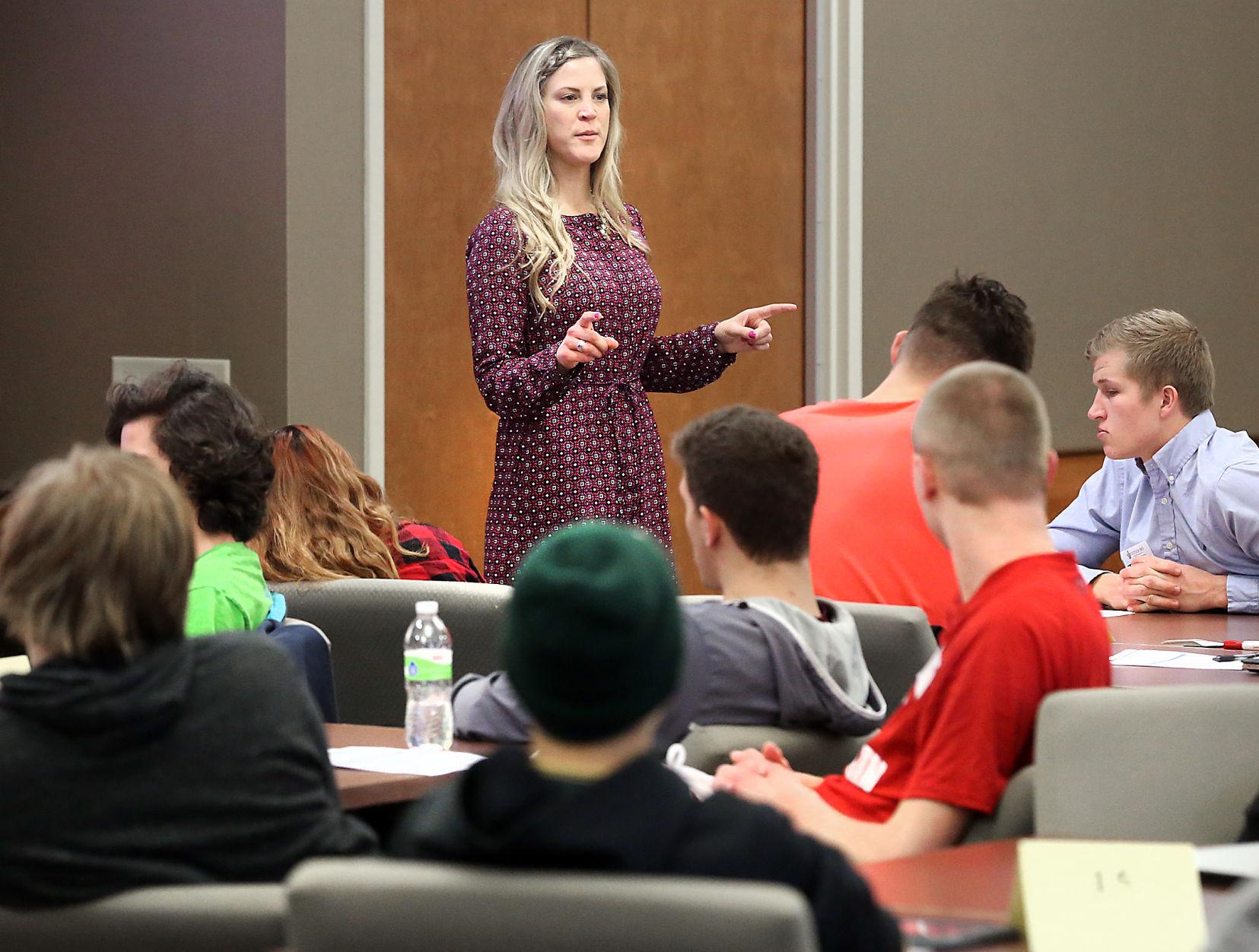 Students suggested commonalities
That player suggested one thing all might have in common, such as music. That was the cue for those who shared that interest to leave their plates and rush to ones that others had vacated.
As teachers, who included some from each school to oversee the session, stole some of the plates, students had nowhere to go but into a huddles in the middle. They then had to determine a common interest among themselves to share with the others, who repeated the mad dash — with a little pushing and shoving — until a still larger group was in the middle.
When the common interest was food, almost everyone switched plates, while when it was shoes, it seemed that more girls than boys swapped spots — not that there's anything wrong with that or sexist in observing it.
The game went on for several rounds until the message was obvious: "As you get to know each other, you will find you have some differences and some commonalities," said Pam Dixon, a professor in Viterbo's Adult School of Business, who also chairs the school's master's in servant leadership program.
"As a lesson to be servant leaders, you learn about the common good, treat each other well, care for each other," she said.
As it turned out, the icebreaker seemed perfect to pull together students ranging in age from eighth-graders to college seniors. It soon became hard to distinguish middle schooler who happened to be bigger than average from a smallish college senior.
And it drove home the common good theme. Students later described it as fun in the dash to avoid being in the middle, with 7 Rivers senior Kiana Lomen adding that it was "pretty intense."
That and other activities of the day aimed to show that "we have the ability to impact our world in La Crosse," said Nicole Van Ert, who is co-teaching the leadership class with Dixon. "Not just Viterbo. Not just LDI. Not just 7 Rivers."
'Be more than a butt in a chair'
After a motivational video, Van Ert told the students, "Now you'll have to be more than a butt in a chair — decide something to do."
To generate ideas for service, she asked students to cite examples of when they felt served in a way that had an impact on their lives and made them want to give back.
Saying he couldn't think of a huge example, Viterbo senior Connor Gavin of Onalaska said he appreciated the fact that, when he was on vacation with his family recently, his boss moved his car from one side of the street to the other so he wouldn't get a ticket for violating La Crosse's alternate side parking ordinance.
Gavin explained during an interview later that he had mentioned his dilemma during a shift on his job at Houghton's Jackson Street Pub in La Crosse, near his apartment.
Although he has access to a garage, he said, it appears to be a little off-kilter, so he hesitates to use it, "especially during the winter."
His boss, Keith Carson, overheard him and volunteered to move his car, doing so three times while Gavin was out of town.
"It saved me X amount of money for a few tickets. That's probably not a lot of money, but for a kid going to college and working only a few hours a week, it's a lot," Gavin said.
The seemingly smaller scope of the service wasn't a concern for Dixon and Van Ert, who said the important point was to start somewhere.
Five community organizations — the Outdoor Recreation Alliance's La Crosse Community Forest, North American Squirrel Association, the La Crosse Neighborhoods Association, the annual Community Free Thanksgiving Dinner and the YMCA Food Forest — set up booths for the students to visit and consider for their community projects.
For example, the team that includes Viterbo juniors Kennedy Tebo and Mayra Ramirez, 7 Rivers senior Kiana Lomen and LDI eighth-grader Felix Froh is planning an outdoor community movie night. It will feature "WALL-E," a 2008 movie with an environmental theme, with proceeds going toward the La Crosse Community Forest.
Asked who is leading the group, Tebo said, "We're all leaders," with each member having duties, such as seeking the collaborators to to donate popcorn and drinks for the movie night.
"When everyone has their own job, it's faster," Tebo said. "The whole project is to make La Crosse better."
Local initiatives converge in collaboration
The whole project also is the result of a convenient convergence of several initiatives, said Keachen Abing, a social studies teacher at 7 Rivers who also is one of the B.E. leaders.
Interestingly, like Tebo, Abing shies away from claiming the "leader" label, noting that teachers from each school are involved and guided activities Tuesday.
"We wanted to have our juniors and seniors mentor students from LDI," he said. "Then we realized our kids could use mentors, and this grew organically with Viterbo."
Rick Kyte, director of the D.B. Reinhart Institute for Ethics in Leadership at Viterbo, "helped hook us up with Pam and Nicole, and it took off from there," along with Character Lives/Character Strong, Abing said.
A video the students viewed urged them to become instruments for change and use their talents to become servant leaders.
"If you wait until you can do everything for everybody instead of something for somebody, you'll end up doing nothing for nobody," the video concluded.
Abing doesn't expect this group of students to wait, saying, "I think there is a lot of power in these kids," and they will use it to improve the community.