Logan Middle School students get a glimpse — and a taste — of what it's like to run a food truck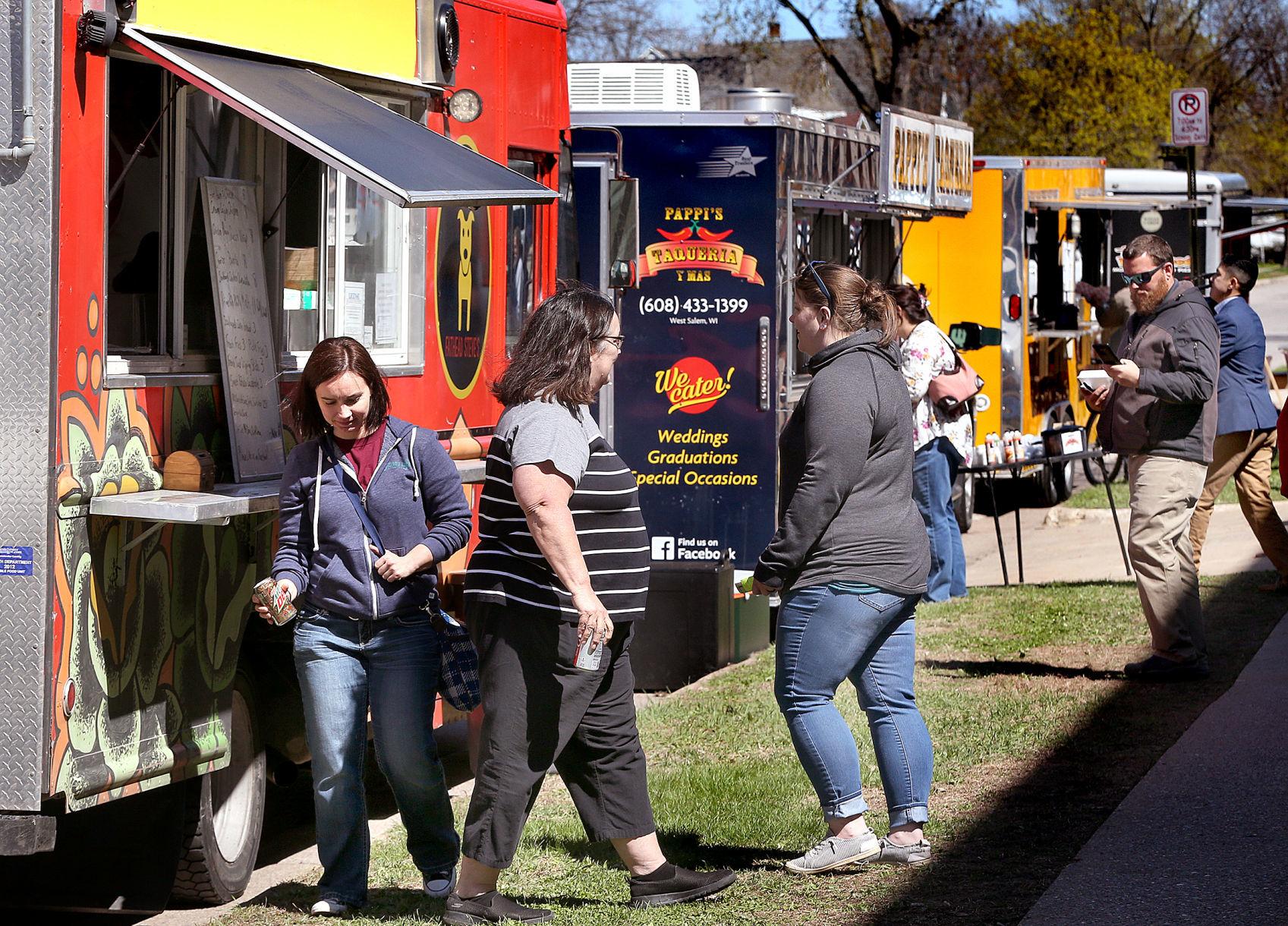 Niklas Daykin can see it now.
A sunny day. A busy street. His very own food truck.
"We'd serve chopped-up bacon, bacon with syrup on it, any kind of bacon you can think of," said Niklas, an eighth-grader at Logan Middle School. "I'd just be happy saying, 'Welcome to Daykin's Bacon.'"
Logan hosted five of the area's most popular food trucks at the school's inaugural Food Truck Friday, a chance for students to learn about and tour these mobile restaurants, and for parents to get lunch with their children.
"There are lots of food trucks in our community, so why not bring them here?" said Katelyn Hoffman, the school's family and consumer science teacher. "One, the kids love to eat. Two, you're starting to see lots of trendy enterprise types of businesses out there. We want to show students that they can do that right here in their hometown."
MidWest Bites, Apothik, Fathead Steve's, WoodShed Pizza and Pappi's Taqueria y Mas formed a tantalizing line in front of the school, the unmistakable smell of grease wafting from their windows.
Students crowded together to watch, transfixed, as Kari Babler prepared a wood-fired pizza at WoodShed, and as Alex Gonzales fried a batch of golden nachos at Pappi's.
Eighth-grader Cole Wieland said that, if he owned a food truck, he would sell food from 4 Sisters, a wine bar and tapas restaurant run by his family.
"It would be nice having a truck to yourself, something small," he said. "You could work with your friends, your family, your wife."
Classmate Anna Pollock said her truck would serve Asian food — rice and noodles — while Kaitlyn Iverson said she would peddle cupcakes.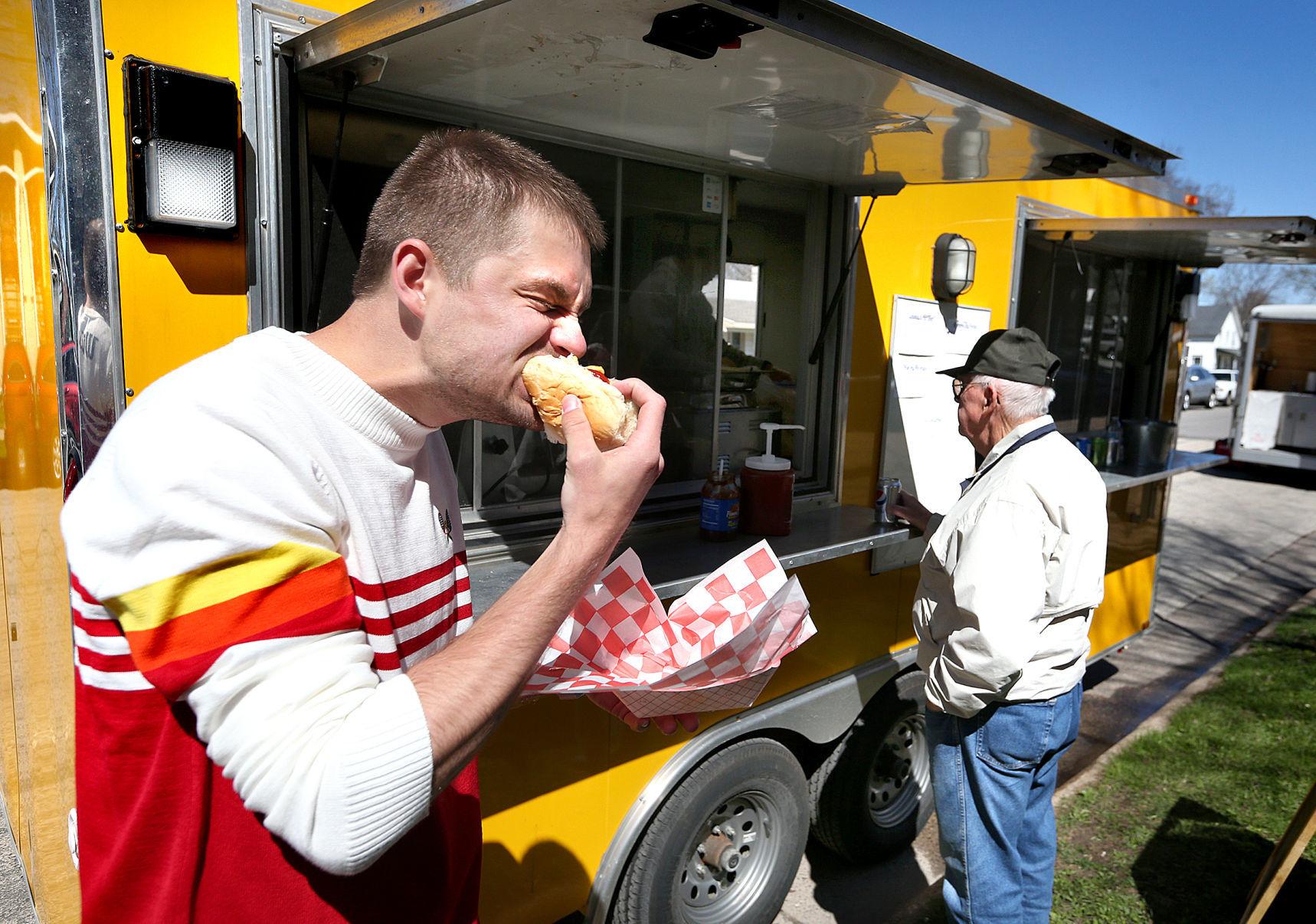 "On cold days," Kaitlyn said, "we'd have hot chocolate."
Food truck vendors say it's important to be flexible, willing to adapt to the weather or the whims of customers.
When it's unseasonably warm in, say, February, Babler and her husband, Tom, are known to bring their truck out of its hibernation, if only for a day.
They also change their menu depending on what's in season, adding items like the kale and asparagus pizza.
"Seeing someone's face when they try our pizza for the first time," Babler said. "To me, that's the best part."
The Gonzales family opened Pappi's two years ago, and is expecting the businesses to take a leap forward this summer.
The family is adding empanadas and chimichangas to the menu and extending its service radius, doubling down on an investment that was terrifying, at least at first.
"It was very nerve-wracking, very scary," said Noel Gonzales, the owner. "You just have to make sure that you have the passion for it. I could cook all day long, and I wouldn't be bothered by it."
Logan students are taking their own crack at it; their food truck ideas are not just imaginary.
Hoffman said she has assigned the class a project that involves developing a food truck business model and building a cardboard version of the vehicle itself.
She hopes to make Food Truck Friday an annual event — both for the educational value, and the philanthropic. A share of the proceeds will go to students who are behind on their school lunch payments, helping ensure they will not be denied a meal.
"A lot of kids come to school hungry, and lunch might be their only meal of the day," Hoffman said. "No family should ever have the burden of not being able to eat."
That was not a problem on Friday, not with the free samples.
As the students crowded around Pappi's, reaching for the nachos that were being passed out of the truck, Hoffman announced that the fun was over. It was time to go back to class.
One student lingered by the truck, taking in the sights and smells, as if held there by magnetism.
"You know nobody's going to share, right?" he said.