Year in Review: Floods, flaps ... and a blue baby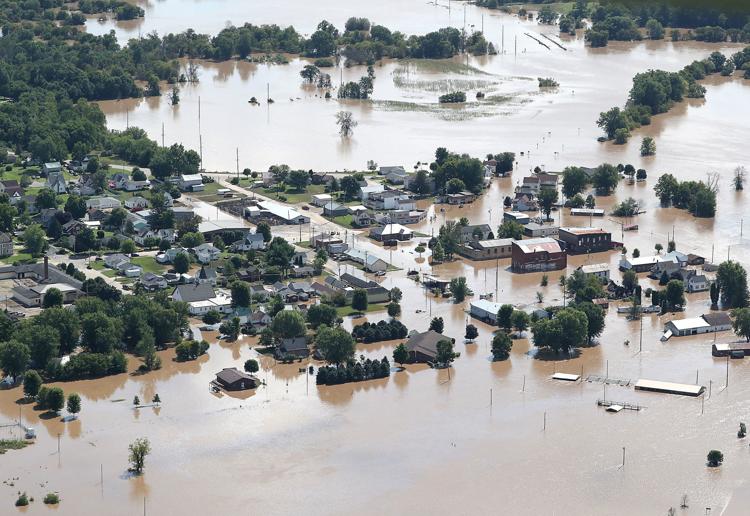 Some of the news was heartbreaking, as when homes and business were swept away in unprecedented August flooding.
Some stories marked milestones — 150 years of the Catholic Diocese of La Crosse, 140 years of perpetual adoration by the sisters, 40 years of New Horizons.
An election turned the executive branch of Wisconsin government upside down.
And some of the stories were simply fun, like the Blue Baby statue on loan from a German sculptor finding a home outside City Hall — and quickly becoming La Crosse's selfie magnet.
Here's a month-by-month look back at 2018:
January
1 — The Coulee Region started the year in the grip of a cold snap, with a New Year's Day high of 3 degrees. The Tribune named longtime grocery entrepreneurs and philanthropists Dave and Barb Skogen its annual people of the year for 2018.
3 — In a rare move, La Crosse County Circuit Court Judge Todd Bjerke ordered a group of people summoned for jury duty into court to explain why they failed to show up for Todd Kendhammer's trial in his wife's murder.
7 — A 35-degree day that included light rain snaps a 13-day stretch of temperatures below 20.
16 — Organic Valley takes a lead role in fighting USDA rules that allow products from animals without access to the outdoors to be certified organic, by co-sponsoring a full-page ad in the Washington Post.
17 — UW-La Crosse announces the largest gift it has ever received: $2 million from a trust established by Paul Fleckenstein, and UW-L will name its new science center "Prairie Springs," after the site of Fleckenstein's major habitat restoration, which also gave its name to the trust.
18 — Authorities find 290 pounds of marijuana, three guns and two stun guns after two police pursuits that began near Osseo.
23 — Bjerke fines eight potential jurors who failed to report for Todd Kendhammer's December trial $100 to $200 each.
27 — Coulee Council on Addictions announces it has surpassed its $3.1 million goal, raising $3.5 million to fund its new Coulee Recovery Center on La Crosse's South Side.
27 — Workers are putting the finishing touches on the $3.8 million Great River Interpretive Center, nearly five years after the project broke ground at the U.S. Fish and Wildlife Service's Genoa Fish Hatchery.
31 — Three separate celestial events occur simultaneously, resulting in what some called the super blue blood moon eclipse. The astronomical rarity hadn't happened in more than 150 years.
February
1 — A town of Onalaska woman charged with 29 crimes after authorities discovered children and emaciated animals living in squalor on her property will serve one year on probation. Linda West, 75, pleaded no contest to three misdemeanor counts of mistreatment of animals.
2 — The All Abilities Trane Park Committee announces an anonymous $400,000 donation toward its goal of raising more than $6 million to renovate the park at the intersection of 15th and Chase street.
2 — "Hatched Baby," the fiberglass sculpture by German artist Wolfgang Auer also known as The Blue Baby, finally finds a home as the La Crosse Arts Board approves its installation on southeastern lawn of La Crosse City Hall.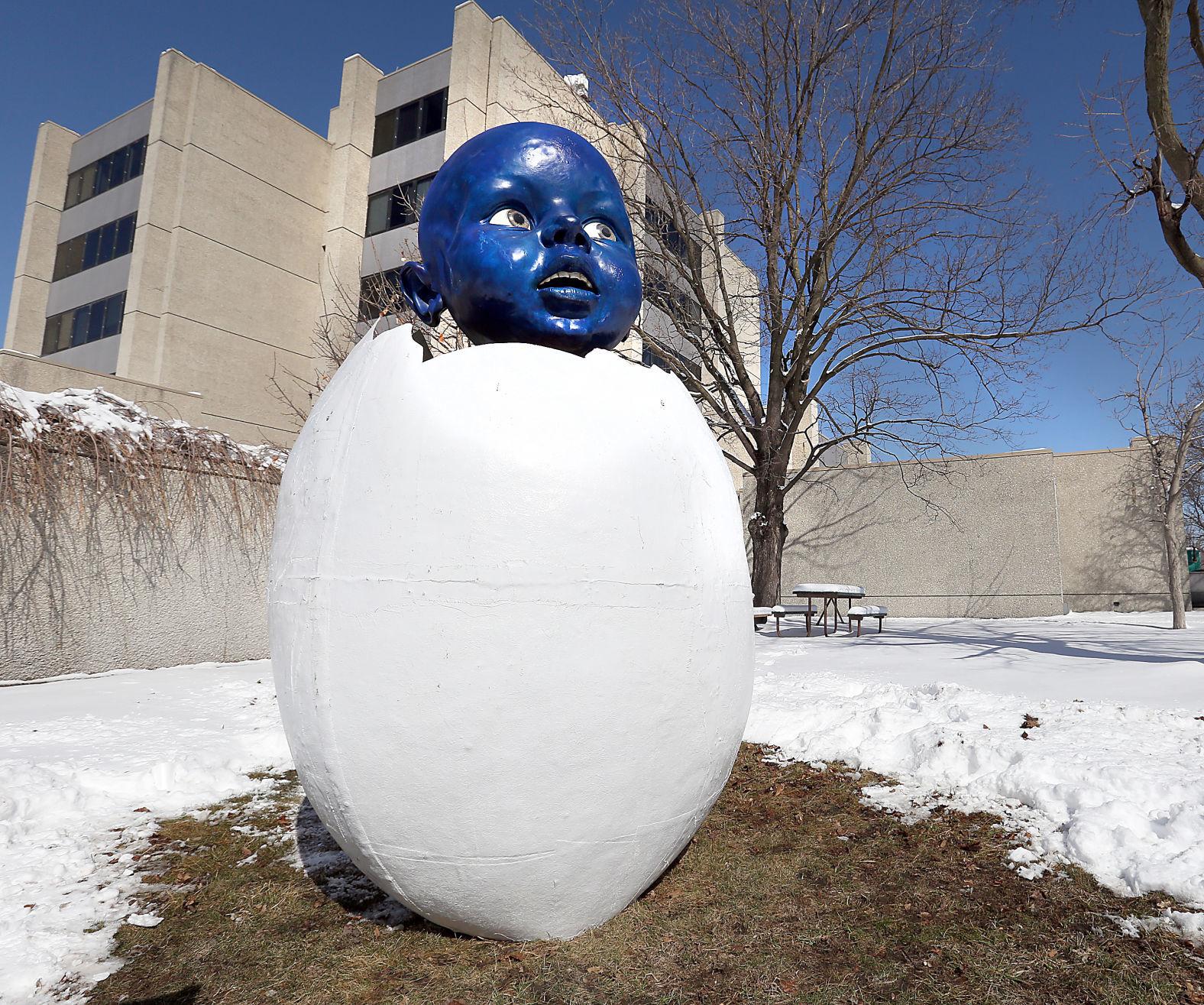 12 — Matt Boshcka opens his new David Reay's Modern Diner + Tavern next to Dash-Park in downtown Onalaska.
13 — Chief Deputy Jeff Wolf announces his candidacy for La Crosse County sheriff. He'd go on to run unopposed in the November election to succeed Sheriff Steve Helgeson.
22-24 — The 29th annual MOSES Organic Farming Conference, the country's largest educational event about organic and sustainable farming, draws more than 3,000 to downtown La Crosse.
28 — Four members of the La Crosse Human Rights Commission abruptly resign, citing frustration with its direction from city officials during the past year.
March
4 — Kroner's True Value Hardware on Pearl Street celebrates its 150th anniversary. Founder Adam Kroner's great-grandson Bill Kroner, 62, manages the store with advice from his 91-year-old uncle Jim Kroner.
6 — La Crosse Public Library director Kelly Krieg-Sigman calls a move to end the practice of fining patrons for keeping materials past their due date a "natural evolution" as libraries change with the times.
9 — Judge Todd Bjerke sentences Todd Kendhammer to life imprisonment — with the opportunity to petition for release in 30 years — for the murder of his wife, Barbara. Todd Kendhammer continues to denies his guilt, insisting a freak road accident sent a pipe through the windshield of their car, killing his wife.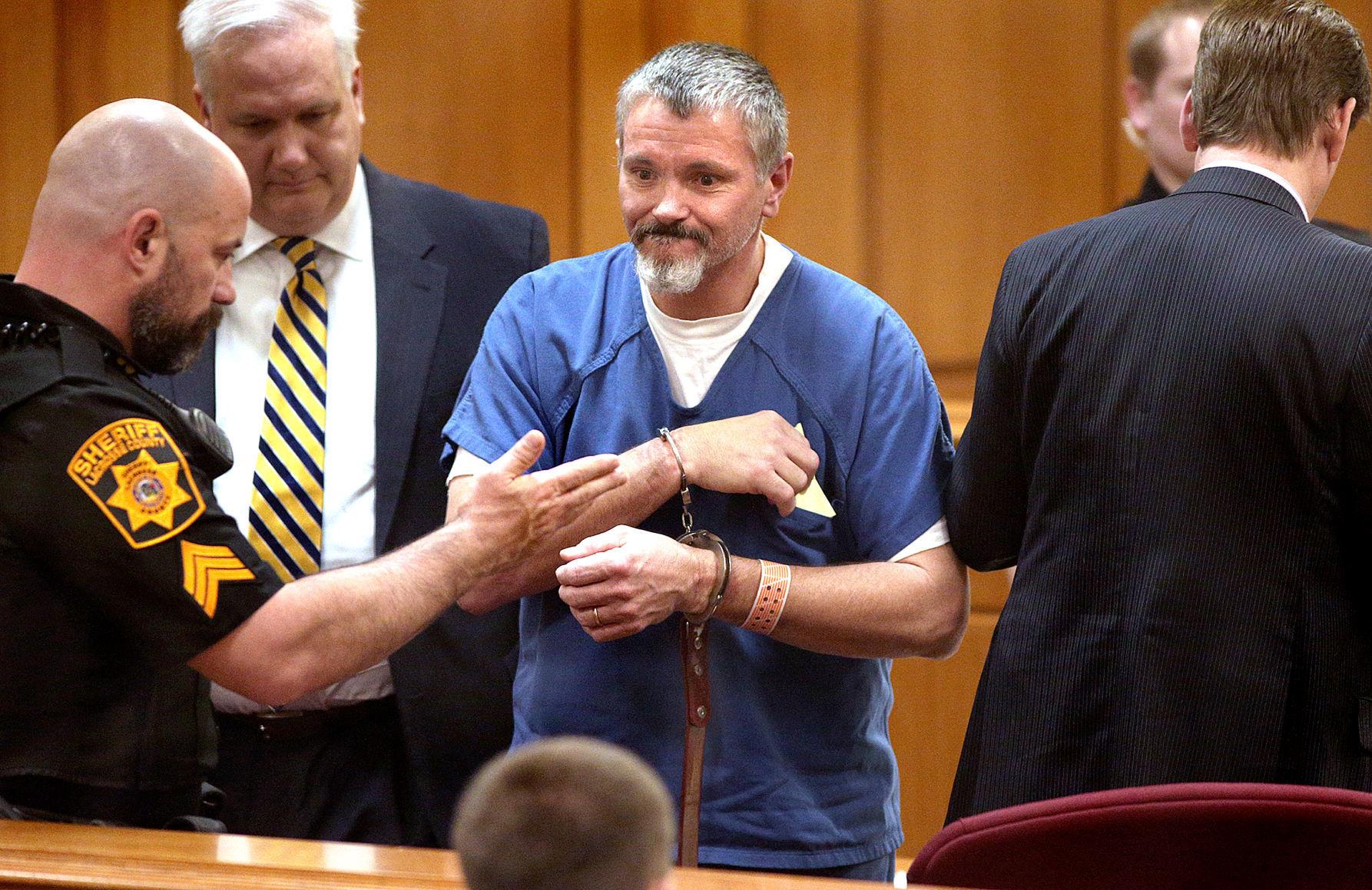 15 — Toys R Us announces the impending closure of its Onalaska story, affecting about 30 workers.
15 — La Crosse Center officials talk with the La Crosse Park Commission about how a proposed convention center expansion could affect Riverside Park.
18 — Tribune reporter Mike Tighe recounts the history of the Catholic Diocese of La Crosse, which is celebrating the 150th anniversary of its founding March 3, 1868.
22 — La Crosse County's population grew by 0.5 percent in 2017, to 118,274, faster than the rest of the state, says the U.S. Census Bureau.
22 — An 80-unit senior living facility in La Crescent, SpringBrook Village, celebrates its opening.
24 — Almost 1,000 people in downtown La Crosse participate in the nationwide March for Our Lives in response to the mass shooting Feb. 14 at Marjory Stoneman Douglas High School in Parkland, Fla.
29 — Corn has been dethroned as the king of crops as U.S. farmers report they intend to plant more soybeans than corn for the first time in 35 years.
April
3 — Four of five La Crosse County Board incumbents who faced challenges in Tuesday's election hold onto their seats. Only Hamilton Town Board member Kevin Hoyer defeats an incumbent, Leon Pfaff, in the 24th District.
3 — Rebecca Dallet, a liberal Milwaukee judge, easily defeats conservative Michael Screnock, in a Wisconsin Supreme Court race.
3 — La Crosse School District voters approve a levy limit override.
5 — Organic Valley announces it posted its first financial loss in 20 years in 2017, despite its second consecutive year of gross sales over $1.1 billion and business growth of more than 4 percent.
5-8 — A traveling replica of the 14-foot-long Shroud of Turin draws crowds to the Shrine of Our Lady of Guadalupe.
9 — The new La Crosse County Overdose Death Review Team will analyze the record number of fatal drug overdoses in 2017, when drugs killed at least 26 people — 16 men and 10 women ages 21 to 73 and likely two more — in the county.
15 — An April snowstorm makes travel dangerous and interferes with school start times the next day. Black River Falls reports 14 inches of snow.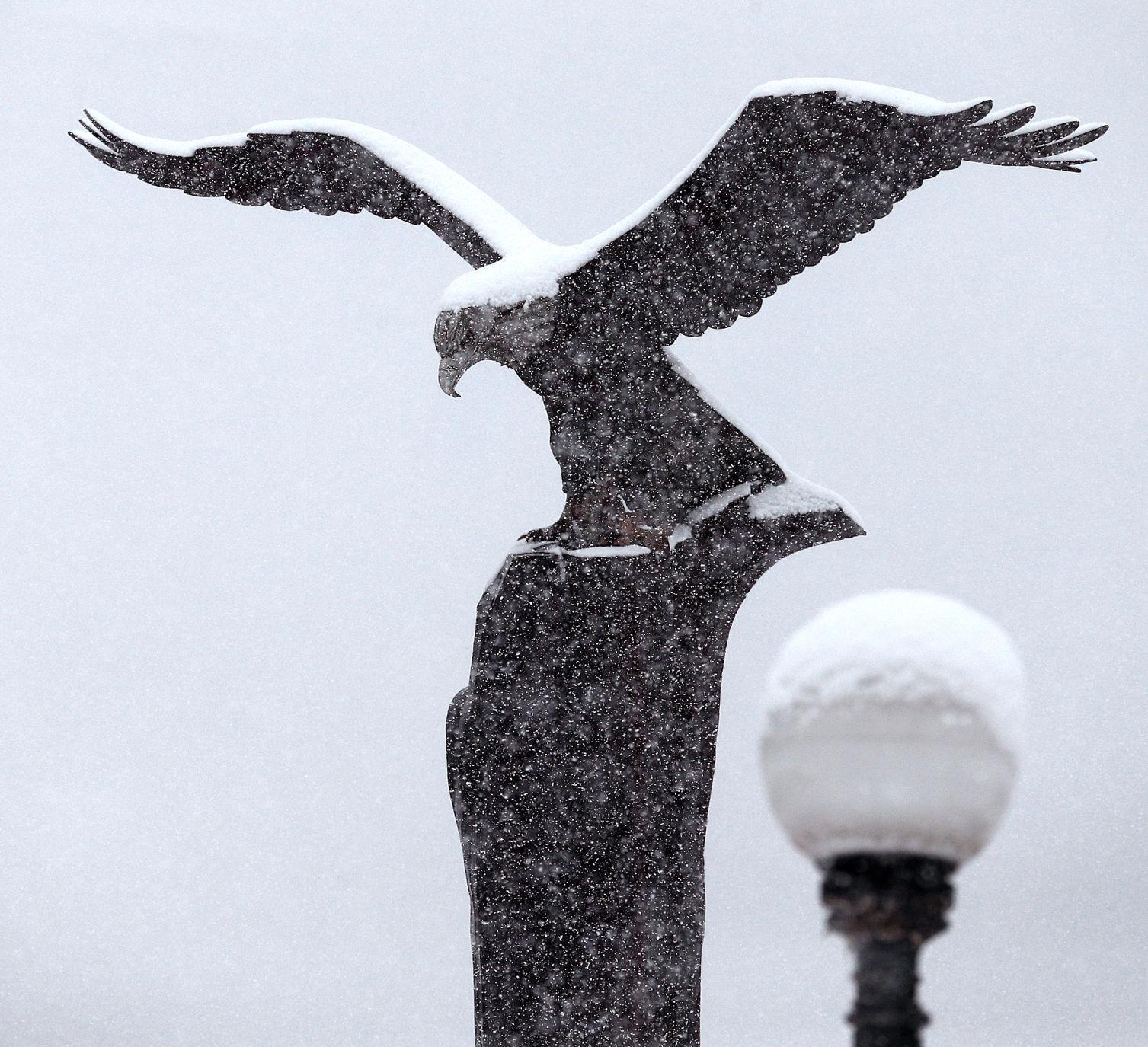 18 — Herberger's will close after only liquidators bid on its parent company, Bon-Ton. Herberger's had more than doubled its La Crosse sales floor space after it relocated into the former Macy's location in Valley View Mall.
25 — Dylan Bartsh is sentences to five years in prison for the 2014 death of his 3-year-old daughter Audryna, who was starved, neglected and tortured.
27 — Troy Miller is Onalaska's new police chief, succeeding Jeffrey Trotnic, who resigned abruptly in February.
May
1 — La Crosse set or tied four records for cold and snow in April, including two that had stood for 144 years, before finishing the month nearly 20 degrees warmer than usual.
6 — The Catholic Diocese of La Crosse announces it will form a new parish in Wausau to serve Hmong believers.
7 — The Hunger Task Force of La Crosse celebrates its 20th anniversary with an open house.
10 — La Crosse celebrates the reopening of the renovated Powell Park at West Avenue and Jackson Street.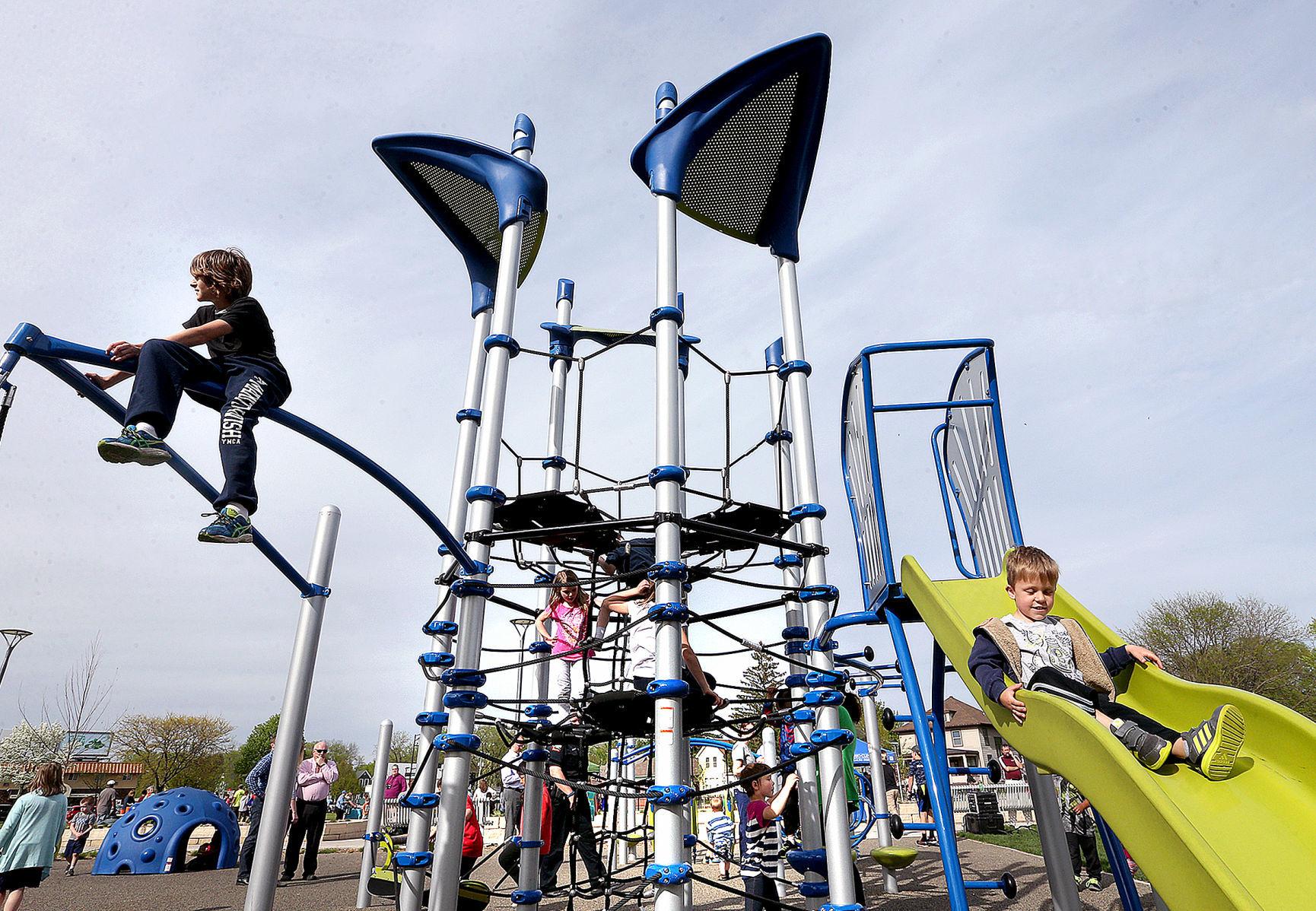 11 — Convicted murderer Todd Kendhammer hires attorney Jerome Buting, of "Making a Murderer" fame, to handle his appeal.
12 — Ninety-plus veterans take the 21st Freedom Honor Flight from La Crosse to Washington, D.C.
15 — La Crosse County officials ride a school bus over the county's worst roads, bringing attention to the condition of transportation infrastructure and a lack of money to improve the situation.
17 — Sen. Kathleen Vinehout, D-Alma, declares she will not seek re-election to the state Senate for a fourth term, committing to a gubernatorial run that fails to gain statewide traction.
19 — Col. Hui Chae Kim will takes over command of Fort McCoy from Col. David Pinter.
21 — State and local authorities scramble to determine the environmental impact after about 10 million gallons of sludge is released from a settling pond to rescue a worker at a Whitehall frac sand facility, turning the Trempealeau River orange with the sludge.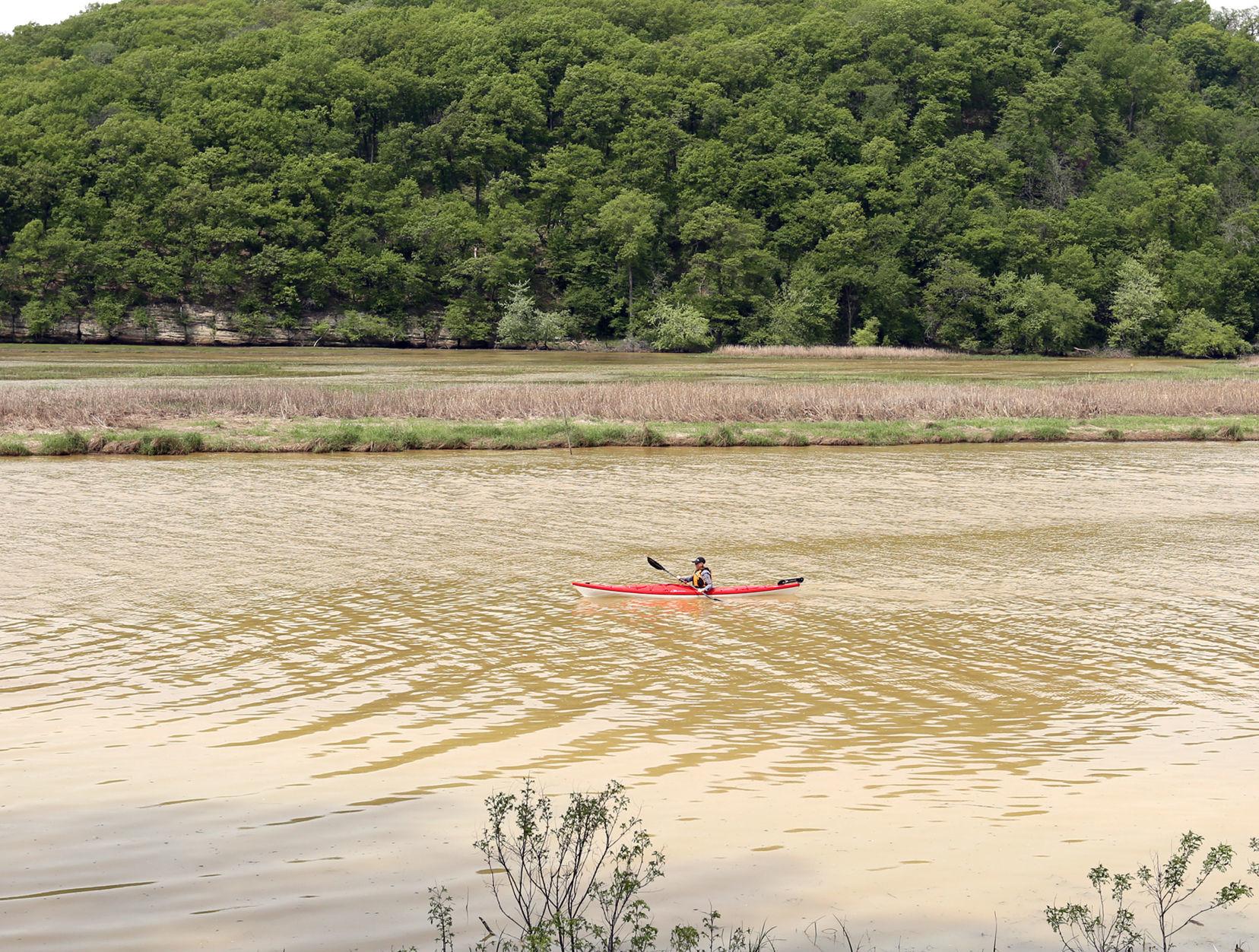 30 — A Wisconsin appeals court says state regulators correctly approved a high-voltage power line between Holmen and Madison, upholding a lower court's ruling against the town of Holland and allowing construction of the $580 million project to proceed.
June
1 — Ten Democrats, including Wisconsin Superintendent of Public Instruction Tony Evers, file to run for governor.
5 — A Tribune analysis shows enforcement of La Crosse's winter parking restrictions most often occurs when there is no snow to remove. Nearly nine out of 10 alternate-side parking violations issued since 2010 were issued on days when there was less than a half inch of snowfall. More than 135,000 tickets were issued.
6 — Material spilled during the rescue of a worker in May at a Trempealeau County sand mine contained elevated levels of arsenic, lead and other metals, according to the Wisconsin Department of Natural Resources.
6 — The state building commissioned approves $2.128 million for renovating UW-La Crosse's Wittich Hall because of rising costs of steel and labor since the initial bid for a $26.756 million project to turn the 101-year-old building into a new home for the College of Business Administration.
7 — A $49 million La Crosse Center expansion takes a step forward as a city council committee OKs an extra $7.2 million in borrowing, as well as a design concept that includes a ballroom extending over Riverside Park.
9 — Dash-Park, the downtown park created by Dave and Barb Skogen, is dedicated in Onalaska.
13 — La Crosse opens its eagle watch wayside on the Black River, just south of Exit 3 on Interstate 90.
18 — Authorities execute search warrants the case of a La Crosse woman found dead early Sunday in a Vernon County lake. Erin Somvilai, 35, was last seen June 3.
18 — Mayor Tim Kabat vetoes the concept for a $49.2 million La Crosse Center expansion, calling it a "big, flat, plain box" that does not honor the city's history. He objects to its encroachment on Riverside Park.
23 — Episcopalian Presiding Bishop Michael Curry, who drew attention with his homily at the British royal wedding May 19, brings a message of love to Christ Episcopal Church in La Crosse.
27 — Former La Crosse postal employee Justin Cain, 36, who stole mail from about 7,800 customers in 2013 to fuel an opioid addiction is placed on five years' probation in federal court and ordered to make restitution of $5,861.
28 — Dan Wettstein announces he will close his downtown La Crosse retail and service business in August after 67 years of operation.
30 — About 450 people march from City Hall to Burns Park as part of the nationwide Families Belong Together Rally. Rallies took place simultaneously in about 630 U.S. cities, protesting family separation and detention of immigrants.
July
9 — City officials hear boaters' concerns about security, restrooms and plans for pulling boats out for the winter during a public discussion about La Crosse Municipal Harbor.
10 — The Coulee Recovery Center opens in a new 13,000-square-foot facility on Ferry Street after moving from a cramped, inaccessible house where the Coulee Council on Addictions operated for nearly 40 years.
11 — Landon Sheely's is painting his "Helping Hands" mural on a wall of the Main Street Parking ramp.
13 — The La Crosse Center Board decides the expansion and renovation of the La Crosse Center will move forward — but not into Riverside Park.
19 — The La Crosse County Board approves several measures designed to help low-income families and neighborhoods, including the release of the first $50,000 of $500,000 set aside for prevention of homelessness.
19 — The La Crosse Board of Park Commissioners and Heritage Preservation Commission both approve the city's designs to restore the Wendell Anderson Bandstand to its former glory, and the Heritage Preservation Commission OKs a user group's plan to put a shell over the top of the Riverside Park landmark.
19 — The La Crosse County Board puts five referendum questions on the November ballot: one asking whether the state should legalize marijuana and four related to transportation funding.
24 — Wyatt Helfrich, the Holmen man who fired at La Crescent police before leading authorities on a high-speed pursuit in 2017, is sentenced in Houston County District Court to 20 years in prison. He pleaded guilty to two counts of first-degree assault with use of deadly force against a peace officer.
25 — Five years after starting the removal project, the La Crosse Parks, Recreation and Forestry Department is conducting its last round ash tree cutting. After the last 310 trees come down, the department will have removed 6,500 trees from city parks and boulevards.
28 — City officials, members of the Ho-Chunk Nation and relatives of the statue's creator say they talked this week about the possibility of moving the "Hiawatha" statue in Riverside Park to private property.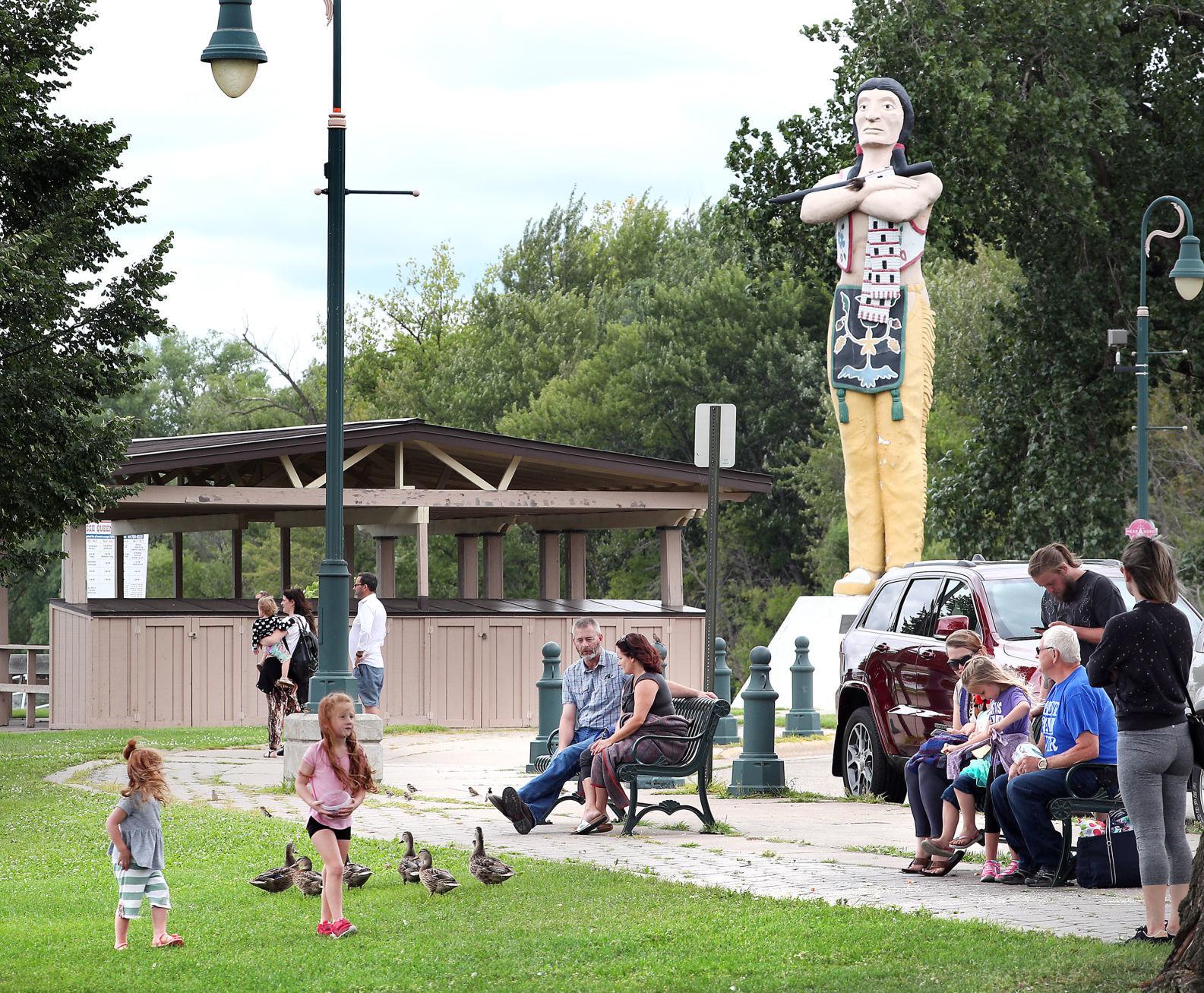 31 — Dr. Paul Mueller is named the head of Mayo Clinic Health System-Franciscan Healthcare in La Crosse, effective Oct. 1.
August
1 — The Franciscan Sisters of Perpetual Adoration celebrate having done just that — praying perpetually — for 140 years since they began the practice at 11 a.m. Aug. 1, 1878.
2 — A La Crosse Common Council committee approves a Veterans Memorial Pool design that will include lap swimming lanes, an open swim area and possibly a water slide or diving boards.
7 — The Vatican has approved the transfers of two hospital systems and Viterbo University in La Crosse from the oversight of the Franciscan Sisters of Perpetual Adoration to lay leaders, according to the religious order.
8 — Police say Erik Sackett, 38, has been arrested on suspicion of homicide in connection with the slaying of Erin Somvilai of La Crosse, whose body was found June 17 in Runge Hollow Lake in Vernon County. Sackett is a former boyfriend of Somvilai, whose body was found near property Sackett's grandfather owns.
14 — La Crosse Mayor Tim Kabat Tuesday announced his intention to introduce a wheel tax of $25 per vehicle that would sunset after five years and fund $1.2 million in street repairs per year.
15 — After a four-day strike, La Crosse-based Trane and almost 500 members of two lodges of the International Association of Machinists and Aerospace Workers reached agreements on new contracts through Aug. 13, 2022.
21 — The Franciscan Sisters of Perpetual Adoration announce plans to renovate the St. Rose Convent complex in La Crosse — including the FSPA administrative offices, sisters' living quarters and the Franciscan Spirituality Center — for an estimated cost of $22 million in a two-year project starting next year.
29 — Flash flooding sweeps through parts of the Coulee Region today after nearly a foot of rain hit some areas overnight, causing road closures, evacuations, rescues and mudslides. Gov. Scott Walker declares a state of emergency for La Crosse, Vernon, Monroe and Juneau counties because of the flood damage. Coon Valley is the hardest hit.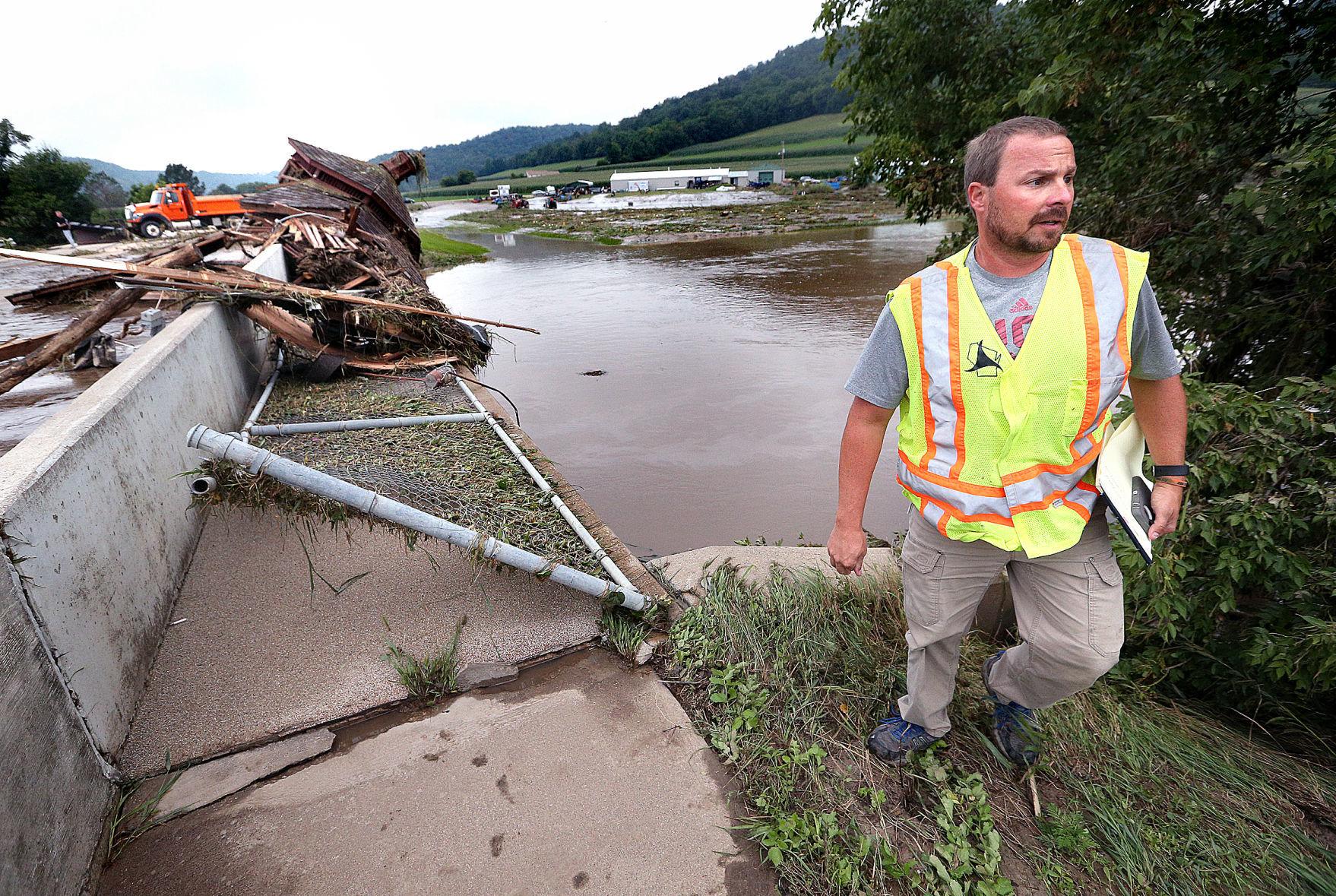 31 — Power restored to La Farge in the wake of record Kickapoo River flooding.
31 — The city's first distillery, La Crosse Distilling Co., opens Friday at 129 Vine St. downtown.
September
2 — The consensus of emergency management officials is that late August's torrential downpours produced the worst flooding yet in a series of catastrophic rain events dating back to 2007.
6 — Gov. Scott Walker says the state's flood damage total is $208.7 — so far.
8 — A record 480 survivors participate in Steppin' Out in Pink, a Gundersen Medical Foundation fundraiser that drew 6,400 and 1,000-plus volunteers to raise $400,000 to fight cancer.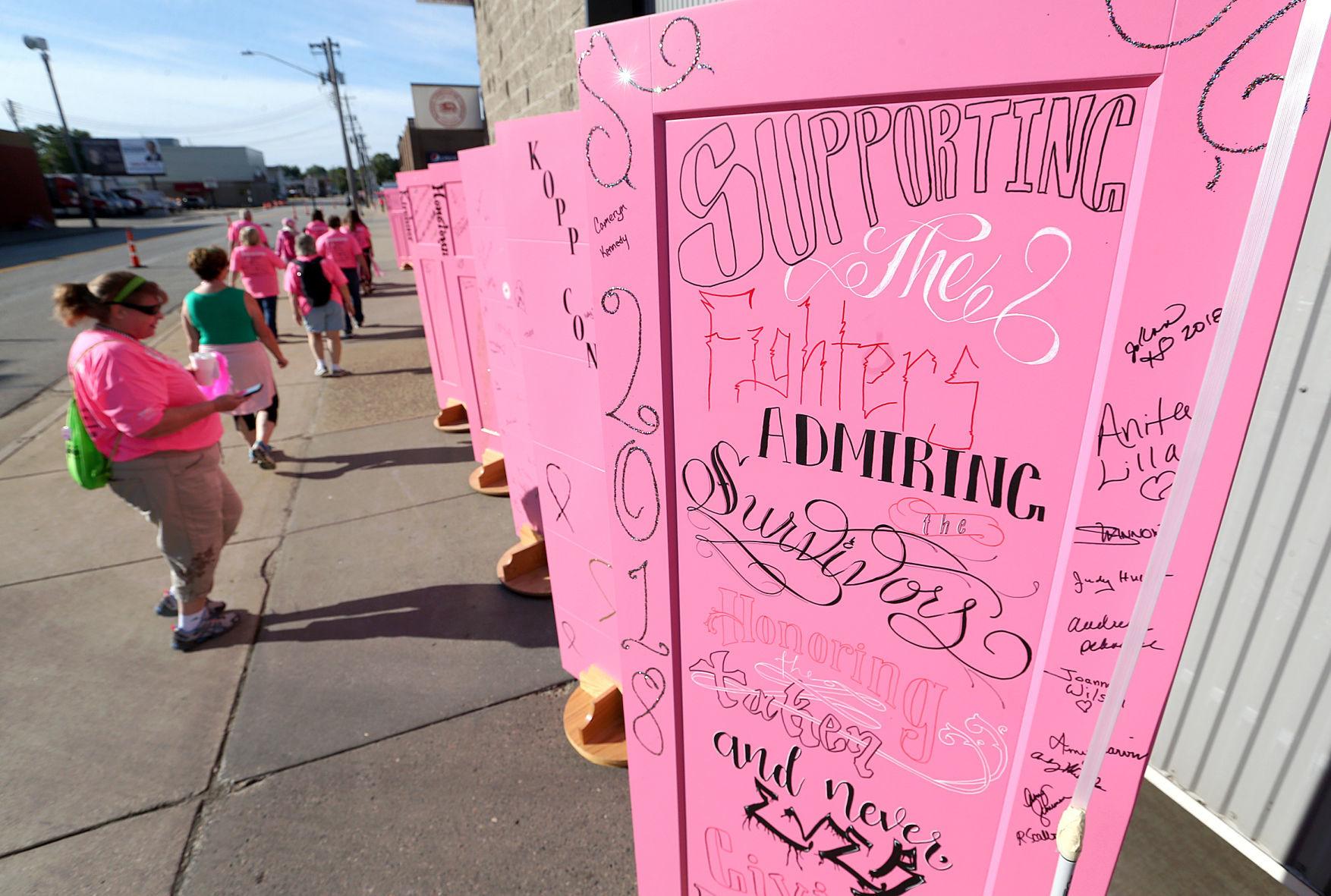 13 — Twenty acts put on a 12-hour fundraiser for flood relief at the South Side fest grounds in La Crosse, raising more than $200,000.
18 — Ninety-plus veterans take the 22st Freedom Honor Flight from La Crosse to Washington, D.C.
21 — UW-L sets a record for overall enrollment (10,569) and welcomes its largest freshman class (2,166) since the fall of 1979.
22 — The La Crosse Community continues Juneteenth its celebration on the anniversary of the issuance of the Emancipation Proclamation.
25 — Construction is underway at Impact Seven's Garden Terrace apartments on Kane Street, a 50-unit mixed-income housing project on La Crosse's North Side.
October
2 — Compared with results from two years ago, La Crosse students who took the Forward Exams made gains in math and social studies, according to the Wisconsin Department of Public Instruction.
3 — Supporters gather in Cameron Park and march down Third Street in recognition of Domestic Violence Awareness Month and the 40th anniversary New Horizons, La Crosse's women's shelter.
5 — Police announce calls for service during Oktoberfest hit a five-year low.
7 — Results from the latest round of state testing illustrate the gulf in achievement between white and minority students, and between low-income and more privileged students, but La Crosse school officials say changes to the school calendar will help.
8 — La Crosse celebrates Indigenous Peoples Day in lieu Columbus Day, with Mayor Tim Kabat reading a proclamation at City Hall and students at the UW-La Crosse throwing a carnival.
14 — Much of the groundwater in the towns of Onalaska and Holland contains nitrate levels considered unsafe for human consumption, with the threat especially high for infants and pregnant women, according to a new report by La Crosse County's Nitrate Well Water Task Force.
16 — Monthslong renovations to Lueth Park are unveiled, with a 25,000-square-foot asphalt pump track at the core of the $270,000 project.
18 — La Crosse's parks and rec director Steve Carlyon announces he will retire at the end of this year.
23 — Roberta Draheim pleads guilty in federal court to conspiring to sell methamphetamine. The 51-year-old La Crosse woman was first charged with methamphetamine offenses in La Crosse County Circuit Court after her daughter, Britney Masewicz, 25, was found dead in a bedroom of a house she shared with Draheim.
November
1 — Porn star and sex educator Nina Hartley lectures UW-La Crosse students on the realities of adult entertainment and the benefits of people taking ownership of their sexuality. The event arranged by Chancellor Joe Gow as part of National Freedom of Speech Week led to widespread criticism and a rebuke by the UW System president.
3 — Alice the Owl, the star of the International Festival of Owls, retires as face of the International Owl Center in Houston, Minn.
6 — La Crosse County voters turn out in record numbers as they join Wisconsin voters in sweeping Democrats into the state's executive offices, while Republicans retain control of the Legislature.
11 — According to the U.S. Small Business Administration, more the $1 million in emergency disaster loans had been distributed by early November.
14 — De Soto's Prairie View Elementary School celebrates its 2018 Blue Ribbon School Award — a distinction earned by just eight schools in Wisconsin and just 349 schools in the U.S.
14 — U.S. Catholic bishops agree unanimously that the Vatican should consider FSPA Sister Thea Bowman for sainthood.
15 — People who habitually fail to pay city of La Crosse parking fines face a new threat with the implementation of immobilization devices that police can put on the cars of egregious violators.
25 — The 109-year-old La Crosse Plow Co. building is on its way to becoming a hub of commercial and residential activity on the north end of downtown. The $33 million Cleary family project, called Landmark By the Rivers, expects to be move-in ready by June and could have model units ready to show as soon as February.
December
3 — The La Crosse Plan Commission votes to delay action on the VA Medical Center's request for a conditional-use permit at 3120 Farnam St. after testimony from supporters and opponents who raised additional questions about the proposed transitional housing program.
7 — The University of Wisconsin System's governing board denies its longest-serving chancellor, UW-L's Joe Gow, a performance raise, making the lowest-paid chancellor in the system one of only three campus leaders not to get a pay increase.
11 — The Onalaska Common Council OKs a $16.4 million residential/commercial project that would add 98 housing units in its downtown waterfront area.
12 — A controversial high-voltage power across western Wisconsin is put into service. The Badger Coulee line runs 180 miles from Holmen to Middleton.
17 — Country Boom announces seven of the acts booked so far, including Kane Brown, for the expanded festival, which will run July 11-13 at Maple Grove Venues southwest of West Salem.
20 — A suspect in a weekend shooting case in La Crosse, Jesse Turnmire, is back in jail on drug dealing charges, just four hours after being released on a $2,500 cash bond, in a case that brought scathing comment from La Crosse police.
21 — La Crosse County Circuit Court Judge Ramona Gonzalez defends the role she plays in setting bond before the intake court session in which Turnmire is charged with new offenses.
23 — Onalaska and La Crescent officials want more say in the structure of the La Crosse area's sewer system, but La Crosse Mayor Tim Kabat, whose city processes all that waste, isn't convinced sharing power is a good idea.
28 — With only a few days to go, 2018 is the eighth-wettest year on record in La Crosse, with a total of 41.67 inches of rain, according to preliminary data from the National Weather Service.