After two manure spills, neighbors worried about Wild Rose Dairy expansion in La Farge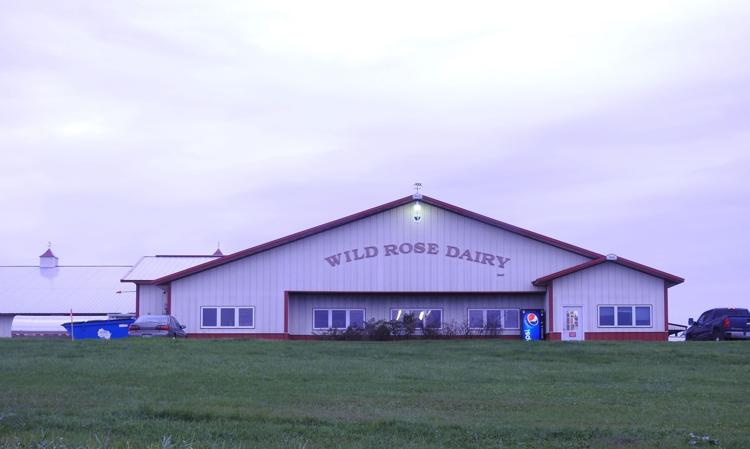 A large dairy farm in La Farge, Wisconsin, has plans to expand operations, causing concern for its neighbors who have been downstream from two manure spills from the farm in the last three years.
Wild Rose Dairy, located on Buckeye Ridge just outside the rural southwestern Wisconsin town, has applied for a permit with the Wisconsin Department of Natural Resources to add nearly 1,000 animals to its farm and triple its waste- storage facility, making it capable of holding about 30 million gallons of waste.
In 2017 and 2019, Wild Rose Dairy experienced leaks that caused manure to spill into a nearby creek, causing about 2,000 fish to die and impact the greater ecosystem.
Both spills were caused by a leak in a manure-transfer hose operated by an independent contractor from the farm, and was running manure from the farm on the hilltop to fields in the valley, passing the water source on its way.
The Wisconsin Department of Justice is still investigating the two leaks, though the farm said its contractor has since remedied any possibility of another leak by removing the hoses from any surface bodies of water.
But a separate issue is causing the farm to expand its operations, which neighbors are concerned will compromise the prevention of further environmental and social impacts.
Between a rock and a hard place
Wild Rose Dairy was first started in 1997 as a conglomerate of local farmers looking for more space for their livestock. It sits atop Buckeye Ridge, one of several hilltops and ridges that surround the Kickapoo River Valley and its smaller tributary waters, and small rural towns of the Driftless Region, such as La Farge.
For almost two decades, the farm passed permit inspections on operating as a concentrated animal feeding operation, or CAFO, which allows it to hold a certain amount of livestock at high-density, and release its waste a certain way.
But in 2015, the DNR found that major upgrades were needed on the farm, including a new barn, feed storage and manure-storage facilities, and run-off system.
"Bottom line is, we were looking at several million dollars of change to a system that had already passed three permit inspections," said David Abt, co-owner of Wild Rose. "Well, the only way to pay for those changes is with milk."
To pay for the state-mandated changes, the farm decided to increase its operations, with plans to add 1,028 animal units, or 838 cows, which would roughly double the amount of waste, the DNR predicting that by 2021, the farm would produce nearly 24 million gallons of manure and processed wastewater and 1,242 tons of solid waste.
To account for the increase in animal waste, the farm would upgrade its waste storage facilities, giving it the capacity to hold about 30 million gallons of liquid waste and the capability to store the waste for up to 400 days.
Upgrades to its feed and run-off systems would also, according to the permit, withhold any runoff in the event of a 25-year, 24-hour rain event, which would produce 5-6 inches of rain in a single day.
"I think that they're trying to do better than they have in the past. They're making the steps in the right direction," said Eric Struck with the DNR.
A changing climate
But neighbors to the rural CAFO said that increasing the size of the farm is a recipe for disaster.
"I'm concerned about whether Wild Rose can safely operate and manage an increased herd," said Joan Peterson, a neighbor who lives in a valley below the farm on Green Hollow Road.
"If they're having these problems with their operations with the current size herd," she said, "why do we think that somehow they'll be able to manage even more livestock without problems? It doesn't make sense to me, I guess."
The two previous manure spills killed off fish downstream from the farm, but neighbors say another one could contaminate private wells and clogging and damage the area's narrow, curvy, rural roads with more farm equipment, on top of more wildlife damage.
"We were very concerned and alarmed with the first spill, because it killed so many fish," Peterson said. "I actually did go and get our well tested, and luckily it was OK."
According to the DNR, about one quarter of Wisconsinites get their drinking water from more than 800,000 private wells. The two Wild Rose manure spills showed no evidence of well contamination.
"Something's going to break down, and once the groundwater is contaminated, it is done. It is contaminated forever," said Mark Katz, who also lives on Green Hollow Road with his wife, Janet Kruk. He said he and almost all of his neighbors who live outside of town use a private well for water.
And much like the rest of the globe, the Driftless region has been experiencing a changing climate. With an increase in heavy rainfalls each year and a unique geological structure, residents are worried that the farm's improvement plan does not account for the adapting climate enough.
"It's such an inappropriate site for a large livestock operation. There's evidence that it's sited over karst geology. It has streams that drain to the east and the west," Peterson said. "And the terrain is really hilly and difficult. It's hard to imagine a worse location for a big livestock operation, with not just a risk, but demonstrated manure spills."
"The amount of manure is just astronomical. And we all know how often the La Farge area, the Kickapoo River can flood. And that amount of manure sitting on top of a narrow ridge, a rocky, narrow ridge, is a recipe for disaster, I feel. And it's just dumb luck that there hasn't been a worse disaster," said Jean Beck, who lives a few miles from Wild Rose.
The farm's expansion would allow it to withstand up to six inches of rain in a single day, but heavy rainfalls are becoming more common for the region, which has experienced five major flooding events in just more than a decade, the most recent in 2018, which brought more than 12 inches of rain in a single day for some parts of the valley.
And there is evidence that parts of the region are sitting on top of karst geology, meaning its bedrock is fractured and creates underground streams that can carry pollutants directly into an area's groundwater.
But Wild Rose said it is working to address these issues by injecting manure directly into the soil and no longer running transfer hoses through the valleys and waterways.
And it's confident that this expansion will help address more concerns, allowing the dairy to store more waste for longer and avoid spreading it on fields during wetter weather. The DNR will also be on the site often, testing the soil and nutrients on the farm to make sure conditions are safe.
"If it overflows these things, you better get an ark," Abt said, confident in the new storage space.
Future of 'America's Dairyland'
Some neighbors said they're nostalgic for family farms that once scattered "America's Dairyland" — farms that are now thinning out because of a changing dairy industry, which they think large operations like Wild Rose Dairy are contributing to.
"We're not anti-farmer. We live here and we understand how important farming is to the economy of our area," Katz said.
"And I know that this is the route that farming is taking, but I still believe in a family farm," he said. "But this is not what one might think of as a farm. This is an industrial operation, and I think it's too big, and I think it's located in a place that is dangerous to the quality of life that has kept so many of us here."
"It's not like there's a need for this. But I feel like there is a greed for it," Beck said of the trend of larger farms.
"And by taking over hundreds and hundreds of acres in their operations," she said, "there won't be those small farmers here. It'll just be one, huge operation, that will always be fragile."
Abt, who is a fourth-generation farmer, said that Wild Rose has to adapt with the changing industry to stay afloat.
"I'm sorry that makes (small farms) obsolete, but that's the world we live in," Abt said, saying that his increase in herd is not a "galactic increase," and is the average size for most modern, competitive farms.
What's next?
The DNR will host a public hearing at 2 p.m. Oct. 13 to hear from neighbors of Wild Rose Dairy before deciding on the permit.
If approved, the farm would be on a monitoring schedule with the DNR for regular testing and site inspections, and would need to submit an emergency response plan.
Despite concerns about future pollution events, the owners of Wild Rose Dairy hope the changes can help remedy past mistakes and make it sustainable for the future.
"It's the opposite," Abt said of concerns that the growing farm will be harder to manage. "It's going to make it easier."
The 68-year-old, who is also a lawyer, said the work he's putting in to improve the farm will benefit the next generation of farmers more than him.
"I want to explain to people," he said, "that I am not even getting anything out of this, because of the bad farming economy and the expense we've had here."
Neighbors are just as worried about the future as the area, and state, grapple with the relationship between farming and climate change.
"We're happy here. We've made a life here. We've raised — now we have three generations, four generations in the area, living here," said Katz, "and we would hate to see it change significantly with having the water be destroyed."
"So that a few people can make a profit," his wife, Kruk, added.