It was late winter 2020 when Dr. Sheila Momont and Dr. David Momont announced they would be retiring in a year, the timing designed to give them a full 12 months to say goodbye to their patients.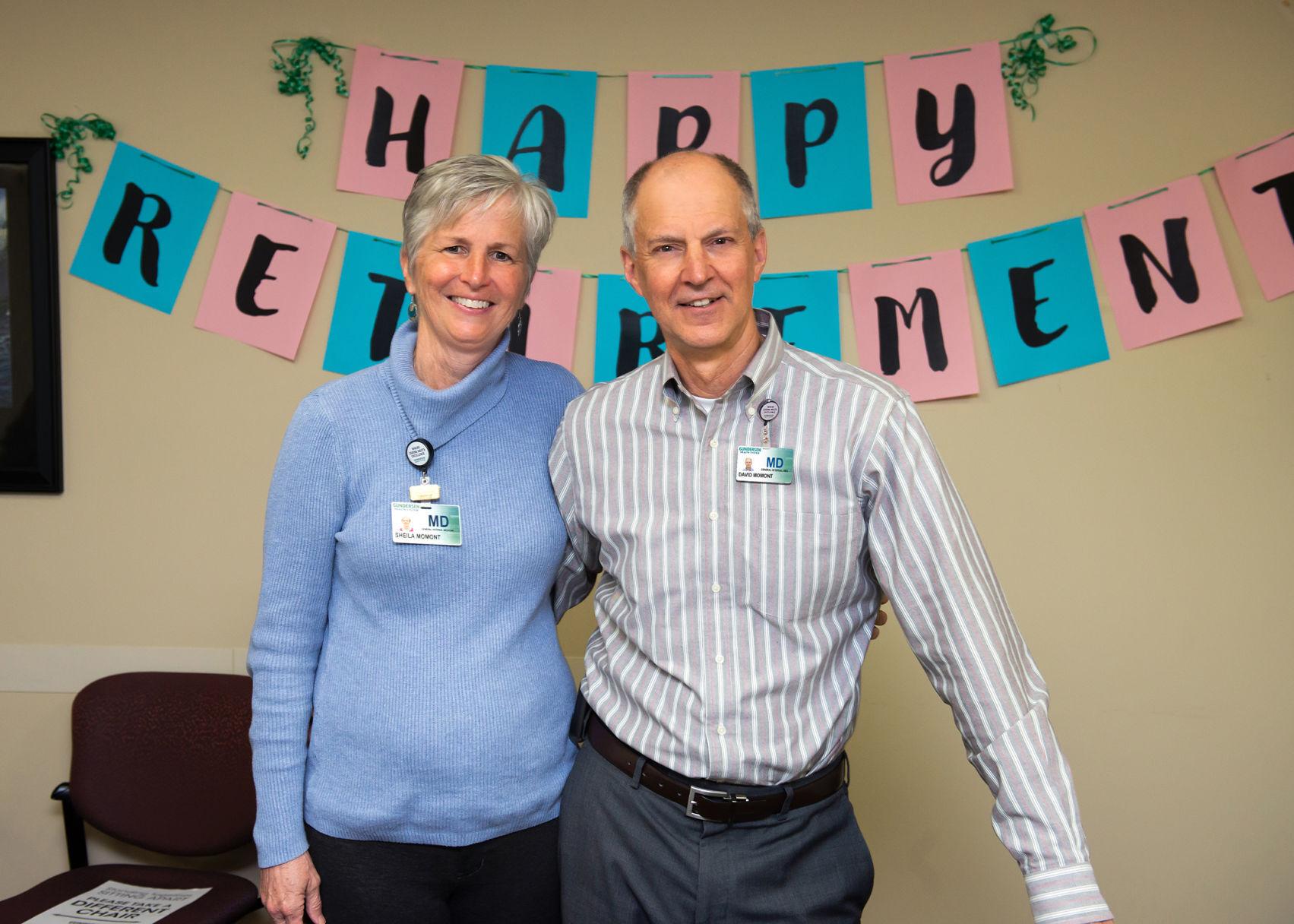 But just a week later, the coronavirus hit La Crosse and the couple's plans went out the window, with appointments switched to virtual formats and hugs and handshakes off the table.
"That really impacted our ability to kind of say goodbye in the way we had hoped for," Sheila says. "We're just blessed that we all got through this safely."
While the patient farewells were not as personal as they would have liked, Sheila, 62, and David, 65, were able to have a send-off of sorts last week with their vaccinated colleagues at Gundersen Health System in La Crosse, where they had both practiced for over 35 years.
Sheila and David were both first year residents in internal medicine when they met at a Gundersen resident introduction picnic in 1985, and David was immediately smitten. Sheila and her roommate, another resident, often played tennis, and David was always eager for the roommate to be on call so he could fill in on the court. Two years later, they had their first official date, and were married in late 1987.
Having trained together, the couple — Sheila ultimately became chief resident — both applied to work at Gundersen upon completion of their residencies, a concept at the time not common nor widely accepted. The Momonts hoped, they said, to "open some doors that had never been opened before."
"Married couples were a new thing in medical school and residency, and it was a hard change in the philosophy. As partners, you were expected to work really hard and be totally focused on practice," David says. "And when you're trying to have a family too — it was it was a very new thing to deal with."
David started full time at Gundersen, first filling in for doctors retiring or on vacation at various clinic sites, while Sheila, expecting their first child, worked part time at the hospital. When they welcomed their second child, 18 months after the birth of their first, they had to learn to balance caring for infants and being on call for a month at a time.
"We were scrambling those early years to just figure out a work-life balance, but the clinic was extremely accommodating, as were our partners, and that allowed us to get through those years and be able to keep going," Sheila says. "It was definitely a gift — this type of organization that valued the family."
The AIDS epidemic was growing around the time the Momonts were starting out, and in their early years of practice David thought it would be the most difficult thing they would encounter in their careers.
"When we started the AIDS virus that just started to cause illness, and we didn't even know it was a virus," David says. "We came down here with the uncertainty of the hazards of practice, the risk of blood exposure would be utterly fatal. Within two to five years (treatment successes) were being reported, but for those first five years, I thought I'd seen probably the most challenging aspect of going into medicine."
However, when the coronavirus pandemic hit the Momonts quickly realized it was unlike anything the world had seen.
"There's nothing, nothing that compares," says David. In his 60s, he is considered a high-risk individual for contracting the virus, and as such wasn't allowed to be in the hospital or on the nursing home premises where he and Sheila, both certified in geriatrics, would usually do rounds.
"I wasn't allowed in the buildings. ... Thank goodness for my young colleagues who just encouraged me to step back and do what I could virtually while they they put on the protective masks and did necessary in person rounds," David says. "This last year has been a real awakening for the continued challenges, and successes, of medicine."
COVID-19 "totally impacted our practice," Sheila says, but the couple were grateful they could continue to provide care on a virtual level, though with their elderly patients having hearing and vision problems, along with begin unfamiliar with technology, it still proved difficult.
"These poor old folks needed the opportunity to be touched and listened to, and have their moment of contact. Because that's the high point of their day, week, month," David days.
Throughout the decades, the Momonts also taught incoming residents, "guiding the next generations of medical students and internal medicine residents" who today are themselves "doctors who work in our own hallways at Gundersen and in health systems around the United States and beyond," says Dr. Greg Thompson, director of medical education at Gundersen.
"The Momonts' legacy of being excellent doctors for their patients speaks for itself. However, Sheila and David have impacted care across the entire country," Thompson says.
David notes his own instructors often stressed "you don't know it until you can teach it," and says that "held true." He gave his last lecture a few months ago, closing a chapter on his life and quipping, "What a book that is."
"It's very stressful to stand in front of a group of very smart people and try to teach them something useful on a sustained regular basis — 30 years is a long time to stand on the front edge," David says.
"But also, it's an honor to give back to those people that taught us by teaching (new residents) along the way," Sheila says. "We had such amazing mentors when we were young."
Both praise their colleagues at Gundersen, some of whom they met while residents and have worked alongside for decades, and are grateful they made the choice to be part of a hospital team rather than going into private practice.
"The opportunity to teach and learn and be spared the micromanagement of running a business in a community that respected that choice — it was one of those magical, fun things you find out about life," David says. "Looking back, I could not have made a better choice."
Adds Sheila, "We have been blessed with a squad of coworkers that are our best friends."
As local long term care residents and staff were vaccinated in early 2021, and the Momonts too have been inoculated, they were able to do in-person goodbyes in recent days, including at facilities they have worked with for up to 30 years.
"I'm going to miss all the stories," David says "People have wonderful lives — spend enough time talking to them, you'll learn something about everybody that belongs in a chapter in a book."
The Momonts look forward to the arrival of their first grandchild in a few weeks, and to gathering with their beloved coworkers again when the pandemic subsides.
"I'm just so thankful that the people here that we are leaving behind are going to get to hopefully come out from behind masks and shields and get back to a little bit more normalcy over time," says Sheila. "And thankful that our whole department has gotten through this without a tragic loss of life of any of our co-workers."
Hopefully, Sheila says, by some point this summer it will be safe to have a celebration outdoors with the Gundersen team.
"We started with a picnic," David notes. "Hopefully we'll end with a picnic."