WATCH NOW: Mayo gives vaccinations at Boys and Girls Club in effort to make shots more accessible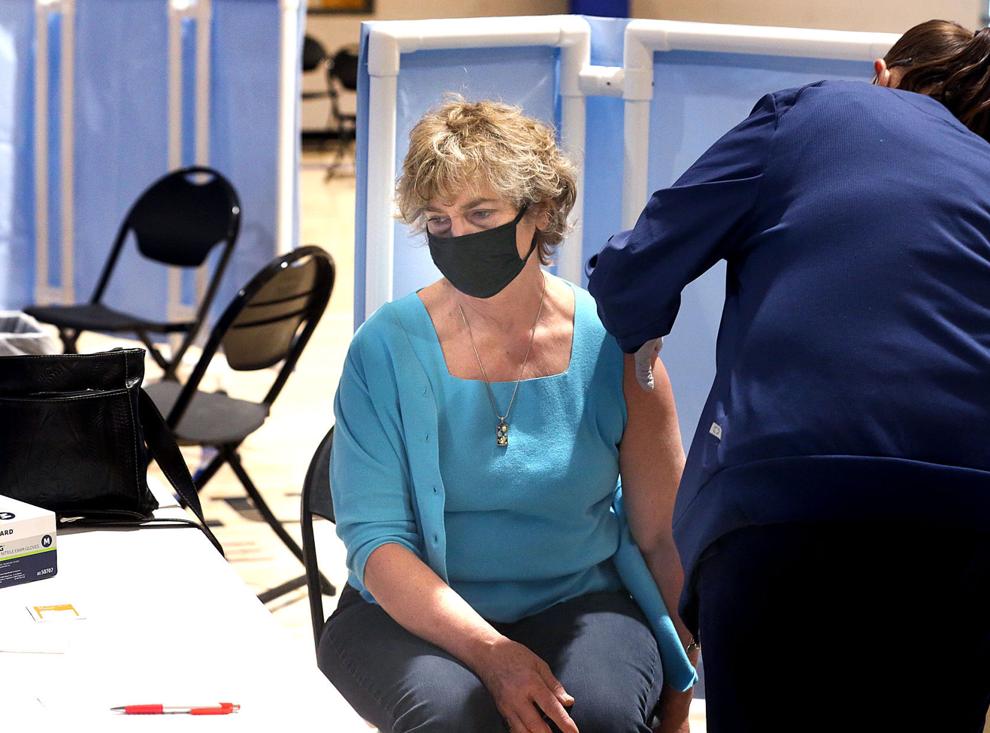 Mayo Clinic Health System began putting its new Wisconsin Department of Health grant to use Thursday afternoon, administering doses of the Pfizer vaccine to community members considered underserved or marginalized.
Earlier this month, Mayo was one of 100 organizations statewide to be awarded DHS funding to promote racial and geographic equity in COVID-19 vaccination, receiving $49,867.
As part of the hospital's plan to increase awareness of the safety and efficacy of the vaccine, and ensure its availability to all eligible demographics, Mayo teamed up with the Boys & Girls Club of Greater La Crosse to host COVID-19 vaccination clinics on four consecutive Thursdays.
The next clinic will run from 2 to 6 p.m. April 22 at the Terry Erickson Boys & Girls Club, 1331 Clinton St., with additional clinics being held 2 to 6 p.m. April 29 and May 6 at the Amie L. Mathy Boys & Girls Club, 811 8th St. S. First dose vaccinations are open to persons 18 and older, and second dose appointment dates will be advised.
In La Crosse County, over 50,000 residents have received at least one dose of a COVID-19 vaccine, and as of early April the breakdown among ethnicities showed disparities, with 6.8% of Black persons, 10.9% of American Indians and 11.3% of Asians having received at least one vaccine dose versus 24.1% of white persons.
Several local leaders spoke about the need for vaccination sites beyond hospital locations and increased access to accurate information, citing issues of distrust among some groups and barriers others face in getting to an inoculation site.
Mark Lockett, pastor at the Neighborhood City Church in La Crosse, says the majority of congregation members are eager to get or have gotten the vaccine, but he has heard some "suspicion or concern" about the COVID-19 vaccines, with "competing narratives" leading to confusion. An "authoritative voice that instills confidence in the community" is needed, Lockett says.
Iola Stallings, a member of Mayo Clinic Health System's Equity, Inclusion and Diversity committee and retired Mayo employee, agrees there is an issue of distrust, and cites social media as an often inaccurate source of information. Having gotten her doses and experiencing no adverse effects, Stallings urges members of the Black community to get their shots, pointing out the greater good.
"If a shot is all it's going to take to help someone live a fruitful life, take the chance...it's not (just) about you, it's about the people who love you and are around you," Stallings says. "I would hate to think by not getting my shot I could be a carrier and get someone else sick."
Thomas Harris, assistant director of the Office of Multicultural Student Services at UW-La Crosse, encourages those who are hesitant to be inoculated to look at it as protective step beyond the masking, distancing and sanitation practices that are ongoing. Arlette Rodriguez-Miller, executive director of The Greater La Crosse Area Diversity Council and Coulee Region Immigration Taskforce chair, urges against believing since others are getting vaccinated you will be protected and don't need a shot yourself.
Rodriguez-Miller says there has been fear among local undocumented individuals about going to vaccination sites, believing they will need a form of ID, and Nao (Tony) Houa Yang, president of the Hmong Center in La Crosse, says for the Hmong community language barriers have made information about the available vaccines and how to obtain them a challenge.
Recently, a vaccination clinic was held at the Hmong Cultural and Community Agency, where around 300 doses were given and more people expressed interest, Yang says.
Members of the Hmong community, Yang says, have been "looking forward to getting their family out to get their shots" and says, "We don't want to make decisions for people but we are here to help people. If people have any questions call our agency."
For Dr. Caroline Wilker, chair of Mayo's Equity, Inclusion and Diversity committee, the need for efficient vaccination community wide is crucial as more contagious variants of the coronavirus emerge and cases begin to see an uptick in the midwest.
"We are on the precipice of this being over and we all want it be over, and this is the main tool we have to get there," Wilker says.
Pre-registration is required for the Boys and Girls Club vaccine clinics. Interested individuals are asked to call 608-782-3926 to make an appointment. Masks must be worn and distancing followed while onsite.