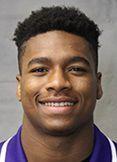 A former Winona State University football player has gained national fame for a reason other than sports: a quest for love.
Andrew Spencer, who was named WSU's Male Athlete of the Year for 2017-18, was one of the candidates on ABC's "The Bachelorette" during the current season.
Unlike in college when he was competing for game wins, this time he was competing for the love of Katie Thurston.
According to the ABC network's biography for Spencer, "Andrew S. is truly a man of the world. He spends half the year living in Vienna, Austria, where he plays professional football, and the other half in the Chicago area, where he works as a football coach and teacher's assistant. Andrew S. says living in Europe has given him an updated outlook on life where people work to live instead of live to work."
The biography continues on the network's website, "He is not afraid to make a grand romantic gesture and says that when the moment calls for it, he has no problem driving for hours just to hand-deliver lunch and fresh flowers to that special woman. Andrew S. can't wait to get married and hopes to have five kids one day. The one thing he cannot handle in a relationship is poor communication. Lucky for him, the Bachelorette has no trouble in that arena."
Spencer made it into the season's top four candidates — a big accomplishment considering each season starts with 30 eligible men.
Monday night, though, Spencer's run on the show ended dramatically.
After not being selected to continue by Thurston, due to Thurston having stronger connections with other continuing contestants, Spencer left her a note saying he'd be waiting for her if she ever wants to be with him.
After she read the note in their hotel, she ran downstairs to say goodbye and to ask him if he'd be willing to stay a little longer.
Spencer, though clearly emotionally attached to her, said no.
He shared his views that he didn't want to just be picked to leave again in a later episode, and he didn't want to possibly marry a woman who didn't choose him from the start.
He expressed in the episode that her decision hurt him.
"I would love nothing more than to be with her," Spencer said on the show while sharing about his heartbreak.
He held to his decision of not staying. "I don't want to go through this with her again. I don't want to be standing at a rose ceremony waiting for her to not chose me again," he told the camera.
With the decision and his departure, his last episode was the seventh in the season.
To say the least, Spencer was a fan favorite on the show, revealed by many Twitter reactions to his departure.
"Marry me instead Andrew Spencer," one fan, Caeley Robinson, posted.
"Okay, maybe I'm in love with Andrew Spencer," Amanda Keagan posted on Twitter.
Another user, with the username TheKyleConnor, wrote, "I'm convinced Andrew Spencer is the best man on this planet."
Many fans have begun requesting on social media that Spencer returns to the channel to be the lead on the next season of "The Bachelor."
While on the WSU football team, before his rise to reality television fame, according to Spencer's no longer updated LinkedIn account, he was on the leadership team. His role included organizing and speaking on behalf of the team.
Spencer did not complete his degree at WSU, as after being an All-American on the football team "he stepped away to pursue football more intensely," according to university staff.