Mayo hosts fall forum on "COVID-19: Strategies for Resilience in Uncertain Times"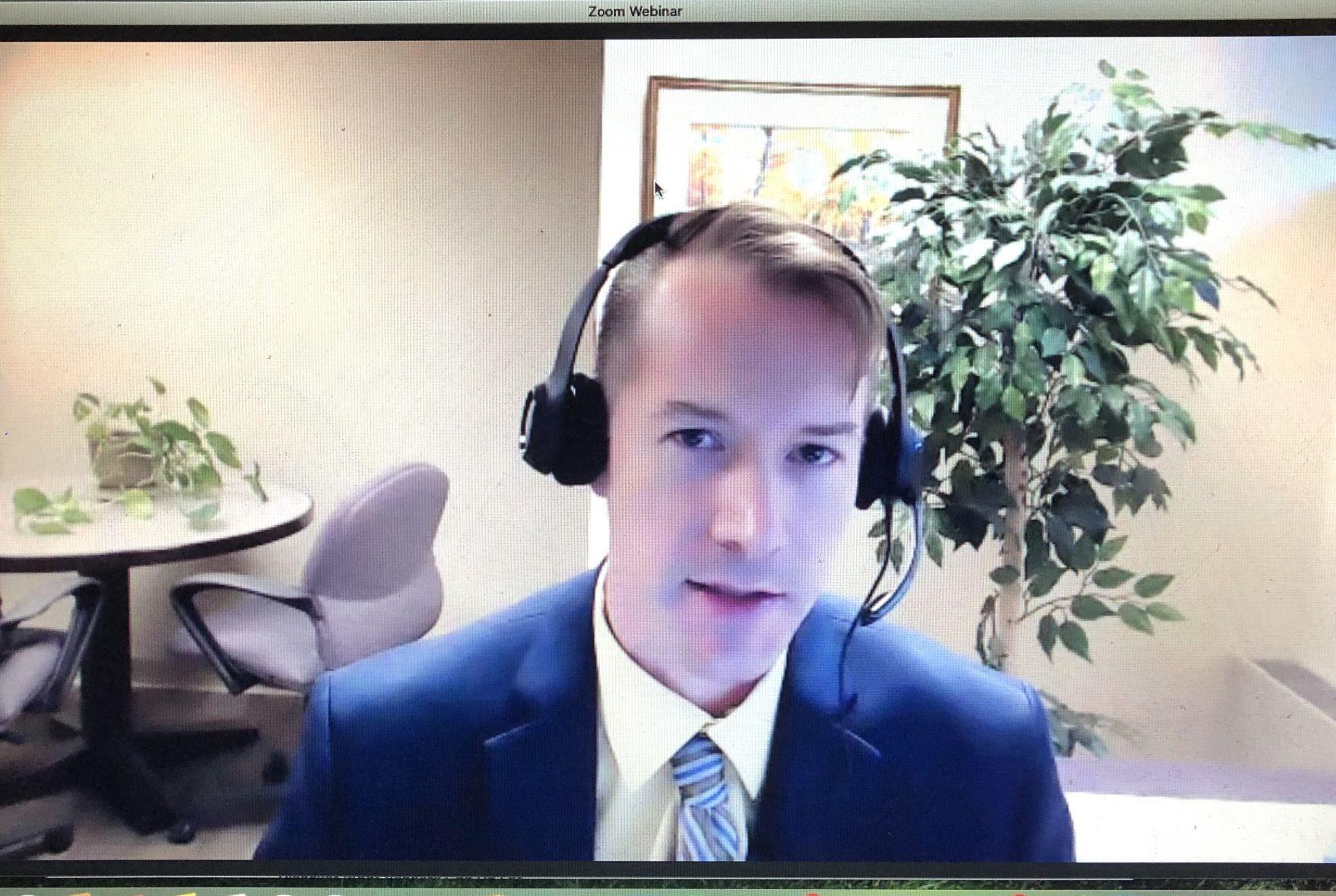 Each year, Mayo Clinic Health System has endless topics to select from for the community fall forum, but for its 2020 presentation COVID-19 was the clear choice, with the ongoing pandemic affecting every person in the country, state and region.
Presented virtually last week, "COVID-19: Strategies for Resilience in Uncertain Times" featured three Mayo physicians breaking down the current and forecasted status of the coronavirus crisis, its effects on youth and parents, and the psychosocial impacts of the pandemic.
Dr. Stacey Rizza, Mayo Clinic infectious disease consultant and principal investigator in clinical trials to advance medical treatment of SARS-CoV-2, presented "COVID-19: What We Know Now," discussing vaccines and treatments in the works.
While cases and hospitalizations have skyrocketed statewide and locally in recent weeks, Rizza shared positive news in terms of treatments and level of inoculums.
"We have very, very good outcomes because we have far more tools in our toolbox than at start of pandemic," Rizza said.
A vaccine trial conducted by Pfizer and BioNtech found the mRNA-based vaccine candidate to be over 90% effective in preventing the contraction of COVID-19 in those without evidence of prior infection of the virus during the first interim analysis. The Data Monitoring Committee performed an analysis which indicated a efficacy rate above 90% at the one week mark after the administering of a second dose. According to a release from Pfizer Nov. 9, protection is achieved 28 days after the start of the two dose vaccination, and DMC recommended the study proceed as planned in continuing to collect additional safety and efficacy data.
In order to know if a vaccine works, Rizza says, a phase 3 randomized trial needs to be conducted with tens of thousands of people, with half to two-thirds receiving the vaccine and the remainder a placebo before they "put you out into society and wait." Most studies, she says, are designed to last two years to see if efficacy results are accurate and the effects are long lasting.
While Rizza says the Pfizer vaccine findings are promising, we don't yet know if it will work the same in those of all ages or with preexisting health conditions, and if the effectiveness is sustained. There "is a chance at month three or four the effect might whittle down," she says.
On Friday morning, Pfizer requested from the FDA emergency use of the vaccine, now stating it is 95% effective. If approved, doses would be rolled out slowly.
For the time being, Rizza says, "masking is the lion's share of prevention," noting it seems people are getting lower levels of inoculums of the virus than back in March, leading to more minor symptoms or the absence of symptoms entirely. As the virus is spread through droplets, masking, handwashing and distancing are crucial, and Rizza says it is important to regularly test athletes, as heavy breathing results from exertion, and notes singing can also aeresolized the virus.
Masking, she reiterates, is essential and effective, noting the "data has become absolutely black and white" and that regardless of how often you touch or adjust your mask it still "absolutely makes a difference ... (masks) and staying apart from people are the main things in stopping transmission."
Dr. Joseph Poterucha, Department of Pediatrics at Mayo Clinic Health System and an Assistant Professor of Medicine and Pediatrics in the Mayo Clinic College of Medicine and Science, conducted the "Pandemic Pandemonium! Trust Me, You've Got This" segment of the forum, speaking on the impact of COVID-19 related stress on kids, parents and families.
Conversations regarding the coronavirus should be open and honest, and Poterucha suggests seeing what children do and don't understand about the pandemic and answering their questions on an age appropriate level.
How the virus spreads, how people can protect themselves through masks, distancing and handwashing and who is susceptible is important information for youth to have. In addition, Poterucha says parents shouldn't hide that people have become severely ill or died from the coronavirus, but to "be gentle with it."
Behavior changes, Poterucha says, are expected during periods of uncertainty and distress, with young children acting out in the form of tantrums and teens with irritability or disrespectfulness. Parents should watch for signs of distress, ask about thoughts and feelings, and encourage honest conversation.
"They are trying to tell you something with their behavior — tap into that," Poterucha says. Accept their emotions without being critical, Poterucha says, and let them know they are not alone in their feelings.
"For teens, missing homecoming might be the end of the world," Poterucha says. "Recognize it, validate it."
Poterucha says creating "behavioral boundaries" is important, with an emphasis on increasing "warm" attention through recognition of good behaviors. In contrast, poor behavior should be met with immediate and consistent consequences. Parents may be inclined to be more lenient under stressful circumstances, Poterucha notes, or may be more likely to lose patience, and he urges families to adhere to as much of a routine as possible.
"If we haven't done that in our families, now is the time," Poterucha says. Structure, he says, provides a sense of safety for children, and he recommends consistent sleeping, eating and schooling schedules, keeping the household tidy and setting aside time for leisure. Physical activity and outdoor time, Poterucha adds, helps relieve tension, improve sleep and decrease anxiety.
"Kids have restless energy and cabin fever worsens it," Poterucha says. "That open air effect, psychologically, is very good for them."
Poterucha also encourages parents to cut themselves some slack during the pandemic. He suggests finding time for yourself and with your significant other or friends, getting enough sleep, eating well and engaging in hobbies. Some projects or tasks may have to wait, and that's OK.
"Remember you are only human," Poterucha said.
Dr. Lisa Howell, clinical psychologist at Mayo Clinic Health System with special interest in the psychosocial impact of chronic health conditions, closed out the forum with "Coping with Covid-19 by Revitalizing Your Resilience" with a focus on resilience principles inspired by the research of Dr. Amit Sood of Mayo Clinic in Rochester.
"Stress is completely normal during this time," whether related to the pandemic's impact on finances, employment, schooling, changes in routine or "information overload," Howell says. Many are working and educating from home with few breaks and negligible alone time, leaving them frazzled and overwhelmed.
"It's important to remember stressful times come and go," Howell said.
In the interim, Howell encourages practicing compassion, especially for those with whom you disagree, to help lower stress levels, and expressing gratitude. Looking for silver linings in your circumstances enhances mood and improves your overall wellbeing, Howell says.
Other key practices or elements for mental wellness during the pandemic include acceptance — focus on controllable factors, be willing to adjust your priorities, and understand you are doing the best you can under the circumstances — finding meaning in our lives and interactions, and allowing yourself to let go of hurt, anger and resentments and express forgiveness.
"Be patient," Howell advises. "Remember most people are trying to do the best they can."
In addition, Howell encourages nurturing relationships, albeit in a socially distanced manner, to maintain connection during a high stress time. Your core group, she says, should be people who are honest, want the best for you, and will share in both your successes and your suffering. Reflection, prayer, and meditation can also help guide you during times of crisis, and Howell suggests reaching out for help from a friend, family member or specialist if you are struggling with depression, anxiety or other mental health concerns.