High school sports roundup: Onalaska's Faith Leithold, doubles team, headed to state
WAUNAKEE, Wis. — Onalaska High School's Faith Leithold, playing at No. 1 singles, and Chloe Leithold/Lauren Garves, who competed at No. 1 doubles, are headed to the WIAA Girls Individual State Tennis tournament next week at Nielsen Tennis Stadium on the University of Wisconsin campus.
Faith Leithold finished fourth in the No. 1 singles flight, and Chloe Leithold and Garves finished fourth in the No. 1 doubles flight at Thursday's WIAA Division 1 sectional tournament. The top four finishers in each of those brackets earn spots in the state bracket, which is scheduled for Oct. 13-15.
Faith Leithold (25-10) clinched her spot with a first-round victory over Middleton's Kai Heineman, 6-2, 7-6 (7-4), before falling to Meredith Conley of Verona 6-3, 6-0. Ellie Kaji of Madison West then beat Faith Leithhold 6-4, 7-5 in the third-place match.
Chloe Leithold and Lauren Garves (17-5) beat Waunakee's Sierra Bauer and McKenzie Kalscheur 6-4, 7-6 (7-5) in the first round of doubles to earn their spot.
The Hilltoppers were second to Madison West in the final team standings with 28 points. Central tied for fourth with 25, and the Regents scored 43 to advance to the team state tournament.
Caitlyn Knobloch (29-2, No. 3 singles), Myle Luong (No. 4 singles), and Charlotte Linebarger/Brigette Fleming (24-4, No. 2 doubles) each placed third to lead the Red Raiders did not automatically qualify for state.
VOLLEYBALL
MVC
Sparta 3, Central 0
SPARTA — Becca Jenkins recorded six kills and three blocks while Laney Shell recorded six kills to go along with 14 assists to help the Spartans (4-7) defeat Central 25-14, 25-20, 25-11.
Marissa Erickson chipped in 19 assists and two kills for Sparta.
Maggie Popp had eight kills for Central (1-9).
Onalaska 3, Tomah 0
TOMAH — The Hilltoppers (7-4) swept the Timberwolves 25-19, 25-23, 25-16 behind Emma Gamoke, who had a 12-kill, 12-dig performance.
Sam Plantz chipped in 15 kills while Elisa Dabrowski had 19 assists to lead Onalaska.
Reis Derousseau finished with 10 kills for Tomah (5-5).
Coulee
West Salem 3, Westby 0
WESTBY — West Salem (13-5, 10-0) defeated Westby (15-9, 6-4) 25-15, 25-15, 25-16 to extend its Coulee Conference lead.
Brooke Bentzen led the Panthers with 36 assists, while Sam Thompson finished with nine kills.
Black River Falls 3, Onalaska Luther 0
BLACK RIVER FALLS — Senior Lauren Perry turned in a seven-kill, three-block performance to push the Tigers past Luther 25-9, 25-16, 25-20. Ashley Overlien added 12 assists for Black River Falls (18-8, 8-2), while Channing Manske finished with 19 digs. Maggie Roou was tough from the service line for the Tigers, finishing with six aces.
Arcadia 3, Viroqua 0
ARCADIA — Cassie Berg led the Raiders to a 26-24, 25-20, 25-19 sweep of Viroqua.
Berg led Arcadia (6-5) with 13 kills, 23 digs, and four blocks.
Natalie Waldenberger had 10 kills and 16 digs for Viroqua (1-9).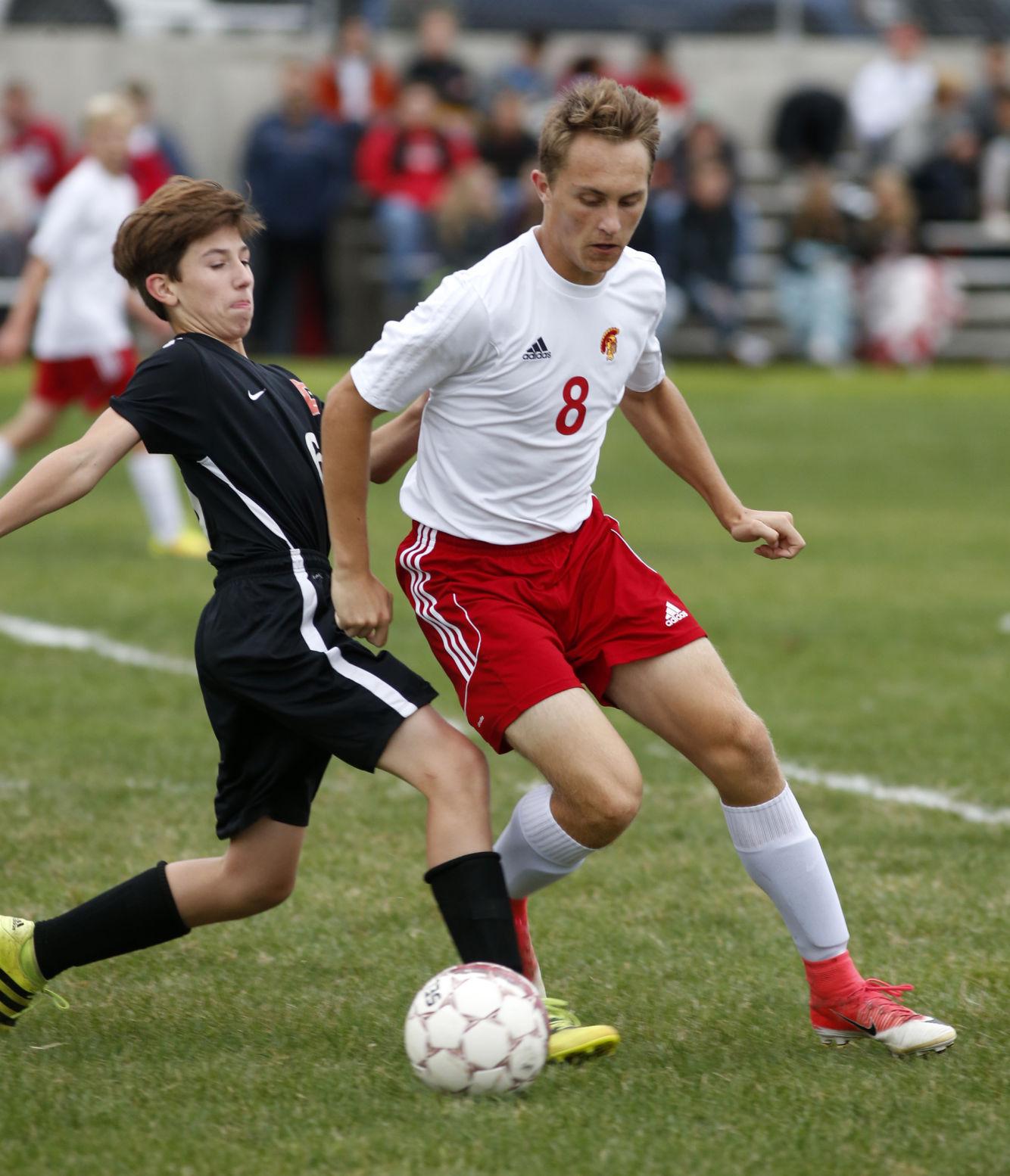 BOYS SOCCER
MVC
Onalaska 4, Tomah 0
TOMAH — Onalaska's Jacob Follansvee put the Hilltoppers on top early, taking a pass from Julian DeeBernardi and converting in the eighth minute. Carson Schultz netted the next to goals for the Hilltoppers in the 57th and 66th minutes, both unassisted. Danny Garrity finished the scoring in the 82nd minute after an assist from Harrison White.
Nolan Steef recorded 14 saves for Tomah (1-14, 1-12).
Logan 1, West Salem 1
Joseph Oldendorf got the Panthers on the board first with a penalty kick in the 51st minute, but Eli Szymanski tied it up in the 74th minute for the Rangers (6-5-1).
Tony Weilandt recorded nine saves for the Panthers (9-1-2).
Sparta 3, Central 0
SPARTA — Sparta tested Central goalkeeper Connor Stenslien early and often in a match that was called in the 75th minute because of lightning. Stenslien finished with nine saves for Central (3-9, 3-8).
Three Rivers
La Crescent 5, Winona Cotter 1
LA CRESCENT — With a hat trick from Isaac Peterson, the Lancers (11-4-1, 8-2) secured a share of the Three Rivers Conference title. Peterson recorded the first three goals for La Crescent with one in the first half and two in the second.
Nonconference
Coulee Christian 5, Altoona 2
WEST SALEM — Jesse Miller recorded a hat trick to help the Eagles (11-6-4) build a 5-0 halftime lead.
CROSS COUNTRY
Eleva-Strum invitational
ELEVA, Wis. — Adam Wiesender finished second (17:39.50) to lead the Black River Falls boys team to a fourth-place team finish. Wiesender finished less than a minute behind Elk Mound's Cade Hanson (17:38.79).
In the girls race, Black River Falls' Ellie Dolesy finished fifth (22:34.89) and Zyannah Deloney finished sixth (23:07.25) as the Tigers finished second out of four teams.