Beth Cherne felt like she struck gold when she was searching for a play to direct for her second production with the Alternative Truth Project and found an adaptation of "Fahrenheit 451," Ray Bradbury's cautionary tale about a dystopian society in which books are outlawed and society is made up of illiterate, brainwashed hedonists who wallow in state-approved entertainment, drugged into complacency.
This was not the script from the 1966 movie version directed by François Truffaut, nor was it Bradbury's own stage adaptation from 1979. This was an unproduced movie script written by Frank Darabont, whose long resume includes writing and directing "The Shawshank Redemption" and "The Green Mile," as well as writing and directing 2010-11 episodes of "The Walking Dead."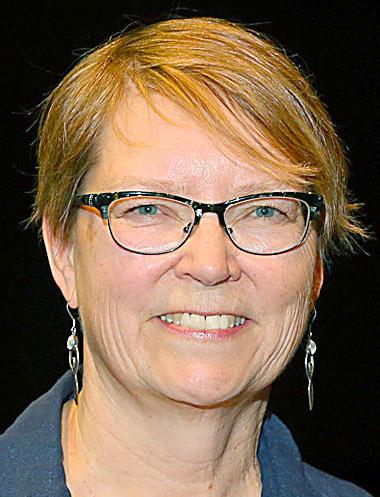 "I was really excited to find this script," Cherne said in a recent interview about the Jan. 21 ATP production at The Brickhouse. "It fulfills the mission of the Alternative Truth Project, which is to raise some questions about our political and social situation."
Perhaps Bradbury's best-known work, "Fahrenheit 451" was published in 1953 at the height of the Cold War and America's "Red Scare," during which people with dissenting viewpoints — communists and sympathizers — were demonized and marginalized.
Bradbury's book focuses on Guy Montag (played in this production by Greg Paremeter), a fireman whose job is not to put out fires but to burn books. In fact, they not only burn the contraband books, they burn the homes and all the possessions of anybody caught with books. The firemen have electronic snooping equipment that allows them to detect hollow walls and other hiding places for books, but it's just as likely brainwashed neighbors, friends or even family members will be the downfall for book collectors.
The firemen are aided by robotic "hounds," that can sniff out book lovers and pursue them should they flee, injecting a tranquilizer with their bites. People spend their considerable leisure time watching the large television screens that line the walls of their living rooms.
"It all feels like technology available right now," Cherne said. "What is still in the future, I hope, is this attitude toward knowledge and books and the total absorption of people in their screens and the authoritarian militaristic nature of the state."
When Bradbury wrote the book, he expressed concern about the freedom of information and affiliation, Cherne explained. "Later, he said what he really was concerned about was people living in an electronic media environment where interpersonal contact is limited and we relate more to our screens than we do to each other."
There is some hope embedded in Bradbury's tale. Living on the fringe of society, away from the robotic hounds and ever-present screens, is a small but intrepid band of independent thinkers who have taken on the task of memorizing books so the knowledge and wisdom they contain may be preserved for future generations. Montag, after a crisis of conscience, seeks this group out.
As usual, the Alternative Truth Project production of "Fahrenheit 451" will be a readers theater presentation, which means there will likely be no set decoration, props or costumes, and limited physical movement. With the play scripts, the ATP productions have had somebody read the stage directions.
The movie script for "Fahrenheit 451" has something like stage directions, but it's more like narration, Cherne said. Local storyteller Michael Scott will read most of the stage directions.
In addition, Cherne said, members of the cast will provide sound effects to accompany the action in the play, such as the sound of approaching sirens or robotic hounds.
"I think it'll be really fun to do and fun to watch. I think it'll be both exciting and funny in a way," Cherne said. "And yet, the play, the book and the screenplay have important messages for us today."