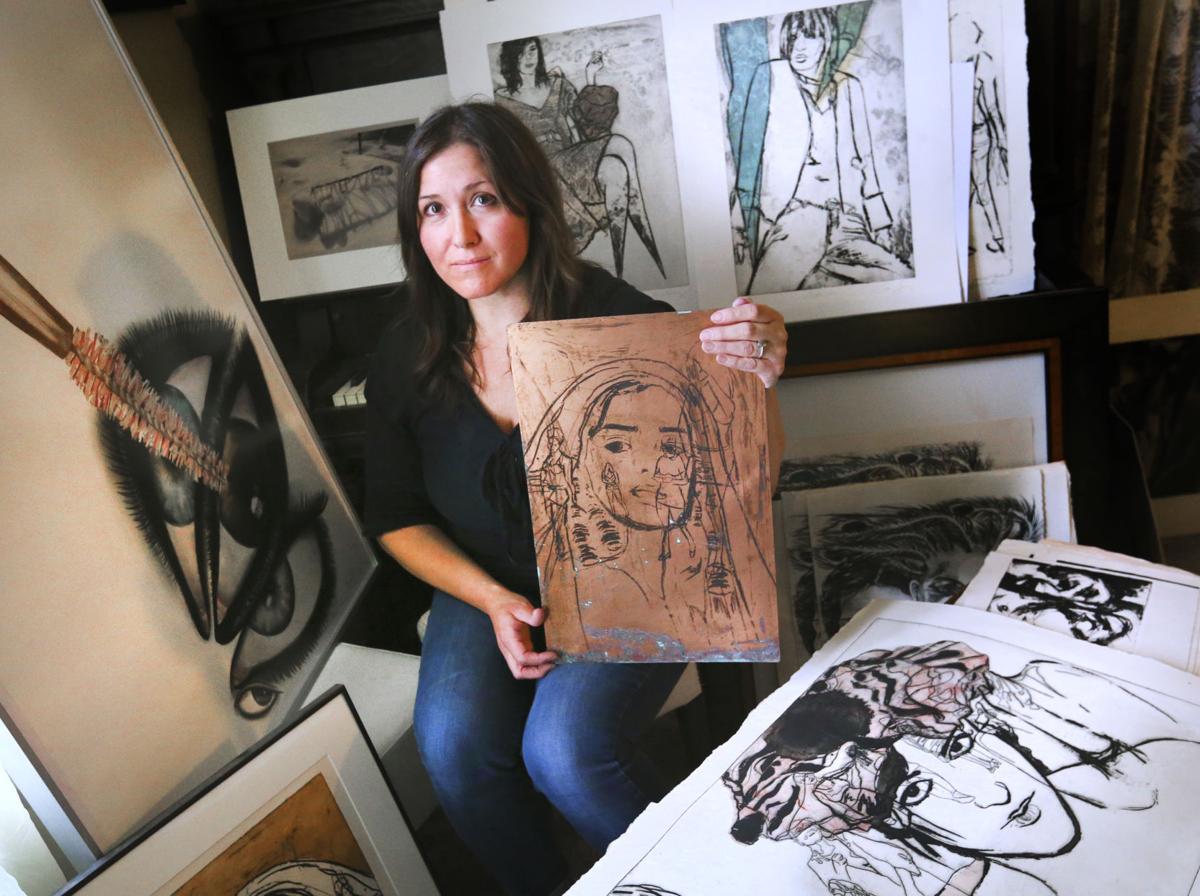 Lisa Lenarz has frequented the Art Fair on the Green for years, admiring the work of others yet hesitant to share her own. But she summoned her inner moxie, and on Saturday, her striking works will be on display at the beloved festival, an art lover's mecca with a philanthropic purpose.
Hosted by the American Association of University Women, Art Fair on the Green, now on its 59th year, serves as both an exhibition for artists from across the country and scholarship fundraiser for area students. In 2016, festival admission fees and concession sales allowed the organization to award $25,000 in scholarships and grants to 23 local students and organizations. An estimated 3,500 people are expected to attend this year's event, which will feature a record 90 artists, from weavers to ceramicists, as well as several food vendors and two musical acts.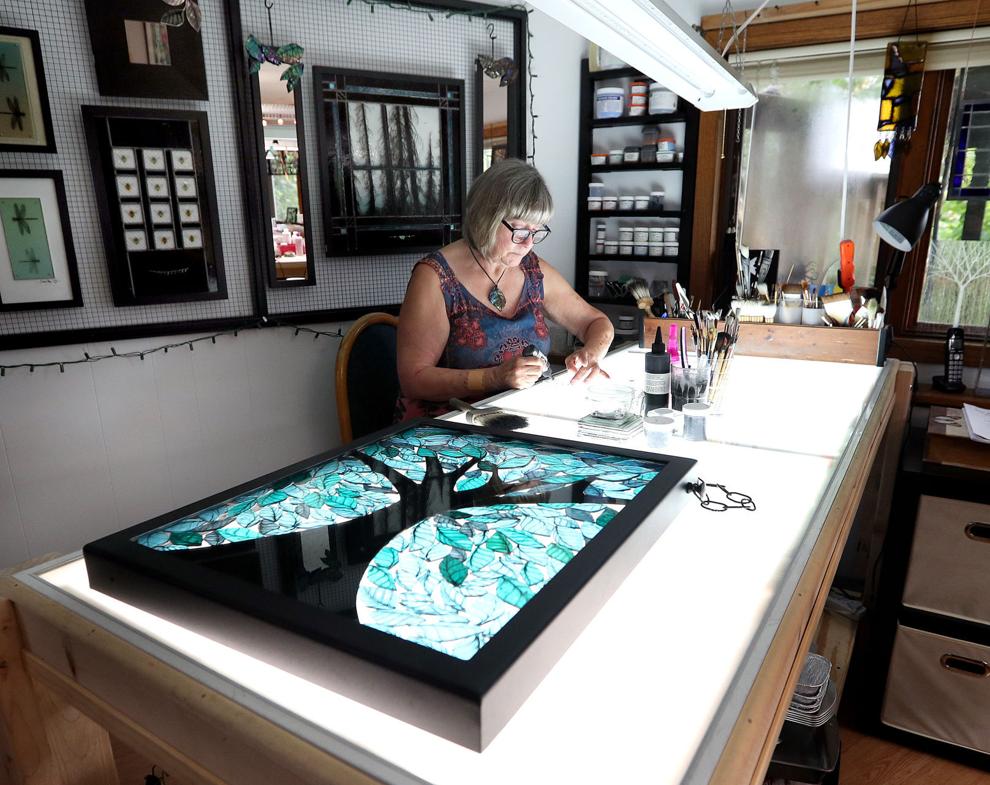 Last year's Best 3-Dimensional Award recipient, Laurel Grey, a five-year participant, will return, and Lenarz will be one of 20 new featured artists.
Lenarz, owner of Moxied Heart Studios, specializes in intaglio printmaking and painting. While she has participated in many shows, including a 2012 exhibit at the Brooklyn Museum, she put off entering Art Fair on the Green for years, concerned her themes of human trafficking, gender roles and the expectations of women were too heavy for a community art festival.
"I was a little bit shy to put myself out there — my work is more of a social commentary," said Lenarz. "For a very long time I felt my work wasn't necessarily beautiful to look at. It was more intellectual and was for me to work through thoughts and issues. But as I've gotten older, I realized some of these pieces invite conversation that we shouldn't be ignoring. I feel like it's still valid to get yourself out there in any way you can, and Art Fair on the Green is the perfect place for that with all these beautiful artists coming together."
As a full-time art teacher for the La Crosse School District, adjunct art history professor at Viterbo University and mom of three, Lenarz usually only has time to complete one or two pieces a year, and printmaking itself is a laborious process. Starting with a sheet of copper, Lenarz applies a resist before carving into the plate with her go-to kitchen knife. The copper is place in an acid bath to create grooves. The inking process involves multiple layers of color, and a single print can take days to complete.
"I find it a very enjoyable release to make imagery and express something I can't through words — a way to communicate your findings and curiosities," Lenarz said. "Art is an important part of being a human being."
The human experience, particularly that of women, features prominently in Lenarz's works. "Stiletto Sally" shows a woman with points for feet, a commentary on suffering for fashion. For a series on vanity, Lenarz staged herself as "a typical suburban American female," and is depicted applying makeup in a show of frivolity.
Recently, Lenarz has dug even deeper with poignant depictions of human trafficking, a subject on the forefront of her mind. Using real images of victims posted on the internet, Lenarz created a series of prints in muted shades, including one with a central depiction of poet Emily Dickinson, wearing a lavish crown of flowers. The image shows the "intoxicating" quest for beauty, and how that beauty can lead women to being taken advantage of.
"This piece reminds me, 'Don't fall into this trap. Be real,'" Lenarz explained.
The piece is one of many that Lenarz will have available at the fair, and she welcomes comments and queries from attendees.
"Art is challenging. Don't be afraid to ask someone, 'What do you think this means?'" Lenarz said. "Art is a way to connect with each other in beautiful ways, tragic ways. I love Art Fair on the Green for that reason — it's really about validating the arts."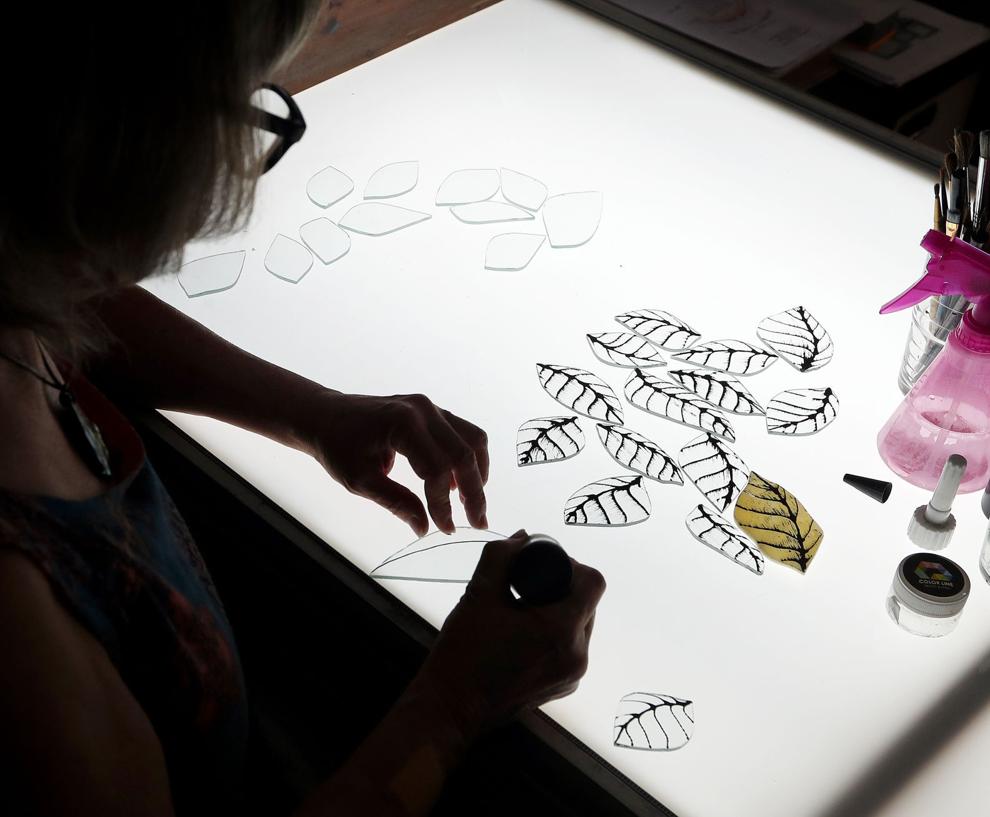 Laurel Grey, of Laurel Grey Glassworks, shares Lenarz' passion for the event, where her delicate glass art has made her a popular vendor. Using both straight and crinkled glass, Grey creates intricate panels, hangings and sculptures, some black and white, some vivid, with streamers of glass leaves and bird and fish ornaments being best sellers.
"I've had several people walk up to me (at the fair) and say 'Wow!'" Grey said. "They're just in awe. They've never seen anything like it."
The marketing business owner learned the art five years ago, wanting to expand on her wine glass art. Teaching herself through online videos and tutorials, and an occasional workshop, Grey combined several methods to arrive at her signature style, which uses centuries old techniques in a contemporary manner.
Working out of her home studio, Grey cuts all her glass free-hand from large sheets and grinds the edges before adding color detail. Each piece is painted using either enamel or vitreous glass paint, a blend of finely ground glass with metallic oxide pigments.
To create visual interest, Grey might run a dry paintbrush over her lines, splatter on color with a toothbrush or add a spritz of water, lightly buffing away speckles of color with a makeup brush. Pieces are then fired in a kiln, creating a brilliant sheen of color.
While Grey dabbles in tree and insect motifs, her signature subject is leaves, inspired by a trip to Door County.
"I was hiking and looked up into a tree, into the canopy and the sun was coming down through the leaves," Grey said. "It was just gorgeous, and I wanted to capture that feeling. If I have an end in mind, I'll do whatever I need to accomplish it."
One of Grey's largest works, a copper wire and glass tree titled "Blue Bonsai," is composed of 152 individual leaves affixed to a wire trunk, which was coated in Miracle Grow to transform the copper into a teal shade. The nearly three foot wide, two foot tall botanical wonder took a month to complete and will be for sale at Art Fair on the Green, along with dozens of other unique pieces for indoor and outdoor decoration.