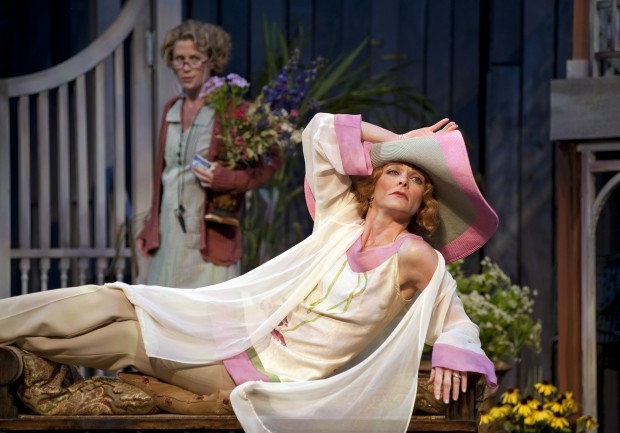 SPRING GREEN, Wis. — David Frank looks at the 31st American Players Theatre summer lineup as another ground-breaking season.
Frank, APT's producing artistic director, said he tries to program five exciting projects for the outdoor amphitheater each season, but some years are a challenge.
But this year, everything came together perfectly, he said.
"All five plays this summer are extremely exciting with wonderful casts, and I believe audiences will really enjoy the new plays we will bring to our stage," Frank said.
The American Players Theatre will open with two William Shakespeare  comedies, "As You Like It" and "All's Well That Ends Well."
"'As You Like It' is a universally admired piece, an extraordinary play that speaks to us in many ways," Frank said. "It's exciting to get a new director who will bring his own vision."
Tim Ocel will make his APT directing debut with "As You Like It," which opens the season June 5. John Langs will direct "All's Well That Ends Well," which opens in previews June 11.
The rest of the Up the Hill lineup features plays new to APT, including "Major Barbara" by George Bernard Shaw.
"It is one of Shaw's most thought-provoking works, and I get to realize a longtime dream to direct this play," Frank said.
Shaw promotes his own political and social views, which should be a formula for dull theater, but he is "funny, satisfying and aesthetically polished."
Frank added, "His great genius is his ability to connect ideas, events and characters, all with a sense of delicious irony."
Two playwrights will be new to the APT stage this year — Lillian Hellman's "Another Part of the Forest" and W. Somerset Maugham's "The Circle." "We're always looking for new important and magnificent pieces of theater that suit our company," Frank said.
Frank said APT is offering three incredible plays in the new indoor Touchstone Theatre after a successful first season in 2009. The plays are "Waiting for Godot" by Samuel Beckett, "The Syringa Tree" by Pamela Gien and Athol Fugard's "Exits and Entrances."
"The Touchstone Theatre has really been everything and more than we hoped for," Frank said. "Once we hit July last summer, we essentially sold every ticket to the theater and had to extend performances by two weeks."
Some Touchstone Theatre performances already are sold out, he said. With only 200 seats, opening nights and special performances at the Touchstone are expected to sell out quickly, Frank said.
He said "Waiting for Godot" asks the big questions in ways few other works of art could: How do we get up every morning, fight through every day, and go to sleep every evening never knowing whether our hopes and dreams might be granted? The play features actors Jim DeVita, Brian Mani and James Ridge.
Colleen Madden plays 24 characters in "The Syringa Tree," set against the backdrop of apartheid-era South Africa. Madden is reprising her performance from Milwaukee's Renaissance Theatre.
Though Fugard is known for his works opposing apartheid, he tells a more personal story about the connections between playwright and actor, student and teacher, in "Exits and Entrances," Frank said.
The play features  Kenneth Albers as Andre and David Daniel as the playwright.
"We have a great season planned and I hope — and believe — it will be a favorite of audiences," Frank said.
Be the first to know
Get local news delivered to your inbox!